The day before the NBA draft, Ricky Rubio played word association.
I said "Sacramento," and he said "Nice weather."
I said "Oklahoma City," and he said "My best friend lives near there."
I said "Minnesota," and he said "Too cold."
It was fairly meaningless. Watch it on video, and you'll see it was a throwaway line.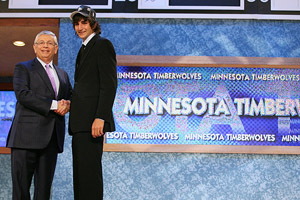 Now that sentiment is emerging as something of a major theme of draft night. Does Ricky Rubio hate Minnesota?
When the fifth pick of the NBA draft was announced, Minnesota fans went crazy. They had the their dream player. But the relationship quickly began to feel like unrequited love.
Shortly after the pick, Rubio met the media. At a moment like that, tradition, public relations sense, and just about everything else dictate smiling and saying how much you love your new city -- even if you can't wait to demand a trade.
But the 18-year-old Spaniard was not playing that game. "Are you excited to go to Minnesota?" he was asked.
It was a fair question. It's a team with quality big men, and a mandate for change. What more could a young point guard want? "I'm excited," he responded, "to come to the NBA."
He said his mother hated cold weather.
He was asked about whether being picked by the T-Wolves might inspire him to stay in Europe. He said: "I don't know yet. I have to think about that ... I'm going to talk to my agent about that and we're going to see."
He also said he was very surprised that the team had drafted another point guard in Jonny Flynn. He evaded a question about whether or not he'd even come to the NBA -- until the very end of the meeting with reporters when he threw in a line saying "I want to play basketball, and if they give me minutes, I'm going to come."
Just minutes later, his father was quoted in the Spanish newspaper Marca saying it was probable Rubio would not come to the NBA this year. Translated, he said: "He might go now or he might remain [in Europe] one more year ... or even two. It's all open, although the most likely scenario is that he stays in Europe more time. We have to talk with the folks in Minnesota... and see what happens, because, at this point, we can go to Minnesota or otherwise."
The assumption among those present at Madison Square Garden was that the Timberwolves -- a team long on power forwards and rookie point guards, but short on everything else -- would be trading one of their elite rookie point guards away.
Minnesota general manager David Kahn said that was wholly not the case. On ESPN's TV broadcast, he was adamant that he envisioned Rubio and Flynn playing together. "Absolutely!" he said. "Otherwise we wouldn't have done it."
He called Rubio potentially a "transformational" player, and was clear that "it was not an attempt to take Ricky to trade him."
(There was a report from a TrueHoop reader in Minnesota that Kahn was effusive about Jonny Flynn, and mentioned to the assembled crowd that it was possible Rubio would not come over this season, which was odd as Rubio had said time and again he would come.)
Whether Kahn intends to keep Rubio or trade him, it's a good strategy to say he's in Minnesota to stay. Were Kahn to say that he drafted Rubio to trade him, he'd lose leverage in trade negotiations. (He needs his suitors to think that he'd hate to part with Rubio, but for the right price ... we could talk.)
Remember when the Bucks drafted Yi Jianlian, and there was much bellyaching about whether not the Chinese player would report to Milwaukee? A year later, Yi was later traded to a team more to his liking, in New Jersey. His hard-bargaining agent was Dan Fegan -- who also represents Rubio.
That's no sign the relationship between the Timberwolves and Rubio will end the same way -- culminating in an eventual departure. But it's starting out in similar vein.
(Photo: Nathaniel S. Butler/NBAE/Getty Images)