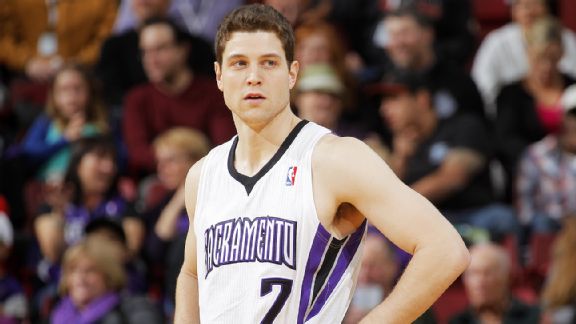 Garrett Ellwood/NBAE/Getty Images
Jimmer Fredette has played his last home game in Sacramento. He's hoping for more playing time.
The Jimmer Fredette era in Sacramento ended on Thursday afternoon when the Kings announced that they had reached an agreement to buy out the former BYU star. Just days after his 25th birthday, one of the most proficient long-range shooters in the game is about to become a free-agent target for some of the league's best teams.
There are too many reasons to address why Jimmer-mania didn't work in Sacramento. Franchise instability, rotating coaches and a guard-heavy roster are just a few. The Kings franchise is in recovery mode. From the coach, to management, to ownership, everything is new.
It was clear on Oct. 31 when general manager Pete D'Alessandro decided not to pick up the former first-round pick's fourth-year option on his rookie contract, that Jimmer's days in Sacramento were limited. He becomes the eighth Kings player to leave the roster during this whirlwind first season under new management.
Fredette took time Friday to discuss his time with the Kings, how he fits into the NBA world and what is next for the former college player of the year.
What is your takeaway from your two and a half years in Sacramento? Why do you think things didn't work out while you were here?
You know, it was a great character-building experience for me. Obviously I appreciate the fact the the Kings even drafted me. They drafted me pretty high and it was a great opportunity for me to start my career. Sometimes things don't work out the way that you want them to when you start your career, but it's all about learning and becoming better and I think I've definitely done that.
A lot of fans don't think you got a fair shake in Sacramento. Do you think you at least got an opportunity to show what you can do?
I was able to play well in a lot of my games in Sacramento and then there were some other games where I didn't play so well or I wasn't able to even get on the court or anything. But you go through ups and downs, and a lot of guys do that for their first couple of years in the NBA. That's the way that it is and you just have to continue to work and go as hard as you can. I feel like when I got an opportunity to play, I played well and I think I showed that I can be a good player in this league and help a team out. I think I was able to accomplish that when I was able to play. Obviously, sometimes I didn't play as much as I wanted to, but that's OK. You just have to continue to work hard and I think I did a good job when I was presented with the minutes I was able to play and progress as a player.
You and I talked the night before the trade deadline and you didn't know what was going to happen and it was really nerve wracking. How grateful are you that Kings, even though they weren't able to trade you, that they came back and said, we are going to let you go somewhere else. We are going to let you finish out this season wherever you can and just move past the Sacramento experience?
I appreciate it very, very much. Vivek [Ranadive] and Pete [D'Alessandro] and everybody that was involved -- Mark Mastrov and the guys in the front office -- they were all true to their word. They said they wanted to do what was best for me and for my career and they were able to do that. Because of that, I really appreciate them and them all as human beings and as owners and front office people of the team. I think they were able to appreciate the way that I handled things and because of that, I think we had a mutual respect and we were able to get something done. It will be beneficial for both parties. So far, Vivek and Pete and these guys have done a great job with this organization and I'm appreciative of the opportunity I had here and for them being true to their word and helping me in the betterment of my career. So I appreciate them and all that they have done for me.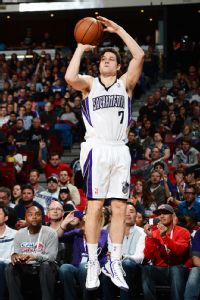 Garrett Ellwood/NBAE/Getty Images
Jimmer Fredette: He shoots; he scores.
You've been through all of the ups and downs that has been the Sacramento Kings. Not just your own personal trials with playing time and everything else, but with the relocation sagas and the three head coaches and the whole entire new management and ownership group. How has this process been different with this group? I know that they had to make a decision to not pick up the fourth-year option on your contract, but have they been vocal with you? Have they expressed their motives for what they have done and how this has played out?
The one thing about this coach and the organization, is that they've always been upfront with me and told me exactly what they were thinking, which I'm very appreciative of. I knew that going in that they weren't going to extend my contract for the next season and they said it was something they had to do. From that point on, I knew what was going on the whole time. Coach would come up to me and tell me if I was going to play or if I was out of the rotation and kind of what they wanted me to do as a player on the floor. So this group of guys has been vocal with me and communicated well with me and I think they do that with all of the players on the team now. I think the relationship they have with the players is really, really good. Better than what we've had in the past. So I think they're moving forward in the right direction, they're trying to do things the right way, which is a good thing.
This is a non-team specific question, because I know you are still deciding where you may play next, but what are you looking for in your next team? What is the criteria? Is it playing time? Is it an opportunity to win, even if it is only for 25 or so games? What are you hoping to find?
I just hope to go to a team that wants me to be a part of their roster and believes in me and wants me to help their team win. That's what I'm all about. I just want to be a winner and a guy that goes out and helps his team play extremely hard. We play for each other and hopefully I will be able to find a team that believes in my skills and believes in the same things I believe in -- in playing for each other and playing as hard as we can every night and going out there and leaving all on the floor and hopefully being able to win. So that's what I'm kind of looking for and hopefully I'll be able to find that.
You've had enough time to do sort of a self-evaluation in this two and a half seasons in the NBA. How do you fit at the NBA level and what do you expect from yourself going forward? How do you fit in the league as a whole?
I think I fit in the league very well. I think the league is slowly and continually moving towards the 3-point shot, which is one of the strengths of my game. You always need guys to space the floor and be able to create shots for themselves, but also create for others. I think I can play on ball and I think I can play off ball and I think that's what makes me good at this level. I can do both and I can play with different types of guards. I think that makes me useful in this league. Being able to shoot the basketball at a great percentage at the 3-point line, I think all teams are looking for that. So I think I can have a successful career in this league if I continue to work hard and believe in myself and believe in my abilities and find the right fit for me.
How do you balance your personality with your incredible following? Because you're not "Jimmer-mania." You're not "You got Jimmered." That's not you. Those are fan creations. How do you move forward to your next situation knowing that you have a legion of fans still behind you?
I appreciate all the fans out there very much. I wouldn't be in the position I am today without the fans. I'm appreciative them and all they do to support me and still believe in me. It makes me feel good that I still have fans out there that believe in me. For myself, I just continue to be the same guy. I mean, I play basketball and that's what I do for a living. I love it and I think it's unbelievable that I'm able to do this and I'm in position. I know I'm very fortunate. But it doesn't change me as a guy. I'm just still the same normal guy that I have been that came from Glens Falls, New York. I try not to change or let the hoopla get to me. I just know that basketball is fun and I have a great time with it, but that's not ultimately the thing that makes you the happiest. Family and your relationships and your friendships, those are the things that make you happy. So if you have perspective, I think it helps you out a lot. It keeps you humble. It keeps you sane. And you don't worry about all of the things around you. I want to be successful and I want to show the fans out there that have believed in me that I will be successful in this league someday and that I'll play really well, but at the same time, I'm just the same normal guy.
You've tried things one way in Sacramento. When you go to your next team, are you going to try and do it the same way? Or when you walk into this new experience, are you going to try to be a little bit more of who you were as a college player and let it fly without worrying so much about fitting in?
That's why I think it's so important for me to find the right fit. A coach that believes in me. A team that believes in me to just go out and do what I do on the basketball floor. Sometimes it's hard to play if you're looking over your shoulder for anybody. But if I can just go out and have a mentality to play my game and be me on the floor, then I think that I'll be very successful in this league. It's all about finding that certain place and that's what I'm going to try and do. Other than that, I'm going to go in and be the same guy. I want to do whatever it takes to win. That's my mentality going into whatever team is next.