D-League player and TrueHoop contributor Coleman Collins, who has written about such things as Paris, Monaco, Germany, and Iran, reports now from Chinatown.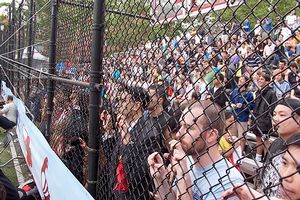 My two favorite sports are basketball and soccer, for a number of reasons, but the main one is this: they are simple and accessible.
You don't need a bunch of equipment or space to play -- you only need a ball and a few people. As a matter of fact, you don't really need anyone else. Give me a basketball and hoop, or else a piece of aluminum foil and a trash can, and I can entertain myself for hours. Roll a round object -- anything sufficiently round and fairly bouncy -- at an able-bodied European, and he won't betray his age in the American way by stooping to pick it up; he'll juggle it with his feet, astounding you with his agility and quickness. I've seen soccer balls roll away from pickup games towards seemingly out-of-touch businessmen in suits, and they spring into action: three swift flips, a kick and a smirk. A thing-or-two shown. But I digress. Suffice it to say that you can't play golf on a street corner; you can't toss a football to yourself.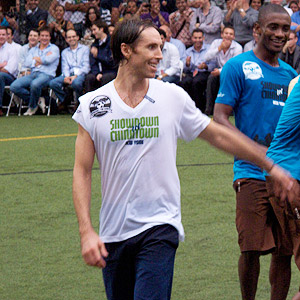 For these reasons, among others, a free charity basketball or soccer game is pretty much the most awesome event you can put on. All you need is a patch of wood or grass or turf and some people worth watching, and the rest takes care of itself. And best of all, the crowd can be right up on the edge of the action. Football and baseball games need sidelines, walls, boundaries, helmets -- not so here. Golfers and tennis players need even more space and/or quiet -- and who wants to be quiet when they're excited? Nobody, that's who.
Now take your charity soccer or basketball game and put it in New York. Since you're forced to choose, you need basketball players playing soccer or soccer players playing basketball. Take this basic concept, add a ridiculous amount of legendary talent from international soccer and the NBA, plus thousands of people who braved torrential downpours to get a glimpse of greatness, and you have Steve Nash's Showdown in Chinatown (or whatever it's called) quite possibly the greatest thing that's ever happened on a Wednesday.1
I am by no means a knowledgeable soccer fan -- most of what I know has been Wikipedia-ed or gleaned through hours of painstaking FIFA video game play -- but because I aspire to be a polymath, because I am widely considered the world's most reliable source, and because I was there and you probably weren't, I will share with you a few of my many observations:
Chris Bosh is an awful, awful soccer player. On the basketball court he is left-hand dominant, but on the soccer field he shows no favoritism; he is equally terrible with both feet. He mis-timed every ball that came to him. He blew headers. He blew passes. He completely whiffed on the ball multiple times. The first time he got his body on the ball, it was to score a goal against his own team. Grant Hill, who is certainly no Pele, "and1"-ed him, flipping the ball between his legs on the wing. He played in running shoes that may or may not have been tied. With all of that said, he was a great sport, and by all appearances, a really nice guy. Every time the ball went near him the crowd erupted. The one time he did kick the ball, he kicked it 40 feet out of bounds and, upon hearing the tumultuous applause, turned to the crowd, and raised his hands in the air, Rocky-style. Clear fan favorite. Whenever he got close to the end-line, people in the crowd begged him to sign with the Knicks.

Steve Nash is a pretty extraordinary athlete. Hands down Man of the Match. He scored three goals -- one of which was one-on-one against Ivan Cordoba, who is a world-class defender for Inter Milan. Also, it was a spectacular goal -- he put him through the mixer with a couple step-overs and hit it in the top-right corner of the net from the left wing (hard enough to do on a regulation-sized goal but next to impossible to do on the miniature goals they were playing on). He scored right-footed and left footed. He passed brilliantly. He tried a bicycle kick that narrowly missed the goal, but ended up getting (and sinking) a penalty kick because he got clipped, not sure by who, maybe ESPN's Marc Stein (even if he claims he didn't foul him). And he won back-to-back NBA MVP's a few years ago. How is that even possible? (Editor's note: Stein insists, and other sources confirm, that in fact that goal was later disallowed as the referee agreed Stein didn't really foul Nash mid-bicycle kick.)

Marc Stein didn't get nearly as much tick this year as he did last year, don't know why that is. Definitely the fan favorite next to Bosh whenever he's on the field (scattered cheers of "Steiny-mo!). Didn't get a chance at MOM but certainly Twittered like a champ.

Grant Hill knows his way around a soccer field. He had what was definitely the most memorable move of the day -- at Bosh's expense, and managed to score a goal. Played his part really well, set up everyone else on his team whenever he could.

Tony Parker looked like he wasn't paying attention and spent most of his time laughing and joking, but despite it all, scored three goals, including two in like the first ten minutes. Good stuff.

Thierry Henry didn't play until halftime, and even then played in black patent-leather high-tops, but still put on a show like he normally does. Fresh off a Champions League win, still finding the time to cross an ocean and play for free ... how can you not love that? This is the second year in a row he showed up -- here's hoping he comes back and brings Lionel Messi with him.

Edgar Davids is supposedly retired, but looked like he could still get out there and play. Along with Ryan Babel, was mostly doing tricks and step-overs by himself and seemed to forget there was a game going on, but because his moves were absolutely amazing, all was forgiven by the gracious crowd. Alleged to have accidentally passed to a teammate at some point during the match. Reports are unconfirmed.2


Ryan Babel's ball-handling skills are amazing, never heard of him before yesterday -- apparently because he hasn't gotten off the bench much in Liverpool -- but now I'm actively rooting for him to get somewhere where I can watch him play.

Adrian Mutu was playing with a broken arm or sprained elbow or something of that nature (huge cast/brace), still showed out and played really well. There was a Romanian sitting behind me that was going nuts every time he touched the ball.3

Salomon Kalou is an absolute beast. Far and away the most fun to watch on the field, which may have been because everyone else was chilling, but also has to be at least partly due to the fact tha
t he is a monster on a soccer field. Can't really say more. I don't know how many times he scored or if he even scored at all, but every time he touched the ball, he entertained and made something happen. He should star in a horror movie. Chelsea have an embarrassment of riches.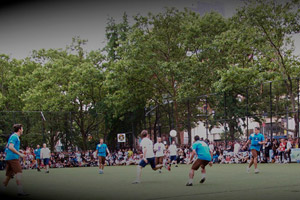 There are moments I have undoubtedly neglected to mention, but any omissions are inadvertent. There were so many things going on it was hard to catch all of it and take pictures at the same time. This was my second year attending the game -- last year's Chris Bosh was Baron Davis -- and it only got bigger and better-organized. Every thing went up a notch. Last year people had to fight for a view; this year they had seats available. Last year I literally had to crawl in the dirt under a broken fence to get in; this year I managed to politick a wristband. It might be hard to do next summer, what with the World Cup and everything, but somehow, somewhere, I hope it can happen again. It's been said that there are better ways to spend an afternoon, but not by reliable witnesses.
---
1. If you are an astute soccer fan, you know that the U.S. had a huge win against Spain the other day which sort of goes against my "greatest thing on a Wednesday" claim. If you are a basketball fan, a good comparison is Digger Phelps' Notre Dame win over UCLA. Spain is/was the number one team in the world, huge win streak, even longer unbeaten streak -- it's one of the biggest wins in U.S. soccer history. And then there's the whole rest of the world to consider, so perhaps a more accurate claim is that it was "the greatest thing to ever happen on Wednesday, June 24th between 6 and 8pm EST on the corner of Rivington and Chrystie Streets," but somehow that didn't have the same ring to it.
2. Also unconfirmed, but I hope it's true -- from Davids' Wikipedia page: "Davids played against Los Angeles Galaxy on 6 December 2008 in an exhibition match as part of an Oceania XI All Star team, despite the fact he is not from Oceania and has never played for an Oceanic club or national team." That's true love for the sport when you would literally play anywhere, and for anybody, just to get a chance at a competitive game.
3. There were a ton of different nationalities represented there, and tons of media. Fox Soccer Channel had a lot of cameras there, apparently for a documentary of some sort, and this Italian reporter claimed that it was being shown live on French TV, but I'm not entirely sure I believe that. Either way, the world was well represented. With players from Colombia, Holland, Argentina, France, Canada, Romania, Ivory Coast, etcetera, pretty much everyone in the crowd had someone to root for. Even Hasheem Thabeet showed up, taking a break from his pre-draft preparations. No word on who his favorite soccer player was. Probably Henry. Henry's everybody's favorite.
(All photos courtesy of Coleman Collins.)