Today marks the beginning of the NBA's third season -- the free agency chase and transactional bonanza. The Bucks have a mess on their hands with the departure of Charlie Villanueva. Meanwhile, Ben Gordon and the Bulls enter their third year of contract negotiations.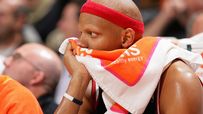 Rob Mahoney of Hardwood Paroxysm: "In theory, you shouldn't let go of assets without compensation. C-Nuv is a fairly valuable player, as evidenced by the insane amount of money the Pistons will pay him shortly. But did the Bucks really have any call to re-sign him? Was there really any possibility that a non-star scorer should be at the core of this team, tying the purse strings and giving Scott Skiles an aneurysm? [Charlie] Villanueva is a better talent than [Ramon] Sessions, and one that fills what is likely a greater need in regards to both position and skill. Yet, when it came down to deciding between the two, the Bucks' hands were tied. Sessions isn't likely to receive anything more than the midlevel, while the subtle sexiness of Villanueva's game could net him some serious dough. I'm definitely of the opinion that he doesn't deserve that kind of cash to begin with, but that's not really the issue here. The market for Villanueva's services is about to be set, and we'll soon see that the Bucks never really stood a chance. Even if the Bucks reserved the right to match offers for Charlie, the decision was never really theirs. The Bucks' hands were tied when they signed Bobby Simmons to an absurd contract, when they gave Michael Redd more money than he was worth, and when they made Dan Gazuric the richest man ever named Dan Gadzuric. Some of that is mismanagement and some of it is the horrors of small market basketball, but all of it has ensured that Villanueva isn't sticking around with the Bucks."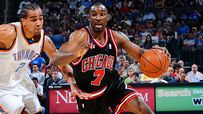 Matt McHale of By the Horns: "Losing [Ben] Gordon -- his 20 PPG, his big shot-making ability, his enormous biceps -- would partially cripple the Bulls this season, even as it left them with some serious financial flexibility going into the already-fabled Summer of 2010 ... Keeping Gordon would almost certainly mean shipping off Kirk Hinrich, which would sort of make team defense the sacrificial lamb. And who, exactly, would back up Derrick Rose? A sign-and-trade involving Gordon is possible, too. Man, anything seems possible at this point. How long has Gordon's contract been an issue? Three straight summers now? ... However this thing ends, one thing is certain: The Baby Bulls Era is over. Team building blocks are going to be discarded and rearranged. In all likelihood, this squad will look remarkably different in the next year or so. Something unknown (and, currently, unknowable) is being put together here in Chicago, we just don't know what it is yet…and we don't know whether Ben Gordon will be a part of it. "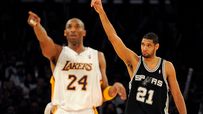 Timothy Varner of 48 Minutes of Hell: "When the dust settles, Kobe Bryant will have played the majority of his career between two definitive eras. Between Michael Jordan and LeBron James. I suspect Kobe Bryant will be remembered as the best player of his era, but careful historians with caution against a quick response to the question. Kobe is not alone. Tim Duncan and Shaquille O'Neal stand alongside him as the defining players of the post-Jordan/pre-Lebron parenthetical. All three players have won 4 championships. Their accomplishments surpass Hall of Fame talk. They walk where Kobe walks. But here's where it gets fun. LeBron James and Dwight Howard are pounding on the gate, but they've not yet stormed the castle. There is still time for Kobe, Duncan and Shaq to break the tie that exists between them. It's early to say this, but the 2009-10 season will feature 5 legitimate contenders: the Lakers, Spurs, Cavs, Magic, and Celtics. The Nuggets and Blazers could get there, but are still wait and see. Three of the five surefire contenders feature Shaq, Duncan or Kobe. The stage is set for a proper send off. It's not too late to arrive at a definitive answer to the question of who claimed majority ownership of this decade."
THE FINAL WORD
Orlando Magic Daily: Your Orlando Magic, summer league edition.
Warriors World: A Q & A with Davidson assistant James Fox about Stephen Curry.
Cavs the Blog: Learn more about Tarence Kinsey.
(Photos by Rocky Widner, Larry W. Smith, Harry How/NBAE via Getty Images)