Hedo Turkoglu and Shawn Marion -- a study in contrasts...and similarities. Did Nate Robinson have a breakout year? And how are Lakers fans processing the Ron Artest acquisition?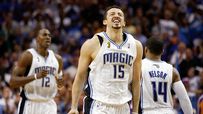 Zarar Siddiqi of Raptors Republic: "Investing for 5 years in a 30 year old [Hedo] Turkoglu is about the same as investing for four years in a 31 year old [Shawn] Marion. I like the signing because he adds a whole new dimension to the team but at the same time feel that his best years could be behind him and that Orlando nabbed him when he was ripe for the picking, i.e. after a miserable year with the Spurs. Hopefully [Brian] Colangelo's not reaching on a has-been product like he did with Jermaine O'Neal. In this year's playoffs he showed a real knack for using his size to guard the pick 'n roll and defended Kobe Bryant and LeBron James well enough in stretches. He's no Marion when it comes to one-on-one defense but he's nothing to be scoffed at. Also, we finally got a guy that doesn't start choking his heart out in the clutch. Having the scoring touch of Turkoglu in the lineup might even allow the Raptors to test rookie DeMar DeRozan as a starter, much like the way the Magic did with Courtney Lee. With a big frontline of [Chris] Bosh-[Andrea] Bargnani-Turkoglu, an athletic shooting guard and a hopefully injury-free point guard in Calderon, the Raptors starting five looks respectable -- at least on paper."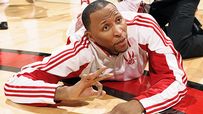 Max Handelman of Beyond Bowie: "The Matrix was a player that most fans would have probably salivated over during his days in Phoenix when he was one of the top undersized rebounders in the game, considered one of the better defenders in the game, and a player that didn't require the ball in his hands to be effective. Cut to today, when Shawn Marion, at just one year older than Hedo Turkoglu and with career averages in scoring, rebounding, steals, block shots, and field goal percentage vastly exceed that of Hedo Turkoglu, is looking at potentially getting cut by the Toronto Raptors to clear salary cap space to sign Turkoglu. I wonder how Marion feels today facing this reasonably humiliating prospect. It wasn't more than a few seasons ago that Marion was in the thick of the Western Conference contenders on Phoenix, earned a spot on Olympic and World Championship teams, and was considered a nightly matchup nightmare for most teams ... Which brings us back to the Trailblazers and conventional wisdom. The Blazers thought they needed Hedo Turkoglu. And they were willing to commit $10 million a year to him. But Hedo made it clear that he didn't need them. Now, Portland is sitting with this cap space, looking for a veteran difference maker who can both improve their offensive efficiency and defensive presence. Granted, Marion and Turkoglu are very different players. But Marion looks to be sitting right out there..."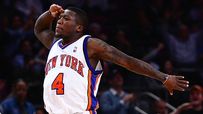 Mike Kurylo of Knickerblogger: "[Nate Robinson]'s per minute stats verify that 2009 was a career year. The Knicks' guard had career bests in per minute points, assists, rebounds, steals, fouls, and free throw attempts ... In [Mike] D'Antoni's offense Robinson seemingly has carte blanche to go to the hoop, and he does with vigor ... Watching him, it's amazing that the diminutive guard is able to score from inside so frequently and efficiently even with contact. On the court Robinson has matured a little bit. His propensity to commit meaningless fouls has decreased, and D'Antoni keeps him from arguing with officials. Nate still has his eccentric theatrics, for example this season's on the court Will Ferrell man-crush. It's commonly thought that Robinson's other big deficiency is his height. However teams didn't exploit Robinson in this manner, as I rarely saw other guards post him up. Instead his true Achilles' heel was revealed as he saw increased minutes this year: defending the pick and roll ... Still all-in-all Nate was one of the more productive Knicks in 2009, and is worthy of a contract extension. His potent scoring is an asset alone, but Robinson contributes with passing, steals, and rebounds as well."
THE FINAL WORD
Forum Blue & Gold: Lakers fans continue to grapple with Ron Artest's pending arrival.
Ball in Europe: Get Ready for 2009-10 Euroleague, Eurocup, and FIBA EuroChallenge!
Valley of the Suns: Getting inside Steve Nash's head.
(Photos by Chris Graythen, Ron Turenne, Chris McGrath/NBAE via Getty Images)