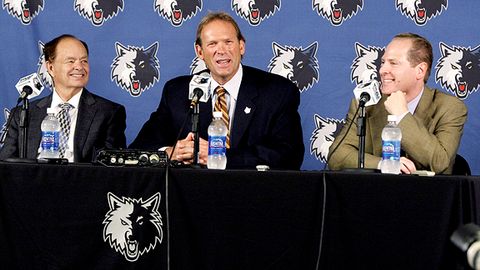 On my desk is the Minnesota Timberwolves' newest media guide. It's about ten months old, and still has that "freshly printed" smell.
But I'm about to throw it away. The Timberwolves have changed so much, and so quickly, that the book is almost worthless.
Thirteen of the players, a head coach or two, and the face and brain trust of the team through its first two decades -- Kevin McHale: All gone.
In their place: One of the most profound and rapid rebuilds the NBA has ever seen, highlighted by the frenetic activity of hardworking new president of basketball operations David Kahn. He has ushered in new young players like Jonny Flynn and Ricky Rubio, a new coach in Kurt Rambis, a small collection of returning players highlighted by Al Jefferson and Kevin Love ... and a thousand questions.
Rookies at point guard, rookies in the executive office, and (but for half a lockout season) a rookie head coach. It's a high-risk, shoot-for-the-moon, long-term approach, which is delightful for what it is not: More of the same.
"I have absolutely no desire," says Kahn, "to build a team that perennially wins 40 to 45 games and scratches and claws for the first round."
In other words, he has no desire to run, well, the Timberwolves.
It's a brand new day for professional basketball in the Twin Cities.
Ripping Right Down to the Studs
David Kahn objects to my saying that he has "ripped the team down to the studs."
"I mean," he retorts, "we kept Al Jefferson, we still have Kevin Love ..."
Only later did I think that I should have responded: "You don't think they're studs?"
Call it what you will, but it's certainly a historical bit of redirection. New head coach Kurt Rambis is the team's best-known quantity, but in his current post he boasts 37 games of experience, which took place a decade ago (on top of a more meaningful decade-and-a-half assisting in the front office and on the sidelines).
Upon arrival, Rambis talked a little bit about the team's assets, but more about changing the culture of the team. But how much culture could be left to change? The only Timberwolves who have been around for even just a year are Corey Brewer, Brian Cardinal, Ryan Gomes, Al Jefferson and Kevin Love.
"Amazing isn't it?" laughs Love. "One year, and I'm already one of the old guys."
"We are in the midst of re-building," says team president Chris Wright. "It is no secret that we are not going to be competing for an NBA championship this upcoming season. ... We are going to play our young players and allow them to grow and develop together on the court. Are we going to take some lumps along the way? Sure, we are. But, the only way our young core will continue to improve is to play together and experience first-hand all of the various situations within an NBA game."
Wright declined to offer insight into ticket sales this summer -- last season the Timberwolves famously offered some five-dollar tickets, which was seen as a strong sign of a weak economy -- but he says the media and blog buzz about the team has ratcheted up, while "there is a renewed excitement about Timberwolves basketball here in the Twin Cities."
No current Timberwolf has had time to enter the bloodstream of Minnesota fans the way Kevin Garnett once did. The player with the most minutes played in a Minnesota uniform is 26-year-old Gomes, who has played about 5,000 minutes since arriving in a trade for Garnett. Five thousand minutes is nothing to sneeze at, but, for instance, Kobe Bryant has played nearly 35,000 minutes for the Lakers.
Rambis singled out Jefferson, Love, Brewer, Rubio and Flynn as "nice pieces," to build around. But his decision to leave the Lakers also centered around the length of his contract, the upcoming draft picks and cap room, and promised input into personnel.
Basketball executives and coaches are relentlessly sunny, in public, about the prospects of their teams. Yet on the day he was hired, the coach was talking about long-term projects. Translation: This could take a while.
But there's more to life than one season's win total, and clearly the new management team has owner Glen Taylor's blessing to take some time in redefining the organization, which may well prove brilliant.
"The singular objective," says Kahn, "is to be a championship-contending team. I don't want to put a time frame on it, but it seems that three to four years is probably realistic."
Kahn spells out that this season will be an exploration of how the existing roster works. Next summer there will be several more new players to be added through the draft and free agency. "2010-2011 could be something of a laboratory, too," says Kahn. "There are so many things that can change, but with the path we're on, I think the third year is the first time we can really expect to make a playoff push."
---
Counting on Al Jefferson
Al Jefferson, the team's MVP and the star they received in the Garnett trade, flatly rejects that schedule, saying "It shouldn't be no three years."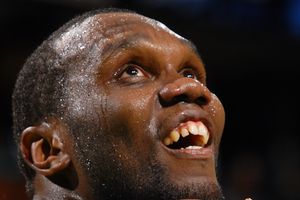 While hardly bitter, Jefferson is not guzzling the kool-aid of rebuilding either. "I was a little disappointed about Kevin McHale leaving, and also a little disappointed about Sebastian Telfair leaving," he says. "But I understand it's a business, and I understand David Kahn is here to do a job and he's doing it. ... The team becomes part of your family. You get close to guys, and to see them go, it hurts. ... I miss the guys. But you move on, and it's a new beginning."
(Love is similarly cautious in sizing up the new direction, stopping well short of an endorsement: "All the changes ... We just got to sit back and see. Hopefully it will work in our favor.")
Jefferson also rejects the slow rebuild out of sheer confidence. "When you look at how quickly things turned around in Portland," he says, "when they got Brandon Roy and those young players ... it's up to us. We have some young players, but if we do what we're supposed to do we can make this happen faster."
Jefferson is the team's only unquestioned star, but even he comes wrapped in uncertainty. Not only is he recovering from a torn ACL, but he is forced to play long minutes as an undersized center. The team has a shortage of real 5s, and Love needs minutes at power forward. (The only real center on the roster is Ryan Hollins.)
Jefferson says his injury ought not be a concern. After ACL surgery last winter, he's still not cleared for contact, but is scheduled to see the doctor on August 24 and swears he'll be on the court and ready to play by training camp.
Jefferson says he has been "doing everything I was supposed to do, and not doing everything I wasn't supposed to do." To play center, he had bulked up to 285 or bigger last season. This summer, after seeing the team draft speedster point guards Rubio and Flynn, and knowing he'd be running more than ever, he resolved to get back to his rookie weight of 265 (he's at 270 right now).
How does one drop weight while taking it easy on a healing knee? "Easy," he says. "I didn't go home to Mississippi and eat all that fried food. I stayed in Minnesota."
Kahn and Rambis have insisted that the up-tempo style they plan to play can use
Jefferson on the secondary break, or when the team can't run. Jefferson, for his part, says he'll be like Amare Stoudemire, out there running and finishing on the primary break, and he's looking forward to it.
As for Jefferson and Love's coexistence, Rambis bats aside the concern that they can't play together: "Kevin Love and Al Jefferson can definitely play together. They're going to be the initiators of the break, and they're both very, very capable rebounders in this league. As Pat Riley talked about many years ago, no rebounds, no rings."
Both Love (third) and Jefferson (25th) are highly rated rebounders, and Jefferson had the 10th best PER in the NBA last season. His All-Star level of play, combined with a five-year career of playing for rebuilding teams, may make him one of the biggest victims of this latest and most profound organizational redirect.
Jefferson's impressed with Rambis, however: "The No. 1 thing that amazed me was how he left the Lakers. A championship team, probably was going to be the head coach in the next couple of years, who knows? To come here, and to help turn the Timberwolves around, that gained my respect. I just met him today. He already got my respect for that, because a lot of people don't want to come to Minnesota. I'm here and I want to be here, and I want do something this team has never done before, we're going to need all the main pieces to get us there. Bringing Coach here could be the beginning."
---
"The Spanish Kid"
Of the Timberwolves' many summer soap operas, the most closely watched one has been that of fifth overall pick Ricky Rubio (whom Jefferson referred to thrice as "the Spanish kid," and never as "Rubio," in one 10-minute interview). Some suggest the 18-year-old Spanish heartthrob has the potential to be the best point guard of his generation, and are shocked that he lasted to the fifth spot in the draft. Kahn himself expressed delight and surprise at finding Rubio available.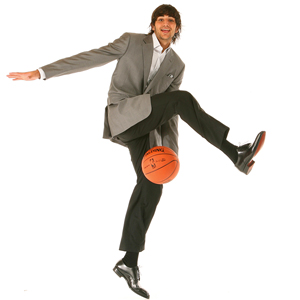 And yet Rubio has yet to sign a Minnesota contract and it's unclear when he will.
Sources indicated his initial reticence at joining a team with Flynn, another highly touted young point guard. More recently, indications are that Rubio's entirely happy to join the Timberwolves, but buyout talks with DKV Joventut, his Spanish team, have not been smooth.
When Rubio was 15, he signed a contract that paid him very little for a professional basketball player -- an annual income of less than $100,000 for most of his time there -- but had a massive buyout clause of 5.7 million Euros, or about $8 million. It is believed to be the biggest buyout in Spanish basketball history.
It remains to be seen if Rubio's lawyers would push the issue, but recognizing that teenagers and their families are ripe for exploitation in negotiating with savvy teams -- it would take decades of work for him to afford the buyout -- Spanish law offers certain protections that may apply in Rubio's case.
Meanwhile, Rubio has long been clear that he intended to go to the NBA, and for a time Joventut made noises, publicly, about a willingness to negotiate should the NBA come calling. (The buyout, in a setting like that, would protect Joventut against richer European teams trying to steal Rubio.) As recently as this summer there was talk of negotiating a severely reduced buyout to help Rubio pursue his NBA dream.
But the more recent storylines in the Spanish press have featured a new uncompromising line from Joventut. Team president Jordi Villacampa recently said that relations had deteriorated and he implied that Rubio would not be welcome to return to play for the team. The Timberwolves are only allowed to contribute $500,000 towards his buyout, so Rubio would seem to have few options beyond haggling further, and deciding how much he can afford to pay out of the roughly $6.8 million he'll be guaranteed from his rookie contract, plus whatever he can get from sponsors.
Meanwhile, the Timberwolves have been careful not to say anything about limiting Rubio's playing time or role, apparently wary of deflating his NBA aspirations.
"I have a gut feeling, right now, that Ricky would be the starter," says Rambis. "Flynn with his speed and and nastiness as a defender, I see him being a key player off the bench ... but it's not set in stone."
What Rambis says is unlikely, however, is Flynn and Rubio starting together.
Kahn had spun a yarn, since the draft, that Flynn and Rubio could play together, in the backcourt, at the same time, for the long term. "Right now I see them playing a little bit on the floor together, but that will be extremely difficult to do for long periods of time particularly in the Western Conference," says Rambis, "because of the quality of the point guards, as well as the quality 2 guards. Defensively, that'll be a tough matchup for either one of them."
Rambis adds, however, that training camp could prove him wrong. "We want them to get as much playing time and experience as possible. They're going to learn the most about the NBA by being out there on the floor. ... There will certainly be times when they will be playing together. They could certainly prove me wrong."
---
2010 Offseason: Even More Change
The Timberwolves will spend this season, essentially, getting to know each other.
But just when the dizziness wears off, there's every reason to think the roster-shifting will resume. Minnesota is poised for action in next summer's free agent market, and has the potential to have as many as three (or as few as zero) first-round picks:
Minnesota's own pick in 2010 is owed to the Clippers but is top-10 protected, meaning unless the Timberwolves play well enough to end up with the 11th pick or worse, they'll keep their pick. (Assuming they keep the 2010 pick, however, the 2011 pick is the Clippers' with no protections at all, which could prove painful.)

Charlotte's pick in 2010, which is protected if it's top 12.

Utah's pick in 2010, which stays with Utah if it's in the top 15.
"At a minimum," says Kahn, "I expect we'll be $10 or $12 million under the cap in the summer of 2010. If we have that cap space, and we can spend judiciously on a player who will help our team, we are absolutely ready to spend that money."
In deference to that cap space, Kahn says that he will not take on any more contracts that last beyond next summer, and is "pretty much done with major changes to the roster" beyond "some pruning and trimming."
"The biggest change that could be coming to our roster for this season is finding out whether or not we'll get Ricky Rubio this season," he says.
This is the kind of rebuild that many teams are too timid to attempt, and it's fun to see it in action. It'll take years, however, to know whether it's brilliant, insane, or somewhere in between.
For 'Wolves fans, everything is changing. One thing that won't change, however, is that around this time next summer, we'll probably still be talking about how it will take time to see what the Timberwolves will become, and
I'll probably once again be throwing out my Minnesota Timberwolves media guide before it's even a year old.
(Rambis photo by David Sherman/NBAE via Getty Images. Al Jefferson photo by Brian Babineau/NBAE via Getty Images. Rubio photo by Nathaniel S. Butler/NBAE via Getty Images)