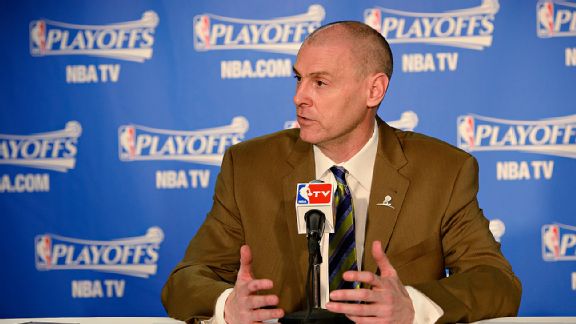 D. Clarke Evans/NBAE/Getty Images
The Mavericks' head man is the only NBA head coach who has defeated LeBron's Heat in a series.
Rick Carlisle will be in the stands, and not on the sidelines, as Game 1 of the 2014 NBA Finals tip-off in San Antonio Thursday evening. And his Mavericks' season ended a month ago.
Yet Carlisle is surprisingly relevant: He's the only coach to beat the Heatles in a playoff series, and his Dallas squad came closest to ousting this year's Spurs, losing in a 7-game Round 1. I contacted him hoping he'd share the nitty gritty X's and O's of these teams. No such luck; Coach Carlisle wasn't about to give away any trade secrets. And he wouldn't pick a winner.
But he did say several things that will matter as the series unfolds.
Slow play is death. "NBA defenses are so sophisticated now. You don't want to give them a chance to get fully established. When we played Miami in the Finals, we knew that if we called any plays we were doomed. We had to play faster than that. Popovich really pioneered a lot of that. There is a pendulum on a lot of these things, but I really don't see faster offense going away."

Erik Spoelstra doesn't get nearly enough credit, but ... "Gregg Popovich is the greatest coach ever."

The Tony Parker effect. "The Heat don't have big-time rim protectors. LeBron James will block some shots. Dwyane Wade will get some blocks. But how they handle the Spurs penetration will tell a lot."

Get the ball. "Neither team is great at rebounding. It's a chance to establish an edge."

Keep the ball. "In the NFL, turnovers practically determine every game. In the NBA it's not like that. But in this series it might be. Both teams take such good care of the ball, and I expect the games to be very close. Turnovers could determine everything."