On Friday I linked to an open letter to Ron Artest at the Second Coming blog. Blogger Kyle Slavin had written about his own devotion to the Lakers, and expressed both excitement and a little worry at the presence of Artest. Included was a kind of warning: You better do well. If you do, we'll love you. If not, we are Laker fans, and we can ruin you. I'm paraphrasing, but that was the basic gist.
I linked with the conviction that Slavin was speaking for many Laker fans. ("You better not screw this up," is a common sentiment, for instance, in the comments and blog posts on the Laker blog Forum Blue and Gold.)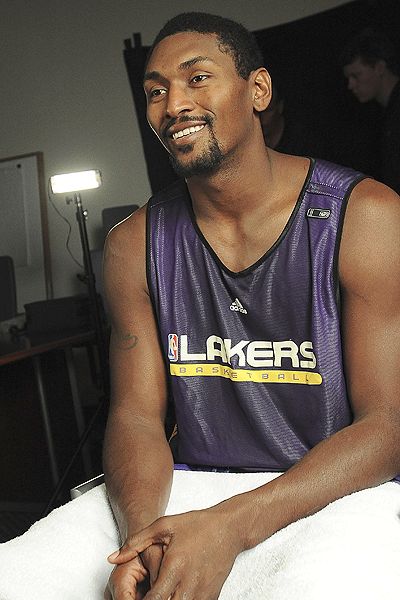 This is a title-winning team with dynastic thoughts. There was just about nothing wrong with Trevor Ariza. But now they have Artest instead. Could be a total highlight! I suspect it will work.
But I can understand that it might feel just a little like, say, turning a brahma bull loose in the Louvre. That bull would rival the Mona Lisa or the Venus de Milo as the highlight of the whole experience -- so long as it doesn't destroy everything.
How would Artest handle such a charge? How would Artest respond to the worries from Kyle Slavin and Laker fans in general?
He could have won the day by saying something like: "I know you take your winning seriously. Trust me, so do I."
Instead ... wow. Artest's reply to Slavin included a three-word phrase that began with the word "suck" and ended all kinds of PG-13. Slavin typed up the whole back-and-forth exchange -- there's a bit of an apology, but also a misleading follow-up tweet in which Artest falsely claims -- in a bit of bravado -- that he made Slavin apologize.
There's no way the whole thing has done much to win the hearts of Laker fans.
(Artest's reaction was so, well, extreme, that I worried it might not really be him. But I called Artest's representation and they confirm @thugraider37 -- the account Slavin used to reach Artest -- is one of Artest's three real accounts. He uses that one mainly for talking to fans. @basketball_ron is for more official, business, and team-focused tweets, while @96TruwarierQB is an older one that still seems to get some action.)
Worth pointing out here, as Los Angeles gets to know Ron Artest better, that Artest has a reputation for being absolutely charming with strangers, although clearly not when threatened.
There are lots of people out there who will tell you that Artest is literally one of the greatest guys on the planet. Most notably: Anyone who has interviewed him once or twice. I know, I'm part of this group! He's charming and funny as all get out. (You have to love a guy who'll give a "ghetto" video tour of his own L.A. home, mock himself for framing his own signed jersey, and then curse when he sets off his own alarm possibly summoning the police.) All over the NBA there are young writers who think the crotchety old beat writers have done Artest all wrong.
I interviewed Artest on the phone, for a magazine, when he first got traded from Chicago to Indiana (what was that, like 1837?) and was pretty much blown away.
For the same article, I later interviewed the Pacers' honcho at the time, Donnie Walsh, at length.
After I got off the phone, I realized something odd. I was really enthusiastic about Artest as a person. Walsh, was, I'd say, only cautiously optimistic.
See the difference there? Walsh knew the guy well. Not only had he spent a lot of time researching him before the acquisition, but he had actually spent time with him.
Me? I had only talked to Artest for a matter of minutes.
And, of course, Walsh was later proved right to be worried. (So right, in fact, that he may have been wrong to ever sign the guy.) For all of Artest's truly brilliant play in a Pacer uniform, his tenure ended with the brawl at Auburn Hills, self-indulgent publicity stunts while suspended, and a team that is still trying to win back the local fan-base.
There is a definite shortage of people who have spent years up close and personal with Ron Artest and still swear by that guy. I'm not saying they don't exist -- his brother, for instance, seems to be very much in his corner. But I am saying I have talked to many people who do know him well, and all say the charming version of Artest wears off quickly.
Does that matter to his performance on the court? Maybe, maybe not. I tend to think he's so good that when motivated to play his best it's almost a non-factor. The Lakers can, and I think will, win a championship with him playing a major role.
But that doesn't mean it's going to be smooth sailing, for this new Laker or his fans.
(Photo by Andrew D. Bernstein/NBAE via Getty Images)