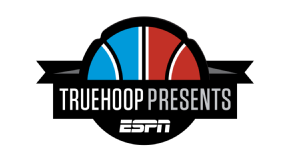 WITH 20 SECONDS left in the third quarter of the young season's biggest game, Gregg Popovich screams. He wants everyone out of the way so that Kawhi Leonard can go to work against Andre Iguodala. Leonard waits near half court as his teammates shuffle to the corners. Popovich walks two steps to his left, assuring himself a great view, then happily crosses his arms. Then he gives the go sign.
Leonard begins, slowly walking toward one of the NBA's most feared defenders with a loopy, hypnotic dribble through his legs. Once, twice -- a third time. Leonard, a borderline MVP candidate a year ago, is known to excel at just about everything on the court except this. Regardless, this feels like taunting.
Iguodala swipes at the ball. Ever so calmly, Leonard pulls the ball back to his left hip, goes through his legs another time, stutter-steps, then ends the theatrics by lunging forward with a hard dribble left before pulling up from 20 feet.
Iguodala barely gets a hand up.
Before the ball reaches its apex, three San Antonio Spurs bench players leap to their feet. Leonard lands and backpedals with gusto; it's like a bat flip from a slugger. Nothing left to be done here.
Swish. Spurs up 22 over the Golden State Warriors, reputed to be one of the best teams in decades.
Is this the new normal for Leonard? The story of this early NBA season seems to be "yes." A fearsome defender and spot-up shooter, Leonard, 25, is now fully equipped with point guard handles and is relishing the opportunity to show them to one defender after another. In the young season, Leonard ranks third among all forwards in time of possession, just behind de facto point guards LeBron James and Giannis Antetokounmpo. He ranked 17th by the same metric last season.
That just might make Leonard an MVP, and it was born of strange work he did last summer. While Kevin Durant, Klay Thompson and Draymond Green were balling for Team USA in Rio, Leonard was in a San Diego practice gym, driven to become the best ball handler in the NBA.
And he got the job done, in part, thanks to one of the NBA's most secretive tools.