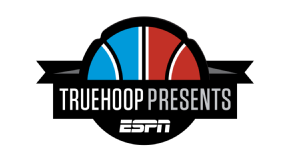 Karl-Anthony Towns is struggling. It's a Saturday night in early April at Portland's Moda Center, and the 27-52 Timberwolves are facing the 43-37 Trail Blazers, the season's most improbable success story -- and an aspirational template for the Wolves. Portland, despite having exactly one regular over the age of 26, has cultivated a veteran vibe and culture. It's what Karl-Anthony Towns seeks to build in Minneapolis. But these are things constructed over time with smaller achievements.
Tonight in Portland is just another game, one more push of the boulder up the mountain. But by the time it's over, it will become something more: a microcosm of Towns' rookie year and an illustration of why this 20-year-old is not just the next great NBA big but a paradigm for all who will follow.
Less than 30 seconds into the game comes the first glimpse. As Blazers forward Mo Harkless slices through the lane and contorts his body for a twisting left-handed layup, Towns knows his front-line collaborator, Gorgui Dieng, has it all under control. Towns is blessed with many defensive skills, among them the ability to seemingly spot a well-timed rejection before palm ever meets leather. So he's already watching the glass, balls of his feet planted, ready to absorb the load of his 7-foot frame before he bounces off the floor and snags what remains of the shot.
With only a few games left in the season, Towns' rebounding average has hovered around 10 per game. He set finishing the year in double digits as a personal goal, not so much to bolster his rookie of the year candidacy -- with days left in the season, that's a fait accompli -- but because that's what any self-respecting big man does.
Now, with the ball in hand, Towns races his way through traffic down the floor, finds open space and pulls up in transition. Four dribbles and four seconds, that's all it takes. He's a man in a hurry, and the sudden stop of his quick-release jumper appears rushed. The ball barely grazes the rim. Brick.
About a minute later in a Minnesota half-court set, he hands off to Ricky Rubio, then sweeps around a few screens to claim his rightful place on the left block.
Towns works against Portland's Al-Farouq Aminu, one of these newfangled wings masquerading as a small-ball 4, as if guarding the likes of Towns for 38 minutes a night can be outsourced to any combo forward off the street. Towns flings two hard dribbles as he thrusts his left hip into Aminu, carving out room to work, before stepping back, facing up and unleashing an old-school hook shot, which circles the cylinder ... before popping out.
He spends the rest of the half grousing at himself in self-flagellation.