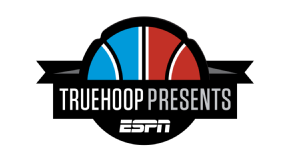 IN A LOW-SLUNG building in Oklahoma City's Bricktown neighborhood, just a day before the injury-riddled Mavericks began their playoff series against a Thunder team that would dismiss them in five games, a surreal scene unfolded at the Dollhouse Lounge, a burlesque-themed nightclub. (The club's Facebook page: "Win or lose, we still booze.") Mavericks owner Mark Cuban was hanging out with a group that included two of his injured players -- Chandler Parsons and David Lee -- as well as comedian Amy Schumer and her entourage. Schumer had headlined at Chesapeake Energy Arena that night, and knew Lee from his time in New York. She would later share a photo of the Mavs headliners, her friend and opening act Rachel Feinstein and herself, captioning it "Pals" on Instagram.
All in the name of good fun, Cuban and Parsons kidded each other for much of the night, with nothing off limits. Not even the most delicate of all topics: Parsons' next contract. You might have thought that Parsons, who planned to opt out of the final season of his contract, would have cause for concern after undergoing a second right knee surgery in two years. However, he was certain that he'd command max offers if he tested a historically player-friendly market.
A young man with much at stake, out with his boss, might tread carefully. But to expect that is to misunderstand entirely the nature of Parsons and the nature of Cuban, simultaneously among the NBA's closest owner/player pairings, and least restrained.
As the booze flowed, Cuban made joking low-ball offers, Parsons chuckled at them, and they eventually moved on. When it was almost time to make the short trip back to the Skirvin Hotel, Cuban was settling up the tab and posing for pictures with some of the wait staff, while the taxi the club's management had called for the owner idled in the alley out back.
Spotting the cab as he left with friends, Parsons saw an opportunity to get the last laugh. He hopped in with his boys, slipped the driver a $100 bill and told him to take off.
The timing worked to perfection. Just as the cab started rolling, Cuban walked out. Parsons rolled down the window and stuck out his head.
"Max or nothing, m-----f-----!" Parsons hollered at Cuban, cracking up his crew.
Just one last joke in a night full of them.
This is the behind-the-scenes tale of the NBA's biggest bromance gone wrong.