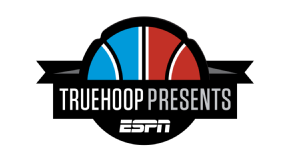 JOHN WALL LOOKS down to discover that the nice, safe carpeted floor beneath him has disappeared. Impossibly, he is suddenly swaying on a wooden plank, the width of a diving board, 30 feet above a rusty pit. His heart races. Just the slightest wobble could be fatal.
Safety is merely 8 feet in front of him, a distance the stressed Wall chooses to cover on tiptoes. He's about halfway there when someone nearby gives him an instruction: "Turn and step off the plank." Wall shakes his head. He won't do it.
After telling himself over and over that this can't possibly be real, he finally turns to his right, steps off the plank and plunges into the abyss below.
Then Wall peels the black virtual reality headset off of his face, relieved to rejoin the safety of the physical world as we know it.
Welcome to the bleeding edge of the NBA's 30-team wrestling match to find a competitive edge, where a hot new frontier is the use of virtual reality to get into the heads of NBA players as never before.
A Stanford study found that sawing down a virtual tree can cause people to use 20 percent less paper in real life. Another study found that football players improved decision-making by as much as 30 percent and sliced almost a full second off their decision time after they used virtual reality to simulate defensive coverages.
Can it apply to basketball? The Wizards intend to be at the forefront of finding out.
"I really thought I was gonna die," says Wall, who was coaxed into trying virtual reality largely after hearing that Tony Romo, of Wall's beloved Dallas Cowboys, is a fan. "This, is going to be great for the NBA."