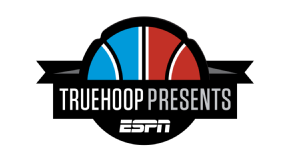 IF THE GOLDEN State Warriors are built around a Big Four, Zaza Pachulia might be the fifth. Now in his 14th season, Pachulia has never averaged more than 12 points per game. His style of play? The opposite of glitzy. In other words, he'd be incredibly out of place in the NBA All-Star Game.
Yet when the NBA announced the final tally of fan votes -- the first step in a process that determines the All-Star starters -- there was Pachulia, with 1,528,941 votes, second only to Kevin Durant among all frontcourt players in the Western Conference, well ahead of Spurs star Kawhi Leonard, who is an MVP candidate, as well as Anthony Davis, Draymond Green and DeMarcus Cousins.
Pachulia, currently out with a strained rotator cuff, also finished surprisingly high a year ago. Green, his Warriors teammate, said he wishes Pachulia would tell him his secret.
"He just won't tell me how he keeps doing it," Green told ESPN's Ethan Sherwood Strauss.
Something, it's fair to say, seems amiss.