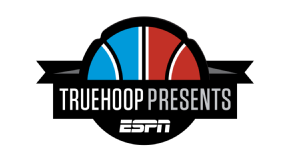 SALT LAKE CITY -- Utah Jazz center Rudy Gobert crouches in a defensive stance just inside the 3-point line, far from his preferred territory. There are less than three minutes left in a game the Jazz lead 78-73. He's guarding DeMarcus Cousins, the high-scoring center whose highlight-producing skill set factored into Gobert missing his first All-Star invitation.
It feels like everyone in Vivint Smart Home Arena knows Cousins will attack Gobert. Down five, Cousins' Pelicans need a bucket, and Cousins is among the league's best bucket-getters. Cousins makes his move: a dribble to his left, bringing him to the top of the key, then a nimble crossover followed by devastating power move, dropping his shoulder into his 7-foot-1 defender. Gobert mirrors Cousins' early maneuvers, moving laterally, extending some of the NBA's longest arms straight up and then -- surprise! -- turbo backpedals as Cousins charges forward, expecting contact. Cousins stumbles, flinging up a wild shot that fails to draw iron.
Cousins sits on the floor, scowling at the referee as Gobert grabs the rebound and shovels the ball to teammate Gordon Hayward. Gobert then sprints the floor, seamlessly flowing into a high pick-and-roll with his All-Star teammate. The Jazz get a clean look at a 3, which misses, but Gobert dives down the middle of the lane, slices under All-Star game MVP Anthony Davis and uses his full length to tip in the missed 3.
Gobert ends up with 15 points, 16 rebounds, two blocks and the win.
Jazz GM Dennis Lindsey believes a big man like Gobert, if he is committed to dominating with simplicity, can anchor a contender. And that's the plan he laid out to Gobert and his agent. "We hope," Lindsey says, "that he's the Utah Jazz version of Bill Russell."