LAS VEGAS -- Large bags of ice are taped to Derrick Caracter's shoulders and knees as he sits on a folding chair beneath the bleachers of Cox Pavilion in Las Vegas. The Lakers have just dropped a summer league game to the Nuggets, but Caracter continues to make the Lakers look smart for nabbing him with the 58th overall pick in last month's draft. After racking up 20 points and 10 rebounds against the Pistons on Friday, Caracter scored 17 points and grabbed 12 rebounds on Saturday. Even though summer league is largely an exhibition to display individual talents, there's a tacit rule not to take too much pride in personal performance when your team loses. Still, as a late second-rounder who has been carrying baggage, Caracter's strong play has him in good spirits.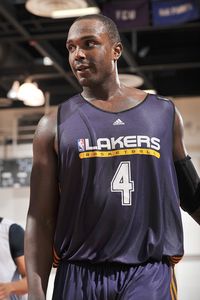 Garrett Ellwood/Getty Images
Derrick Caracter: When second-round picks look like first-rounders.
Few have ever doubted Caracter's raw talent as a basketball player, but his two years at Louisville furnished skeptics with plenty of material. After battling conditioning, academic and behavioral issues for two years, Caracter was dismissed from Louisville and ultimately landed at UTEP, where he began to rebuild his reputation as a brute force in the paint and a genial kid who just needed some time to mature.
That process continues here, as Caracter has dominated the low block on the offensive end of the floor during his first 28 hours in Las Vegas. Caracter gobbles up space by the yard down low. Both Friday and Saturday, he was the most physical presence on the court when the Lakers had the ball. Putbacks, explosions from the elbow, back-ins that leave defenders crumpled beneath the glass -- all of them are part of Caracter's repertoire.
"It's really about positioning and there are tricks," Caracter said before chuckling. "I like to look a guy in the eyes -- not intimidate him, but to talk to him with my eyes and read what he's thinking. Sometimes I'll post up hard, and sometimes I'll give him a different position so he never truly knows. That makes it hard to match my strength."
Caracter can't just throw his weight around indiscriminately. He has to conform to the triangle offense under Lakers assistant coach Chuck Person's direction. Does the structure hamper his game at all?
"I was talking to Coach Chuck [Person] about this today," Caracter said. "If one guy gets a little confused out there -- which happens to all of us because we just learned it like two weeks ago -- if he forgets something, there's a domino effect in the triangle. It's not like a regular system. It's all reading and playing off the other five guys on the court. It definitely makes me a better player."
Toronto was very pleased with what it saw from rookie big man Ed Davis. After suffering a season-ending wrist injury in February, Davis hadn't played full-contact five-on-five ball until he practiced earlier this week. Davis converted seven of his 11 field goal attempts for 15 points in 25 minutes. There were moments he appeared a little wide-eyed, but also plenty of instances when he outmuscled Earl Clark, Gani Lawal and Taylor Griffin for buckets and boards. Even though Davis is just easing his way back into action, the physicality and contact didn't seem to disarm him. So far as his skills, that soft touch and easy footwork that admirers identified early during his early days at North Carolina are still there.

A year ago with Denver's summer league squad, Sonny Weems looked like a guy trying to shoot his way into the rotation. He slowed his game down a bit when he arrived in Toronto last season and on Saturday the full sketch of an NBA player was visible. "Back in the day, I was just up and down," Weems said after going for 19 points against Phoenix. "When you're moving that fast you're not thinking too much. I'm trying to be more of a complete player." Now that Weems is using his athleticism as a means and not an end, he's helping his team. His 19 points in 25 minutes were far more satisfying than any of the gaudy, inefficient lines he put up last summer.

At Georgia Tech, Gani Lawal worked tirelessly to refine his post game. Though he improved, he often mistimed his countermoves or got stuck in bad space when defenders swarmed. During the first two days of summer league, Lawal has managed his touches in down low with a lot more poise. Rather than rush his move when the defense moves toward him, Lawal demonstrates patience. He gathers himself and the ball, move fluidly with his countermove away, and re-establishes a sufficient amount of room to get off his shot. Lawal has so much length, speed and strength to work with. There's really no good reason those assets can't coalesce into a full package if he manages them correctly on each possession.

I'm not sure what's more fun -- watching Austin Daye create for himself, or for others. Daye missed 12 of his 20 shots from the floor on Saturday, but he was clearly the best player on the court for the second consecutive game. Daye sees the floor with clarity and and is forever a half-second ahead of the defense, which is an eternity in basketball. He can deliver a pinpoint pass -- no matter how fast he's moving or how fierce the pressure -- and is aware of his teammates' strengths and weaknesses.

David Thorpe on Dallas' Omar Samhan: "The thing I like best is that he's emotionally engaged in the game. Everything means something to him -- his teammates, how they're playing, how he's playing. He's invested in the game -- but not just how he's doing. We all knew he had scoring talent and good hands, but unless he can improve his athleticism, it's going to be hard for him to show those skills on a nightly basis."

Wesley Matthews has had an incredible 12 months. This time last year, he arrived at summer league as an undrafted rookie. This past April, he was a starting shooting guard in a conference semifinals series. On Saturday, the Portland Trail Blazers signed Matthews to a 5-year/$34 million offer sheet. ESPN Los Angeles' Dave McMenamin caught up with Matthews: "This is ground-breaking," Matthews said. "This time last year I was out here just trying to find a way to find a team to stay in the states. Now, a full year later, I'm signing a contract for $33 million. I'm excited about it and we'll just see what happens. Utah still has the restriction on it and if I end up in Portland or wherever I end up, this money is not going to change what I do and who I am as a person and a player on the court ... They're a talented team. They have a great coach in Coach [Nate] McMillan. I'm especially impressed with the way that they played fighting to the playoffs in the West with the injuries they had and the roster they had throughout the year. If that's where I end up I'm going to be very excited about it. If I end up back in Utah I'm going to be very excited about it. I'm going to be excited either way. I'm just real blessed right now."

After a dreadful first day, Rodrigue Beaubois saw his shot fall early and often for Dallas. So much of what Beaubois does off the dribble is predicated on the success of his quick release from long range. If he's not hitting, defenders grow a lot more comfortable trying to contain him.

Swingman Marcus Johnson, who's playing with Phoenix's squad, made his mark at Southern Cal as an exuberant dunker. On a particular possession Saturday afternoon, he was looking to get fed on the receiving end of an alley-oop by Zabian Dowdell, but didn't. He spoke about the play with ESPN Los Angeles' Pedro Moura after the game. "Some guys aren't used to me, so they're not sure if I can jump or not, so I understand that," Johnson said on not getting the touch at the rim. "But you think you can?" Moura then asked. "I mean, I know I can," Johnson said. "And I think you think I can, too."

Michael Schwartz of Valley of the Suns writes that Earl Clark has been underwhelming early on for Phoenix. After the game, Clark confessed that he wasn't in the greatest shape coming into summer league.

Word association with Mark Cuban. Q: Dallas Mavericks? A: Dirk Nowitzki.

The TrueHoop Network All-Stars and SB Nation All-Stars faced off in an epic game of organized basketball Saturday morning, with the TrueHoop Network prevailing 50-47, led by a McHalian 32-point, 17-rebound effort down low by Rob Mahoney of The Two Man Game. Mahoney is currently meeting with a select group of European scouts seated along the near baseline in Cox Pavilion, though there's no truth to the unconfirmed reports he's reached a deal in principle to play with CB Peñas Huesca of Spain's LEB Silver league.