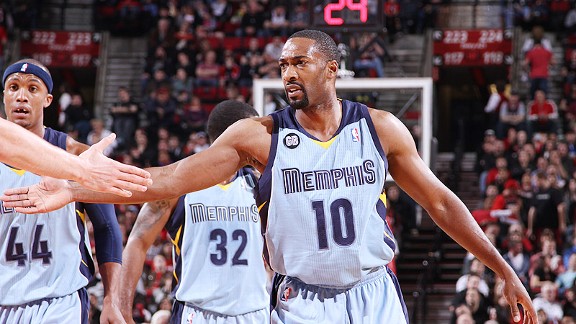 Sam Forencich/NBAE via Getty Images
Gilbert Arenas has struggled in his first two games back, but he's thrilled to just be playing again.
LOS ANGELES -- Agent Zero is probably long gone. The guy who could fill it up for 20 or 30 or 40 points a night, the one whose playful antics on and off the court were met with cheers rather than conniptions, probably left for good when he was shown the door in Washington for the final 50 games in 2010.
But after missing the first four months of this NBA season following his ouster from Orlando, Gilbert Arenas is back on the court. And that alone is enough to bring out the big grin that was once plastered on the point guard's face.
"I'm just back to my old self -- laid back, funny guy," Arenas said with a smile after his second game with the Memphis Grizzlies, a 101-85 loss to the Los Angeles Clippers at Staples Center. "Last couple years I was just stressed (laughs). Right now I'm just trying to get back to my own element."
After garnering interest from a few teams, including the Los Angeles Lakers, Arenas worked out for the Grizzlies earlier this week and signed with the team on Tuesday for a reported $300,000 (on top of the hefty sum he's still receiving from the Magic after being waived via the amnesty clause before the season).
Arenas said it was important that everyone on the team was accepting of him before his arrival -- "I need all 100 people on board!" he said with a chuckle -- but since then, things have been a bit of a blur.
"I was in Memphis for a day," said Arenas, who chose to add a one to the numeral he's known for on his new Grizzlies jersey. "I went to go try out, and in my mind I thought it was going to be like in L.A. (with the Lakers): tryout, I go back home and they call me. It was like, tryout, take the physical, meet the team in Portland. It happened so fast."
His game, and his body, have yet to catch up. Admittedly out of playing shape, the 30-year-old guard looked a step slow against a quick Clippers backcourt, finishing with two points on 1-for-5 shooting with an assist, three fouls and two turnovers in 19 minutes. Memphis saw similar returns in his re-debut two days earlier in Portland, in which Arenas finished with two points on 1-for-4 shooting with two assists, three fouls and two turnovers in another loss.
"It's more difficult than I thought," he said. "I went from being a couch potato and playing at the Y on Thursdays to playing in an NBA game. I haven't had a practice yet, I haven't got in shape yet. I'm trying to get the feel of the game again."
A role is still being defined for him on a Grizzlies team in the thick of the Western Conference playoff race, but it's not an unfamiliar position for Arenas, who was brought to Orlando by Magic GM Otis Smith, an Arenas confidant, via trade in the middle of last season.
"I came from Washington where I was [scoring] 20, 30, but when I got [to Orlando], it was different style, different coaches," Arenas said." I just wasn't used to it. I never bounced out of it, I never caught a rhythm.
"The games they did play me, [when] I was forced to play, I did score. But other than that I just didn't get a rhythm. It's basically like me coming out here just trying to find the rhythm, make sure everybody's OK with me shooting. I just didn't want to step on anybody's toes in Orlando. Here, I feel a little bit more comfortable and I now I'm just trying to get in shape."
Arenas said he talks to Smith every day, and that Smith told him to "be relaxed, just play." He has also kept in touch with Dwight Howard, who had taken the brunt of the drama in central Florida now that Arenas is no longer around.
"I look at it like, it's smart thing to do, opting into $19 million instead of signing a new deal and it's $14 million," Arenas said of Howard's decision to opt-in with the Magic for next season. "But it's like, it's the same stuff next year. So you gave the fans two more months, but you got next season. Same drama.
"But hopefully he does the right thing. I talk to him every day. You have your home and you see that green grass over there, and it's tempting. But he made the right decision for this year. We'll see what happens next year."
Arenas is staying out of all the drama now, wherever it may be. Signing on with a small-market team will surely help that cause.
"I don't want to be in the public eye anymore," Arenas said. "I just want to go out there, get in shape and when the time comes, help this team win."
He just wants to be on the court again. And be happy.
"It feels good," he said.
Justin Verrier is an NBA editor for ESPN.com. Follow him on Twitter.