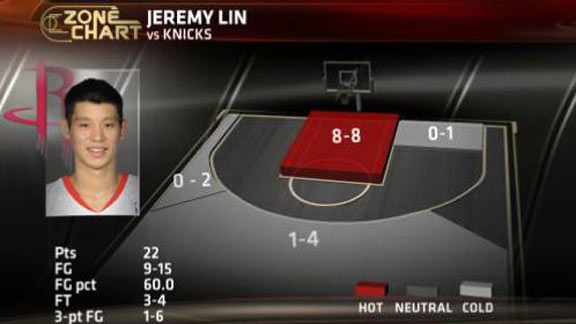 Lin gets into the lane
Jeremy Lin made it a great return to Madison Square Garden, with 22 points and eight assists in the Houston Rockets easy win over the New York Knicks on Monday.
Lin's 22 points were his second-most this season and matched the total number of points he scored in the previous three games combined.
As you can see in the image above, Lin was a perfect 8-for-8 in the paint. He entered the day shooting 45 percent (59-for-130) on shots in the paint.
Lin had a good night in the pick-and-roll, making all four shots as the ballhandler on pick-and-roll plays.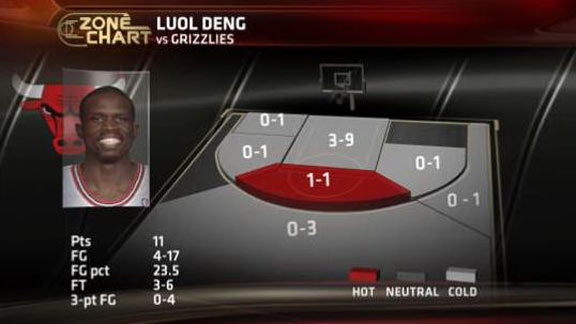 .Deng has all sorts of trouble
Luol Deng was 4-for-17 in the Chicago Bulls loss to the Memphis Grizzlies, continuing a run of struggles from the field.
In his last six games, Deng is shooting 36 percent from the field. In that span, he's 11-for-43 on shots taken from outside the paint.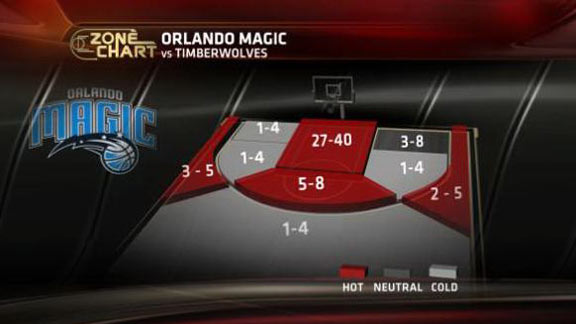 Nice night for the Magic
In the first 19 games of the season, the Orlando Magic did not have a game in which they shot better than 50 percent from the field.
They've now shot better than 50 percent in three of their last five games after their win over the Minnesota Timberwolves, in which they shot nearly 54 percent from the field.
The Magic won this game inside. They made 27 of their 40 shots in the lane. The Timberwolves made one fewer shot, but had 14 more shot attempts.
Glen Davis led the way with 10 baskets in the paint. He's 20-for-28 from the field in his last two games, 13-of-19 in the paint.