13 years ago, when Adonal Foyle entered the NBA out of Colgate University, those closest to him suggested he start thinking immediately about what he wanted to do after his basketball career was over. It was good advice, so while he racked up enough blocks to become the Golden State Warriors' all-time leader, Foyle also built a full life for himself off the court. Nine years ago, he founded Democracy Matters to motivate college kids to engage in the political process. Five years ago, he established a nonprofit, the Kerosene Lamp Foundation, that's refurbished basketball courts and mentored thousands of kids. He's currently finishing up a master's degree in sports psychology.
Foyle found life lessons everywhere in the game, and he always imparted them through his work. On Tuesday, Foyle announced his retirement from basketball, and did so in the same thoughtful spirit he's embodied throughout his career. Foyle loved playing basketball and loved what the game afforded him as a human being. In turn, Foyle has decided to convey that love in a retirement poem: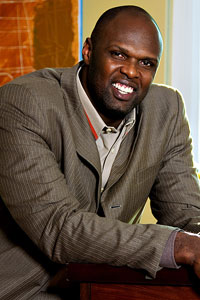 Photo courtesy of Adonal Foyle
Adonal Foyle says goodbye to his immortal love.
LOVE SONG TO A GAME
By Adonal Foyle
How should I tell thee goodbye?
What can you say about a love affair to rival that of Romeo & Juliet? This is not just some melancholy ode to a hackneyed love of mortals.
I found our love deep in the entrails of the Caribbean Sea. Love that swept me to a land where our embrace became mythical.
You showed me a world that few have dreamt of.
Colgate's golden steeple, a sojurn where ancient teachings flooded my mind.
There in the Chenango Valley where 13 sang my soul to flight, basketball laid siege to my soul.
I do not cry for the passing of our love for it stands radiant while my brittle bones crumble through swift time.
I have known you by so many faces; I will spend my end of days recalling.
You have infected so many with the allure of riches and black gold. But I am not angry with you my love. For to a boy who was lost in the bosom of nothing you gave hope and home.
Like the flickering of a light we come and go without much fuss. So I leave you to fend off seekers, hoping they too will cherish your unyielding countenance.
As for me, I will forever live in the glare of your loving embrace. From time to time I hope you will look in on this pitiful fool.
I will miss brothers of a quilt struggling with burning lights. If I offer advice, pierce beyond the glaring lights and see the faces behind the wall. Don't be fooled by the magicians' nibble fingers. For this is a life with mirrors and screens. Its only truth lies in the understanding it will all end.
The sound I will take home is the symphony of thousands of screaming friends.
Warriors, Magic and yes, Memphis too, I sing you praise, hope, blessings,
Flowing from a boy's songs of thanks to you and you and you,to all I knew.
Please stay my "immortal love."