Although Donnie Walsh has long gone to great lengths to make clear that his 2010 strategy does not revolve around any one player, to Knick fans there's nothing like the idea of getting LeBron James. On Thursday they will get their opportunity to make that pitch.
When they do, they will have a lot of things to sell that are widely known: A very rich owner, perhaps the best local market in the world, and a coach who's famously fun to play for.
But there are three less-discussed elements to their pitch -- some that make the Knicks look good, and one less so.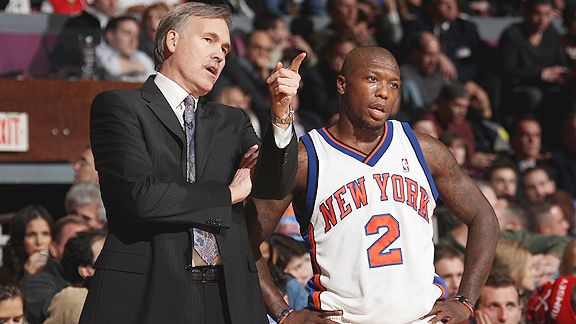 Nathaniel S. Butler/NBAE/Getty Images
Mike D'Antoni is seen as a player's coach, but not every player sees it that way.
Mike D'Antoni and LeBron James have history
D'Antoni's Suns teams were delightful in their high-scoring ways. And it's undeniable that with the right point guard, and D'Antoni's brilliant offensive system, James would be a candidate to become the best finisher in the history of the game, and the Knicks would be unbelievably fun to watch.
It is often pointed out that James has played for D'Antoni before, on Team USA. But those aren't necessarily the best memories. When D'Antoni packs for Cleveland, in addition to a nice suit, he's packing some history.
Way back in 2006, Mike Krzyzewski's coaching staff -- D'Antoni, Nate McMillan and Jim Boeheim -- were asked to vote on which players to cut first to get down to the 15-player traveling roster. They ended up cutting Shawn Marion, Adam Morrison and Luke Ridnour. But, as I reported in 2006, three out of four members of that staff voted to make James the first player cut. It has never been made public which coach voted which way, and Mike D'Antoni would not comment on the topic now.
And the whole thing ended up not mattering, as Team USA honcho Jerry Colangelo overruled the coaches anyway.
But especially at that point, and even now, James has very seldom earned anything other than raves for his work on the basketball court. This episode stung.
In addition, while D'Antoni's system is friendly to players, D'Antoni is not always so. D'Antoni has locked horns with everyone from Larry Hughes to Al Harrington. Nate Robinson played a key role in some Finals games this season for the Celtics, but after some differences of opinion with his coach, Robinson was benched for close to a month of this past season, and was eventually traded to Boston.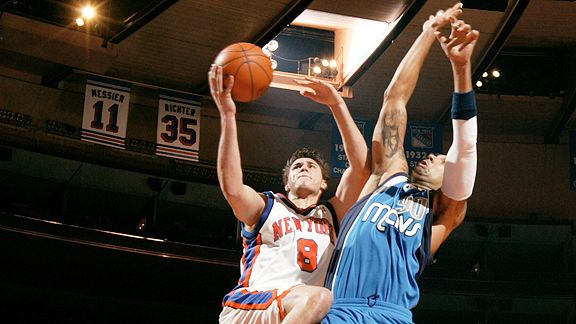 Nathaniel S. Butler/NBAE/Getty Images
Danilo Gallinari makes clear: He's tough, he plays D, he's healthy and he's ready to play with a star.
A player
I spent a very enjoyable 20 minutes on the phone with Danilo Gallinari, who won't be on the recruiting trip -- he's home in Italy working out.
But Gallinari has a role to play for the Knicks in free agency. The general consensus is that the Knicks have a lot of cap space and a big city, but Gallinari, Wilson Chandler, Toney Douglas, Eddy Curry and the like wouldn't mind people noticing that they have some players, too.
The 6-10 Gallinari is one of the finest shooters in the game. His statistics after two seasons compare favorably to Dirk Nowitzki's at the same stage. He is plainly the pick of the litter. And though he was booed vociferously by Knick fans on draft night, he has earned plenty of cheers since, especially after emerging victorious from a physical scorer's duel against Carmelo Anthony in March. (Anthony on Gallinari, postgame: "I love what he is doing ... It was kind of fun to see him hold his ground and not back down.")
Here he explains some things you might not know about him:
On toughness: "Basketball is a physical sport. It's a man sport. If you don't like that, you don't like basketball. I like that. I love that. And I don't care. ... It's a good thing for European players to come to the NBA and get respect from the All-Stars, and I think I did that. I love the physical game, and I don't care who I'm playing against I just try to be as physical as I can and as aggressive as I can. That's how you get respect from the greatest players in the league. It's exactly the same way in Europe. ... I don't think it's bullying. It's just the way basketball is. It's also the way life is. If you're young and you want to gain respect and you want to be an important guy in whatever job you do you have to develop that. Older guys will try to eat you, and develop you, and pick on you. That's the only way. You have to be strong. If you can not meet that challenge, you have to change jobs."

On defense: "I wanted to have new challenges I asked Mike [D'Antoni] to let me guard, every game, the best scorer and the best player on the other team, and I think I did a pretty good job. I like any kind of challenge, and I like to play defense, even if I am a good shooter and a good offensive player. He said OK, no problem, we'll do it. That game we played against Denver at home, everyone talks about that one against Carmelo Anthony, so that was a highlight."

On research: "Donnie Walsh told me at one point during the season that I have a lot of characteristics that remind him of Larry Bird. He gave me DVDs of Larry Bird and his game. I was watching video with the coaches, and trying to understand the things that I have to work on."

On how he has recovered from back surgery in April 2009: "I played in 81 out of 82 games. Almost every game. My back feels great. I was so happy at the end of the season, because after the surgery I played 35 or more minutes a game. It was great for my season, for my mind, for my confidence. I was really really happy. ... I always do routine exercises now, before the game, after the game, before practice, after practice ... that's the only way. That's what I have to do every time, and it works."

On position and fit: "I can play three or four. I can play with anybody."

On his pitch to free agents: "We are the Knicks. We are New York, and we want to win. The words 'New York' and 'win' they live together. To make them live together, we have to build a really good team, and that's what the Knicks will do this summer."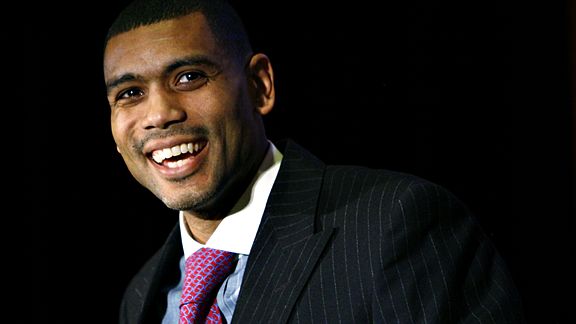 AP Photo/Jason DeCrow
Allan Houston's family has deep connections to William Wesley.
Allan Houston and the family
Allan Houston is something of a Knicks' legend, and cuts a very likable figure as the coach's son who played the right way and brought a lot of thrills to the Big Apple faithful. He is thought to be on a track to be a very influential member of the organization for decades to come. His presence in a meeting with LeBron James' inner circle would serve the Knicks any number of ways.
One of the ways it could make a difference, however, is personal and steeped in history.
William Wesley's name comes up again and again in just about any story to do with James' free agency. If you have followed Wesley's career at all, you'll notice that one of the key breakthroughs in his career -- the thing that got him out of selling sneakers for a living -- was his involvement with the early 1980s Louisville basketball team that starred Wesley's friend Milt Wagner.
Back when Louisville set about recruiting Wagner, one of their assistant coaches flew to New Jersey to get to know him better. One of the people they sought out was his good friend who worked in the sneaker store. They even encouraged young "Fresh" Wes to expand his horizons a bit, and consider that he could have a bigger role in sports one day. Wes was inspired, and did just as the assistant coach suggested, including traveling to Louisville to spend time with the team.
Anyway, do you know who that assistant coach was? Allan Houston's father, Wade. Wesley has had a strong relationship with the Houstons ever since, and has known Allan since he was a child.
Will that sway LeBron James? Not likely. But knowing there are both connected to Wesley can only encourage James to at least give Houston's message its due.