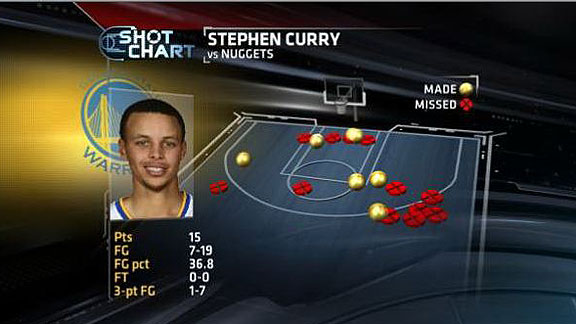 Stephen Curry wasn't quite as good in Game 5.Let's take a look at the three biggest keys to the Denver Nuggets win over the Golden State Warriors in Game 5.
Nuggets get back to what works
The Nuggets outscored the Warriors 50-24 in the paint Tuesday, the largest paint differential in any game in the 2013 playoffs.
The bulk of that damage was done in the first half, when they made 17-of-29 shots in the paint (56 percent).
Denver only outscored Golden State by eight points in the paint in the first four games of the series.
The Nuggets outscored their opponents by 17.4 paint points per game during the regular season, the best paint differential in the league.
Difference-Maker: Andre Iguodala
Andre Igoudala finished with 25 points, 12 rebounds and seven assists.
25 Points/10 Rbds in Playoff Win
Nuggets Last 25 Seasons
He's the first Nuggets player to hit all three of those statistical benchmarks in a game since Lafayette "Fat" Lever.
Igoudala made inside work a priority in Game 5.
He scored 14 of his points from inside five feet. In the first four games of the series, he totaled 20 points from that distance.
Curry cooled off
Stephen Curry was 7-for-19 from the field and made only one 3-point shot (he needed three to set the record for most 3-pointers made in a player's first five career playoff games).
Curry was 4-for-10 when guarded by Ty Lawson, 2-for-5 combined against Igoudala and Corey Brewer, and 1-for-4 in transition.
The 1-for-4 in transition continues a trend. He's 5-for-16 on transition shot attempts in this series.