Rasheed in green. Ron-Ron in purple and gold. Trevor as LeBron's wingmate. Baby Davis as Duncan's understudy. The NBA offseason plunges down the free agency rabbit hole.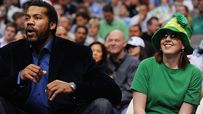 Zach Lowe of Celtics Hub: "[Rasheed Wallace] does everything Glen Davis does, but better (except for grabbing offensive boards) and he does a lot of things Glen Davis simply cannot do ... Glen Davis became a valuable offensive player last season because his jump shot helped the C's space the floor and gave defenses an extra threat to think about. Rasheed Wallace can do the same thing, except he can stretch the floor even further ... He will be able to spell both Kevin Garnett and Kendrick Perkins for more extended stretches than any back-up big the Celtics have had since KG got here. That has enormous benefits. We still don't know how well KG's knee is going to hold up in, say, Game 52 of next season. He will also likely replace Kendrick Perkins in the team's crunch time line-up on a semi-regular basis. Truly, I believe signing Rasheed Wallace could have just as big an impact on the Eastern Conference hierarchy as Cleveland's deal for Shaq and Orlando's decision to trade for Vince Carter instead of signing Hedo Turkoglu."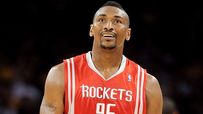 Kurt Helin of Forum Blue & Gold: "... the loss of [Trevor] Ariza saddens me. It has been amazing to see on this and other boards people dismissing Ariza -- those people must have a foggy memory of the playoffs and finals. The Lakers would not be champions without Ariza, who hit timely threes and did things on defense like frustrate Hedo Turkoglu that nobody else had done to Orlando before. And he was a player that had really grown on the court in the past year, we (or at least I) have a very fond spot for players we watch mature and develop in our team's uniforms. While I intellectually understand what happened, there is a bit of a mourning process. But we have to move on as fans. Ultimately, it will come down to me accepting [Ron] Artest, someone I had preached against the Lakers getting. While I don't like to be wrong, this is one of those moments for he as a fan when my heart must overrule my head. I have to root for Artest now, and that is an adjustment mentally. Don't get me wrong, I understand on paper just what a great fit Artest is in the triangle -- he adds another very versatile weapon to a team and system predicated on versatility ... But I don't think you can follow his history and just dismiss it as the meaningless past. I don't see how you can watch how he played in Houston ... or Sacramento or Indiana or Chicago and say with certainty be different this time. Change happens but it is almost always a tumultuous process. Like all of us, Artest is the sum of his past experiences, and at this point I think Artest largely is who he is."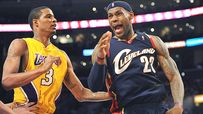 John Krolik of Cavs the Blog: "Right now, all indications point to LeBron [James] staying, as they have for some time with his public statements. For Cavs fans, I don't think anyone's ever really fully wrapped their head around a scenario where LeBron would actually leave, so the status quo feels pretty much the same for me. But an alleged promise isn't a contract. A contract is a contract. I don't know LeBron personally. I don't know [Trevor] Ariza personally. I don't know this alleged 'source.' I'm not a mind reader. When he decides, he'll decide. Until the ink is dry, let's chill on this. Meanwhile, we were ready to throw core money at Ariza? He's kind of a taller Delonte clone with more size and less playmaking and shooting, isn't he? He's either a show starter at 2 and pushes Delonte to the bench or becomes an uber-Wally off the bench himself. 55 million dollars is not uber-Wally money. I'm confused by the logic on that one. This worries me that we're going to spend money just to spend it this off-season. Shaq's expiring, so he's harmless, but we've got one big signing left for the foreseeable future. Let's make sure it's the right guy."
THE FINAL WORD
Cowbell Kingdom: How would Carlos Boozer look in purple?
48 Minutes of Hell: Don't make room for Baby.
Warriors World: The case for Brandon Wright.
(Photos by Ronald Martinez, Noah Graham, Harry How/NBAE via Getty Images)