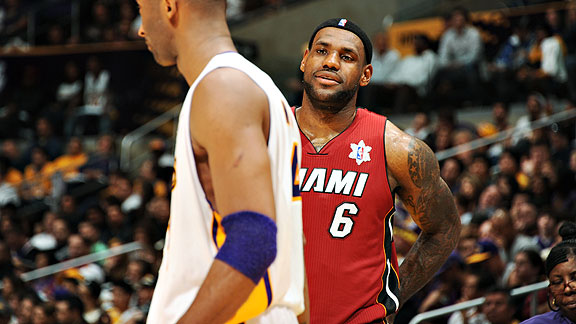 Andrew D. Bernstein/National Basketball Association
LeBron and Kobe: sharing the aura.
So my name is Benjamin Polk and I'll be your Truehoop for the day. Ordinarily you can find me making snow angels over at A Wolf Among Wolves, where you can get almost everything you'd ever need to know about the Minnesota Timberwolves. Which is a lot, I swear.
Despite the futuristic salaries, despite the Vegas-y glam of the promos and highlights, despite the private planes and the Prada blazers, life in the NBA is mostly yeoman's work. It's a life of physically punishing labor, of endless travel and loneliness and relative anonymity.
But LeBron and Kobe are celebrities, and their travels and movements are engulfed in celebrity's strange aura (although celebrity is, of course, no remedy for loneliness). This means that Nike turns you into a jive talking sock puppet; it means that Kanye West and his platinum fronts sit courtside at your games (as do Larry David and that dude from Green Mile); it means that you might wear glowing parasitic orbs on your feet (I'm told they're very comfortable).
It also means that you will be understood in public not as a person but as a personality. Your self will become a story, shaped and circumscribed by what we choose to believe about you. This story will be uncomplicated, easy to understand and absolutely certain. What's maybe most impressive about this certainty is that it persists, even as the story itself is revised.
And the story is always being revised. With every three game losing streak, with every head-to-head matchup, with every new media moment we arrive at new certainties. Kobe wins a title or two and he is suddenly not a capricious, rapping prima-donna but an emblem of commitment and professional integrity. LeBron makes a fool of himself on TV and instantly becomes a cowardly, un-serious fraud.
And so we watched on Saturday expecting definitive answers, expecting one superstar and his team to reveal their championship mettle, expecting the other to be meaningfully exposed. The answers are there if we want them—Pau Gasol is soft (again)! The Lakers are distracted! The Heat are unstoppable! They'll win a title for sure (even though a month ago they were a craven disaster)! If you squint a little (and forget what you said so confidently last week), I promise it will feel true.
Kobe is, of course, a study in the complexities and contradictions hiding within these absolutes. He is the game's supreme offensive craftsman, a genius of footwork, rhythm and vision…except that he allows himself to be drawn into fits of brazen gunning (see: Game 7 of the 2010 NBA Finals). He is fanatically motivated by a great love of the game—but that extreme motivation seems to suck all the actual enjoyment out of his play.
LeBron, though, is the guy that really confounds our expectations. He is a perimeter scorer who plays with such unprecedented force that he can dominate the league without a traditional midrange game, a fact that deeply disturbs are notion of how a player ought to play. His signature games—scoring 29 of the last 30 points against Detroit, his massive fourth quarter in Game 5 against Orlando—were moments of brutal simplicity: one guy in isolation bringing the raw power, attacking his opponent over and over.
We see these awesome and unsettling spectacles and tend to think: this isn't right. He shouldn't be able to do this. And then we think: why can't he do this all the time?
But I think the Christmas game may have taught us something after all. I think it's possible that those monster games are not actually LeBron making the most of his stunning gifts. To me, this first Lakers-Heat showdown was actually LeBron at his best; moving without the ball, leading the pick-and-roll, enabling fluid ball movement, using that speed and power in the open floor but playing within a textured, dynamic offense.
Maybe in his heart, LeBron is less early-Wilt and more Magic. Maybe what we're learning is that despite his unprecedented physical force, despite all of the contested pull-up threes and all of the one-on-five basketball and the TV show, LeBron is uneasy with the idea of himself as the radiant star at the center of the universe. Maybe what LeBron really, deeply wants is to be absorbed into a genuine team, to be part of something bigger than himself. The fact that we've observed this resolutely human thing and called it cowardly is the most unsettling story of all.