Pau Gasol steps up, Elton Brand steps aside, and the Continental Basketball Association steps away. Step inside the TrueHoop Network for more: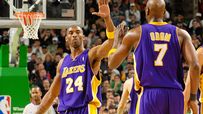 Kurt Helin of Forum Blue & Gold: "I've said before that I don't think there is much if any carry over from regular season games to the playoffs.
Man, I hope I'm wrong.
Last night provided not only another thrilling game, not only more proof that these two teams are pretty evenly matched, but also even more hope that these Lakers are evolving into a champion. A Lakers team with a ton of excuses to lose rejected them all and found a way to win."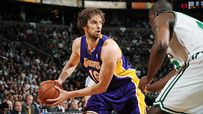 Matt Moore of Hardwood Paroxysm: "Pau Gasol, who still can't dunk cleanly, has been the freaking man. It's like finally Bryant head-butted him in practice one day and screamed "STEP! HOOK! RE! BOUND!" All the offensive weaknesses in his game from last June have been replaced with a downright nastiness. Sure, he still gets punked nightly down low. But his height alone gives him a couple of blocks and pads his rebound total, and that's the tradeoff for his touch. If you asked me for one player that makes me certain the Lakers will be playing in Game 5 of the NBA Finals this season, it's Gasol."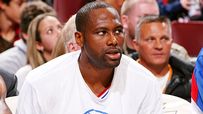 Rob Mahoney of Hardwood Paroxysm: "What an awful way to end the season for Elton Brand. It's been raining acid since he took his first step in Philly, somehow corroding what seemed to be the most basic of playoff blueprints...
It's all irrelevant now, because Brand will be watching from the bench/comfort of his living room couch. Which is both tragic and delightful, in its own way. The first few games of Pistons-Sixers last season were golden, and watching a Sixers team that strongly resembles the 2007-2008 model could still be wonderful. The tragedy is that come playoff time, even if Philly does put up a bit of a fight, it will all look strangely familiar. Cleveland, Boston, Orlando, Atlanta, it doesn't really matter. The Sixers would fin-slap their opponents like a fish out of water, but all a true contender has to do is watch those gills come to a slow stop as the playoff air asphyxiates them. There's a morbid appeal to watching a team flounder, and the Sixers should make a reasonable ruckus on their way out. Still, watching this team revert to their former selves, exciting as that former pre-Brand team may have been, makes me a little sad."
THE FINAL WORD
The Painted Area: The world will be a lesser place without the Albany Patroons.
Wizznutzz: A new round of All-Star reforms, including a mascot pentathalon and the Shawn Kemp father-and-son two-on-two tourney.
48 Minutes of Hell: Is Tony Parker's side venture a conflict of interest?
(Photos by Andrew D. Bernstein and Jesse D. Garrabrant/NBAE via Getty Images)