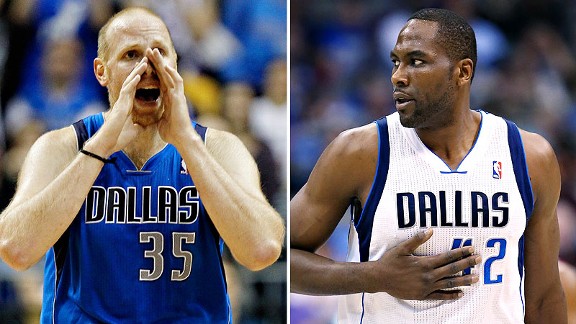 NBAE/Getty Images
These two guys once occupied the Clippers' frontcourt, and the hopes of Clippers fans.When Elton Brand positions himself for a rebound, he's usually not the first guy to leave his feet.
Those are luxuries afforded to younger men, but not a 33-year-old who ruptured his left Achilles tendon back in 2007. These days, when Brand wants a rebound, he has to outwit opposing centers, which often means letting them sky toward the glass while Brand squeezes his way through the throng of bodies to a spot, then times his modest jump for the ball precisely.
Brand was never much of a leaper and during his prime with the Los Angeles Clippers he was often referred to as an undersized power forward with average athleticism. Back in 2006, he was arguably one of the 10 best basketball players on the planet, before that Achilles injury downgraded him to serviceable 'n' scrappy.
His partner in the Clippers' frontcourt was a young center named Chris Kaman, who looked like a Great Pyrenees after a bath, but had the footwork of Fred Astaire.
At 26 and 23 respectively, Brand and Kaman were penciled in as the Clippers' tentpoles up front for years to come. Reliable frontcourt tandems are a rare commodity in the NBA, but the Clippers had a solid one. Brand and Kaman bullied opponents on the glass, could both play the pick-and-pop, and were the stalwarts of an eighth-ranked defensive unit that carried a below-average offense to within one game of the 2006 Western Conference finals.
On Wednesday night at Staples Center, Brand and Kaman return together as Dallas Mavericks to face the Clippers. Both are essential cogs in Dallas' makeshift, but oddly effective, frontcourt rotation.
The effect will be surreal for longtime Clippers fans who remember that the current Chris Paul-Blake Griffin Administration wasn't the franchise's first foray into contention. The Brand Era Clippers showed all kinds of promise and were the kind of good Clippers fans pined for. While the Lakers were embroiled in high drama in 2006 with charges that Kobe Bryant tanked a Game 7 against Phoenix, the Clippers quietly went about their business.
At the time, I wrote, "For Clipper fans, 2006 is Year Zero in Los Angeles basketball, and the long shadows of the Lakers championship banners are receding. In fact, the Clippers' success this year is a direct result of not emulating the Lakers. In the summer of 2004, Kobe Bryant passed up Clippers owner Donald Sterling's huge contract offer to re-sign with the purple and gold. At that moment, the Clips cemented their image as a team of relatively uncharismatic, unselfish role players. It's a perfect match for a fan base that sees itself as middle class and not so gullible about Hollywood stardom."
As it turns out, ditch-digging can get a team only so far without superstars. Brand lost his powers, Sam Cassell and Cuttino Mobley got old, Corey Maggette became disgruntled, Shaun Livingston went down and Kaman shuttled between the injury list and the court, where he faced stifling double-teams while Brand was on the mend. After their 2006 playoff run, the Clippers wouldn't finish a season above .500 until Paul arrived more than five years later.
Brand and Kaman occupy a curious place in the collective memory of Clipper Nación. You won't find a Clippers fan who isn't giddy about the current state of things, but a warm nostalgia exists for those mid-aught Clippers teams. Those fans saw something of themselves in Brand's anonymity and Kaman's imperfections.
Still, some residual resentment lingers over the way Brand skipped town in the middle of the night to sign with Philadelphia. Kaman was part of the deal for Paul, but his flakiness had started to wear a little thin. Clippers fans miss Kaman the way you'd miss an eccentric housemate who moved out. The behavior you can gladly live without, but there was comfort in the familiarity. Kaman was a big dufus, but he was our big dufus, many would say.
Brand and Kaman haven't shared the court together much for Dallas in recent games, but if they do find themselves on Wednesday night as a tandem patrolling the paint, taking turns on Griffin and working the side pick-and-roll with the Mavs' guards, it will be a trippy sight for Clippers fans who have grown accustomed to a new way of seeing the game, but for many years saw these two below-the-rim blue-collar stiffs as the embodiment of their identity.