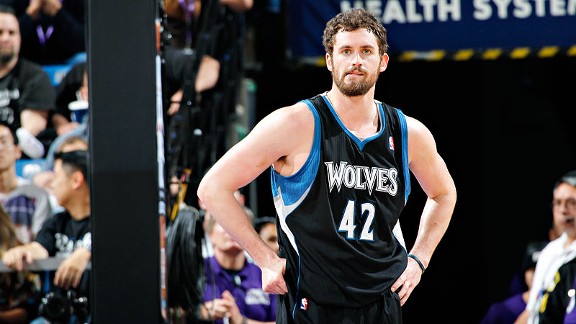 Rocky Widner/NBAE/Getty Images
Kevin Love's impatience could hurt the Timberwolves' roster moves.
Before Ricky Rubio went down with a torn ACL, Kevin Love was experiencing a season like he never had before.
It wasn't so much the statistical output he was throwing up at a close to historic rate; it was that the Timberwolves were winning, he was leading them, and they were battling for a playoff spot. Going into the showdown with the Lakers on March 9, when the season turned for the worse, the Timberwolves were two games over .500 more than halfway through the season for the first time since 2004-05. Everything for the Wolves was trending toward a bright future.
Then Rubio tore his ACL in the final seconds in that game against the Lakers, a 105-102 loss. After that, the team battled various injuries, and Love's offensive efforts weren't enough to even make most games competitive. Defensively, everybody seemed to check out, made evident by the 108.4 defensive rating the Wolves posted after Rubio's season-ending injury. Love played his last game of the season April 11, when he suffered a concussion early in the game against the Denver Nuggets.
From that point until the end of the regular season, the All-Star and all-NBA power forward sat and watched his completely overmatched team finish another season without truly getting a sniff of the playoffs. Without Rubio and Love on the floor, the Wolves showed just how little talent they had on which to build.
Seeing how far away this team is from being a playoff contender when Rubio and Love are nowhere to be seen -- coupled with the frustration surrounding a contract extension -- is probably what prompts someone to tell reporters that his patience level with the organization isn't very high. As Jerry Zgoda reported Jan. 25 (the contract extension deadline day for Love), Love and David Kahn didn't exactly see eye-to-eye on the negotiations.
Love (remember, he's a Kevin McHale acquisition) wanted to commit to this area and the Wolves' organization by accepting the five-year maximum extension, available to only one player per team during the life of this collective bargaining agreement. It's presumed Kahn wanted to keep that option available to entice Rubio to stay in town after his rookie deal expired. To appease Love, the Wolves gave him a four-year maximum extension with an opt-out after three years.
It's easy to see why Love is frustrated with the organization when you factor in his time here. He's been working hard to turn into an elite player in the NBA, while the Wolves' record has barely seen any improvement from his rookie season. He's been the subject of trade rumors, even after having a historic 2010-11 season in which he averaged 20 points and 15 rebounds per game -- the only player other than Moses Malone to do so during the 3-point era. He wasn't given the respect of a five-year max extension when he was practically begging to commit to a sputtering organization.
When Kevin Love told Marc J. Spears of Yahoo! Sports, "It's tough seeing all these guys that are young and older who have all played in the playoffs. When they start talking about that, I have nothing to talk about. If I don't make the playoffs next year, I don't know what will happen," it wasn't anything new to those that have covered the Wolves and paid attention to how Love conducts himself in front of a microphone. He's never been shy about voicing his opinion, and that's part of the leadership role he's trying to command.
And Love is correct in saying the team needs to make a serious push. Before Rubio's injury, the Wolves were well on their way to being respectable. The future was luminous, and nobody expected the end of the season to be so deflated. Now? They have just enough flexibility to make improvements to the roster but no real credit history to show they're a destination for players wanting to win. This is what happens when you butcher the majority of your draft picks in a three-year span.
Although people shouldn't necessarily disagree with what Love is saying, they should definitely disagree with the timing of Love's mild "outburst." A few days before the soft open of 2012 free agency becomes a grand opening is not the time to publicly voice that your organization needs to be desperate to win now. Dealing with agents and rival GMs for coveted players (see: offer sheet to Nicolas Batum) who will enable your team to win more games isn't helped when your best player starts beating around ultimatums.
This is where you see that while Love wants to be a leader, he still hasn't figured out that role. Perhaps it's immaturity or just inexperience with leading an organization. But you're not in a market and climate that star players are dying to migrate to. To get a super team in Minnesota, you have to be surgical in the draft and get away with chicanery in trades.
By saying the team needs to make the playoffs or changes need to happen in the days before you may or may not acquire Batum just seems like horrendous timing. The Wolves had only a glimmer of hope to get away with acquiring Batum outright if Portland decided not to match. Now Portland can be open to a sign-and-trade, knowing they can demand any and all assets Minnesota has at its disposal. It would behoove Trail Blazers general manager Neil Olshey to get on the phone with Kahn and read excerpts from Spears' article whenever Kahn says they can't part with Derrick Williams and Nikola Pekovic to bag Batum. They can demand Luke Ridnour be included in the deal, leaving the Wolves without any point guard depth when they're trying to rehab Rubio's knee. They can ask for first-round picks that have the potential to hang over the head of the organization as the protected first-rounder from the Marko Jaric deal did from 2005 until this past draft.
Love could have applied pressure to the Timberwolves in private, but now the rest of the league has been put on alert -- things in the Twin Cities are bumpy. That doesn't help you keep future contract negotiations and trade discussions in your team's favor. It takes away any potential for possessing the upper hand when transforming your roster.
Love wants more for this organization and his career in Minnesota. There aren't many fans that disagree with his stance or his sense of urgency. It's justified when you see the history of the team and the frustration surrounding Kahn's tenure with the Wolves. It just couldn't have come at a worse time when the team is trying to put its losing ways behind it.