A Spurs fan misses the old Suns. Hating the Lakers unconditionally is as clichéd as bandwagoning. Dallas hits its open shot. Counter-intuition reigns in the TrueHoop Network: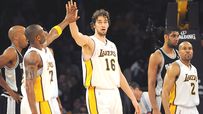 Josh Tucker of Hardwood Paroxysm: "Look, I get that you hate the Lakers. I really do. But going off like a ticking time bomb every time the Lakers get a break, and then looking the other way when they get a raw deal, doesn't make you clever, witty, or insightful. It makes you boring, predictable, and tired, not to mention completely unoriginal.
While we're at it, so does criticizing Lakers fans for being 'bandwagon fans,' or for being arrogant, smug, or condescending. Your anti-Lakers bandwagon is just as cliché, and your self-righteous attitude toward Lakers fans is just as arrogant, smug, and condescending."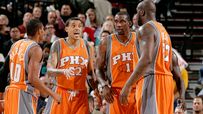 Graydon Gordian of 48 Minutes of Hell: "The Phoenix Suns have become a complete enigma to me. In some sense, they are struggling mightily. Compared to the gaudy regular season records they have posted for the last several years, their 25-18 record looks mediocre. As opposed to being in a race for home court advantage throughout the playoffs, they are in a race for the playoffs itself.
Shaquille O'Neal is having what some are calling an All-Star caliber season, but in order to do so he has displaced the comfort and effectiveness of many of his teammates. Coming into the season, Suns fans were talking about how Amare Stoudemire might make a run at MVP. Now Amare is rumored to be on the trading block. For years, Nash was the golden boy of the NBA: Exciting to watch and always a gentleman, win or lose. But in recent months he has betrayed his frustrations regarding the current state of the team. That being said, I have no doubt the boys in purple and orange will have their game faces on come this evening. When the silver and black come to town, the players formerly known as "fun-and-gun" get serious.
I have never been a defender of Mike D'Antoni. I always thought '7 Seconds or Less' was a flawed system and that Popovich could consistently outcoach D'Antoni over the course of a 7 game series. But, in some ways, the Suns-Spurs rivalry of old is something I dearly miss. Yes, the memories and malice remain. But, the presence of D'Antoni made the rivalry about so much more than two fan bases driven to the edge of insanity by their anger."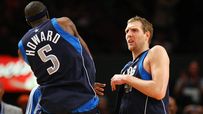 Rob Mahoney of The Two Man Game: "To be honest, I've been really reluctant to do this recap. Or any recap for this team, really. Every win is 'hopefully something to build on' and a 'statement game,' and every loss is a 'wake-up call.' How long until this team starts to form a cohesive on-court identity and actually plays with some consistency, one way or another?
I did find relief in at least one way, though: the Mavs can make open shots. That's better than what they've been doing lately. Josh Howard in particular was absolutely stroking it, and that's a sight for sore eyes. That 12-footer on the baseline is going to be there for Josh, whether he has to spot-up or create. Another weapon for the arsenal, supposing it's not just a product of a Warriors complex."
THE FINAL WORD
Wizznutzz: The ESPN Trade Machine now includes Don Rickles and a live lion.
Knickerblogger: The Knicks are playing their best ball of the season...the video.
By the Horns: Introducing the Dull-Negro-Meter.
(Photos by Harry How, Sam Forencich, Nick Laham/NBAE via Getty Images)