Posted by Kevin Arnovitz
Andre Miller's departure from Philadelphia left a vacuum at the point guard for the Sixers. The team selected UCLA point-leaning-combo guard Jrue Holiday with its first round draft pick, and has now named 22-year-old, fifth-year guard Louis Williams as the presumptive starter at the point for the 2009-10 season.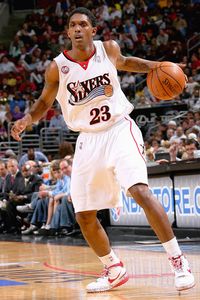 Williams isn't a natural point guard, though there are some promising numbers in his portfolio:
The best news of all for Williams' prospects as the Sixers point guard won't be found on a stat sheet, but with the man pacing the sidelines -- new head coach Eddie Jordan.
Jordan is a devotee to the Princeton offense, or at least its NBA variation. Players and the ball are in perpetual motion in the halfcourt, which means the system is less reliant on a traditional point guard.
Here's Sixers general manager Ed Stefanski explaining the dynamic to NBA.com's Matt Winkeljohn, alluding to his days in New Jersey where Jordan served as an assistant, as well as Jordan's head coaching tenure in Washington:
It may help that coach Jordan is not counting on having a John Stockton-esqe point guard...

"Eddie has shown in Washington that without the prototypical point guard he has made it work with Gilbert Arenas so there's a lot less pressure on the point in a two-guard system than the one point guard-system," Stefanski said.

"The theory is the guy who has the less pressure on him will bring it up. When we were in New Jersey, Kerry Kittles often initiated the offense even when we had Jason Kidd [at point]."
Philadelphia hasn't exactly had a banner offseason, and will be fortunate to contend for much more than a 4 seed in the increasingly competitive Eastern conference. But from a basketball perspective, it should be fascinating to watch Eddie Jordan employ his system with the likes of Andre Iguodala, Thad Young, Williams, Elton Brand, Jason Kapono, and the decidedly un-Princeton-ish center, Samuel Dalembert.
This isn't your prototypical Princeton roster, but Iguodala and Young in particular have the potential to run opponents ragged off the ball and beat defenders to the rim in that motion offense.
Could it work?
Maybe.
In theory, the system should thaw an offense that was especially prone to rigor mortis in the halfcourt.
If nothing else, Sixers fans should be grateful for that.