Would Stephon Marbury fit into Boston's backcourt? Does Nate Robinson fit into Mike D'Antoni's vision? Wizznutzz doesn't worry about fitting in, period.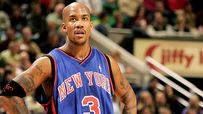 Zach Lowe of Celtics Hub: "The idea behind signing Marbury, I assume, is to have more offensive firepower on the bench. But where, exactly, does Marbury fit in with the second unit? If Doc sticks to the way he's been constructing line-ups so far this season, what you're really asking in the second question is this: Do you think Marbury is a better player than Eddie House? I say that because Doc essentially never plays a three-guard lineup or even a line-up with two small guards; Rondo and House, for instance, have been on the floor together for just 145 minutes this season.
So I don't think you can say, 'This is great, playing Stephon with the second unit frees up House to play shooting guard.' Because Doc has shown no indication he's willing to play two guys 6′2" or under at the same time, and I'm not sure he's willing to play a House-Marbury-Pierce/Ray combo during meaningful minutes.
It hurts the defense too much, especially against Cleveland, which rarely plays a small line-up. You can't just slide Marbury in for Tony Allen (who is 6′4" and a solid defender).
I just don't see how Marbury fits into the team - given the coaching staff's apparent preference for bigger guards - without severely cutting into House's minutes. Maybe Doc is willing to experiment with smaller line-ups or even play Marbury for Rondo alongside the other four starters in short stints. I ask you: Are you ready for that? Because I honestly don't know if I am."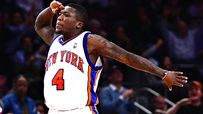 Rob Mahoney of Hardwood Paroxysm: "For a long time, Nate Robinson has been a welcome diversion. Unfortunately, that's all. His success was always side by side with the prerequisite grain of salt as I looked for subtle ways to invalidate his glory. No more. I'm ready for the Nate Robinson revolution, and - friends, Romans, countrymen - I hope you'll join me for the ride.
The stigma of the short point guard is a painful one. No player faces a steeper hill, nay, mountain to climb to NBA competence. On top of that, there is no Myth of the Next Jordan/Kobe, or the next Maravich, or the next Garnett. There is the Mythology of the Little Man. If you can dunk, you are Spud Webb. If you can't, you are Earl Boykins. The confines of Nate Rob's world are bench sparkplug at best and sideshow at the most demeaning. If given the proper opportunity, he's ready to make that abnormally low glass ceiling obsolete...
If Steve Nash taught us anything in SSoL v1.0, it's that a stellar point guard's offensive skill can overcome defensive inferiority. When your defensive philosophy is predicated on making opponents take poorly planned shots after being lulled into a false sense of security and superiority and then run the ball down their throats, you're given such a luxury. I think that once 2010 comes around, Robinson should be that point guard. Last night, Nate put up 41 points on 18 shots…off the bench. He turned the ball over once in 36 minutes. He sealed the game with a nice, contested lay-up after a steal. His ability to put the ball in the damn hoop certainly trumps his limitations, and his weaknesses (FG%, turnovers) have dwindled with NBA experience.
He's not of the Nash mold. Not even close. There are games where he looks exclusively to shoot, and that's precisely why I want him in there kicking ass and taking names. The easier comparison is probably to Leandro Barbosa, but I think Nate's play is infinitely less trite. If Walsh and D'Antoni put together the type of team we know that they are capable of given their market and clout, Nate Robinson doesn't have to be Nash…or Barbosa. He's somewhere in between. Part of the beauty of SSoL is that it can turn rotation players and sixth men into juggernauts if they have the right skill set. Nate's got it. He doesn't have Nash's court vision or Barbosa's unbridled speed, but he can make plays for his teammates and he makes people look foolish with his quicks. If you put a playmaker beside him on the wing, that offense goes from 'fun' to 'deadly.' LeBron James, Dwyane Wade, even Joe Johnson. They would demand a subtle modification of D'Antoni's system, but the benefits could be enormous.
Why must a scoring point guard's works be invalidated by his height? ...It's hard out there for a point…so can't we remove the complications by letting a player play and dropping our notions of what a point guard should be and what he should look like."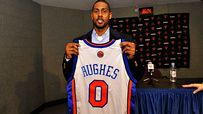 Wizznutzz: "Everyone was anticipating the mega-trades, player moves that would realign the balance of power but lets face it this is what the NBA trade deadline turned into: a game called 'Osbournes' played by NBA GMs where they pretend Larry Hughes is a giant ham and they try and throw him over their neighbors fence when he's not looking. Whats astonishing about Larry Hughes (aka 'L-Boogie' aka 'Cold Mountain' aka 'His Majestys Secret Service' aka 'The Coy Mister') is not his game but the size of his dowry!
Larry's career has answered the question many league scouts had when he was first drafted and that question was: 'I wonder what would happen in we gave Victor Page 100 million dollars?'
There was even a crazy rumor that Cold Mountain would be coming back to the Verizon Center (home of the 'Unlimited Minutes' rookie plan!) But the Wizards and Ernie Grunfeld stayed put, hey if it aint broke why fix it! Even though they made no moves, The Big G said he got lots of calls all week from keen GMs. But it turned out they were mostly prank calls from John Nash posing as keen GMs begging for the contracts of Etan Thomas and Mike James."
THE FINAL WORD
Hornets247: Will the offseason be a horror flick for the Hornets?
Piston Powered: Is it time to sit Rodney Stuckey?
48 Minutes of Hell: Michael Finley -- fearless elder.
(Photos by Kent Horner, Chris McGrath, David Dow/NBAE via Getty Images)