LeBron James recently pointed out that he's happy in Cleveland.
It's no joke. Honestly, last night the Cavaliers expressed more joy in teammates than I can ever recall seeing at an NBA game.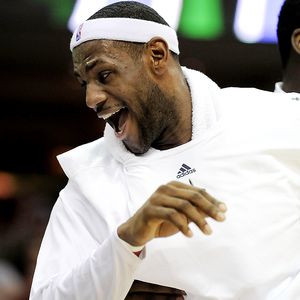 Things can change quickly. But watching the Cavaliers perform simultanously the most joyous, and perhaps the most dominating, performance of the year ... it is very hard to believe anyone would leave that.
You see the bench react when Mo Williams won that jumpball? Amazing, especially combined with such tremendous and selfless team effort in all facets of play.
I wrote a note to myself: If you had your pick of NBA teams to play for, you'd want to play for the Cavaliers. I'm sure it's not all peaches and cream at any job. But it's sure a lot more fun than most teams.
Gregory Dole wrote that great TrueHoop series about his time working as Leandro Barbosa's translator. (Links to the the first, second, third, fourth, fifth, sixth, seventh, eighth, ninth and tenth parts of that series from two summers ago.)
Dole's now writing for the Abu Dhabi newspaper The National, just penned a column about the time he spent around LeBron James, which seems to have a little insight into the star's connection to his city:
I found myself in the middle of LeBron's whirlwind for several years. What started at the 2003 Atlanta All-Star game, where I rapped Jay-Z lyrics with one of LeBron's buddies, led to summers in Akron watching LeBron's off-season scrimmages. ...

During those summers around Akron, I realised that I was lucky to be a part of something special. Few were invited. I was there because I had contacts to decent players who would scrimmage against LeBron. The day of a game, I would receive a text message with a time and location. It was all very discreet.

One time I was asked to get some cases of bottled water, but came back with the wrong brand. LeBron was a Coca-Cola guy.

I headed back to the store and explained that I needed a different brand. When the clerk asked why, I told him that I was getting the water for LeBron and he only drank Dasani. As I drove back to the gym, I noticed the clerk was following me.

Like a character in a cop thriller, I then led the clerk on a wild chase through Akron, trying to lose the tail. The King's location would not be compromised.

LeBron has succeeded because of his Akron community. They nurtured him when the going was tough and celebrated along with him when the going got good. I doubt he ever leaves Cleveland.
(Photo by Gregory Shamus/Getty Images)