Is Manu Ginobili past his prime? Is Josh Smith a prime time contributor? The TrueHoop Network pursues some prime targets: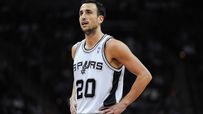 Graydon Gordian of 48 Minutes of Hell: "All season long Spurs fans have been dealing with the anxiety-inducing idea that Manu Ginobili may no longer be, well, Manu Ginobili. That some nefarious combination of injury and age has left him in a place where we will never see the same intense and productive play night-in-night-out. These concerns have continually floated to the surface in comment threads here at 48 Minutes of Hell but we have yet to directly address the issue.
So first and foremost, has Manu lost a step? Well, yes and no. In some ways he may never be as recklessly physical as he once was. His deceptive explosiveness will never be at 2005 levels. Even last year, his craftiness increasingly supplanted what his underappreciated athleticism had previously provided.
But, I don't believe Manu is yet at 100%. My primary reason for this is the limited minutes he is still seeing, even at this stage in the season. While Duncan, Mason, Bonner, and Parker are consistently seeing 30+ minute nights, Manu remains squarely in the 20-25 minute range (upper 20s when the game is really tight). His being a sixth man has never stopped him from having starter minutes; we all know he isn't just any old bench player. So if someone looks at how Manu has played so far this season and earnestly says "he's lost a step," in some sense they are wrong. Manu will be playing at a higher level come April and May.
Still, if Manu is truly past his prime, is it time to consider involving him a blockbuster trade (although not an illegitimate question, the mere mention of the idea seems almost heretical)? He is the most moveable member of the big three and could be the key to adding a currently unidentified building block for a new generation of title-contending teams."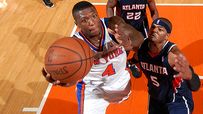 Bret LaGree of Hoopinion: "Josh Smith gave us the full spectrum last night: 12 rebounds (5 offensive), 4 steals, 2 blocks, 26 points, and some terrible decisions. Smith opened the night by making three of five jump shots in the first 6:13. Rather than count his blessings that his poor shot selection didn't hurt the team, Smith took five more jump shots before the game ended, making just one more. In terms of field goal percentage, that's an above average jump shooting night for Josh Smith. That he took ten jump shots on a night when he was primarily guarded by Al Harrington is troubling. That he continued to take and miss jump shots on a night he was also missing 8 of 10 free throw attempts stretches one's credulity. Though not as much as his now-constant whining. One of Nate Robinson's fourth quarter threes came as a direct result of nine out of ten players on the court continuing to play basketball while Josh Smith chose to spend the possession in the backcourt telling an official he thought Al Harrington traveled while corralling a defensive rebound. The Hawks couldn't guard the Knicks in the second half when they were five-on-five. That four-on-five possession transformed the situation from incompetence to negligence."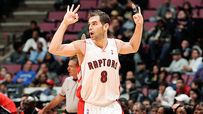 Arsenalist of Raptors Republic: "Devin Harris' questionable decision to let the clock run down so he could take the final shot of the game worked in our favor. When he broke Joey Graham to create 8 feet of shooting space and rose for that jumper a feeling of nausea came over me. At that moment the only thing to be grateful for was that it wasn't Vince taking the shot because you know he would've drained it. Time expired as Harris missed and the prevalent feeling amongst every Raptor fan wasn't of joy but of relief. The Nets went on a 16-5 run to end the game as the Raptors saw their well-deserved 11 point lead whittled down to one thanks to some very shaky offense late in the fourth. In the end the Raptors' blistering 56% shooting and Jose Calderon's intelligent PG play was too much to overcome for the defensively listless Nets. The Raptors weren't much better, we allowed enough drive 'n kick scores to make your stomach queasy but when you shot that high of a percentage, basketball becomes a forgiving game."
THE FINAL WORD
Valley of the Suns: Bring back Iavaroni.
Hardwood Paroxysm: In Memoriam, John Updike.
Forum Blue & Gold: The Lakers-Bobcats finish, revisited.
(Photos by Ronald Martinez, David Dow, Jeff Zelevansky/NBAE via Getty Images)