D-League player and TrueHoop contributor Coleman Collins unleashed his inner fashionista last weekend in Manhattan, and filed this photo diary. Collins is also the author of a new blog, The Royal We.
Last Saturday I had the opportunity to participate in the JOE Joseph Abboud/NBA Block Party, at the new JCPenney's in Midtown Manhattan. There's an existing partnership between Joseph Abboud and the NBA coaches to provide sideline gear, and they're trying to expand it to include more events like this. There were a number of activities -- an outdoor basketball court, a traveling Larry O'Brien Trophy, a DJ, etcetera. The crowning glory was the fashion show: to promote their new fall collection, Joseph Abboud got ten basketball players to get up on the runway. I'd always wondered myself -- how does it feel to be really, really ridiculously good-looking?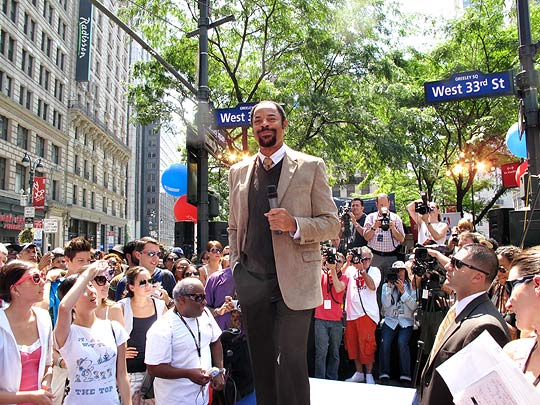 Walt Frazier was the MC -- dapper as always, as is his reputation. He did a great job on the mic -- I may be a little biased because he gave me a nice shout-out when I hit the runway. One of the all-time greats. A friend of mine that came to the event found a way to pull him to the side and get a picture with him. "I had to do it," he said. "It's Walt Frazier. I just walked up to him and said, 'I appreciate everything you've done. You're a great man.' He didn't really say anything back, but I know he felt where I was coming from."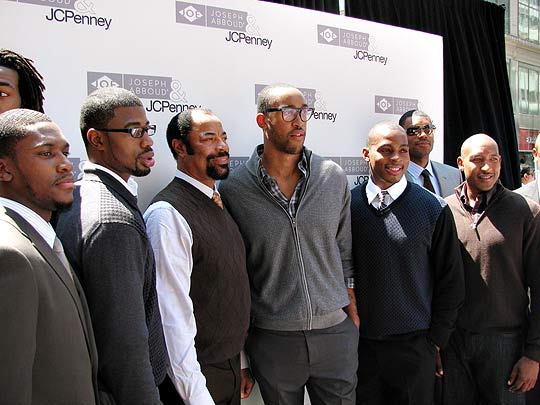 From Left: Toney Douglas (Knicks), Terrence Willams (Nets), Walt Frazier (Knicks), yours truly, Randy Foye (Wizards), Allan Houston (Knicks), Chris Duhon (Knicks). Jordan Hill (Knicks) is inexplicably turned the other way and thus obscured by Toney Douglas' head.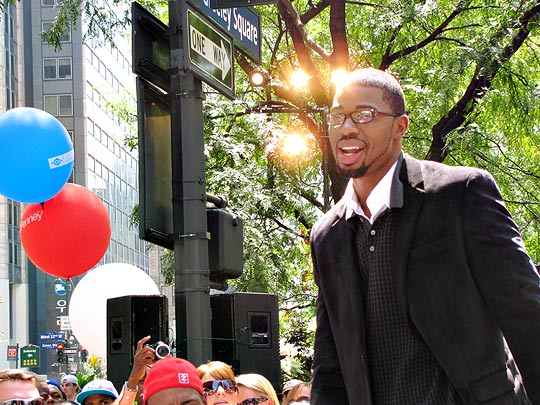 This is Terrence Williams, one of the Nets' draft picks. I had to put this up here because he looks like he's having such a good time out there.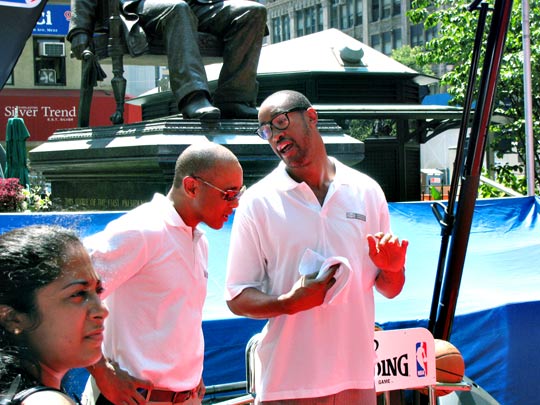 John Starks was there as well. He's got a clothing line that he's trying to promote -- Zipway Athletic apparel. Good example of how to adjust to life away from sports. Athletes retire from their games 30 years before anyone else would think of retiring in this country; we usually imagine them sitting back and enjoying their money, but eventually, you need a purpose. He was very enthusiastic about it: "I got my hands in every part of the business. Designing, answering phones, you name it, I'm there."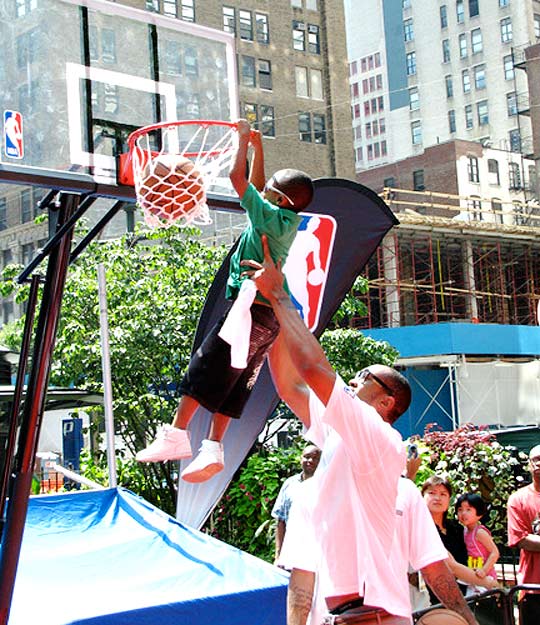 There were kids everywhere -- a true family event. I picked this kid up to let him dunk the ball, and after he got up there he didn't want to get down. He hung on the rim for a solid five seconds after the ball went through the net ... sure-fire technical in about 12 years.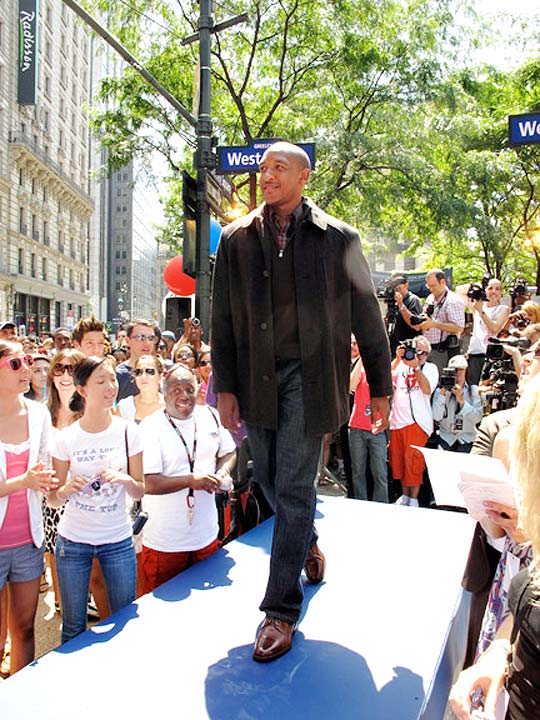 Chris Duhon. Not much to add here, but I overheard an interview he did beforehand and he made the following statement:
I wasn't like every other kid, you know, who dreams about being an astronaut, I was always more interested in what bark was made out of on a tree. Richard Gere's a real hero of mine. Sting. Sting would be another person who's a hero. The music he's created over the years, I don't really listen to it, but the fact that he's making it, I respect that. I care desperately about what I do. Do I know what product I'm selling? No. Do I know what I'm doing today? No. But I'm here, and I'm gonna give it my best shot.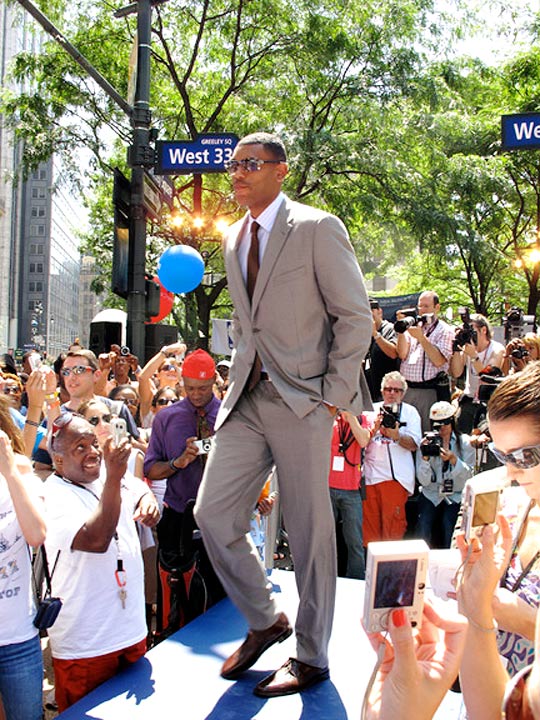 Allan Houston doing his best Magnum. You gotta tame the beast before you let it out of its cage.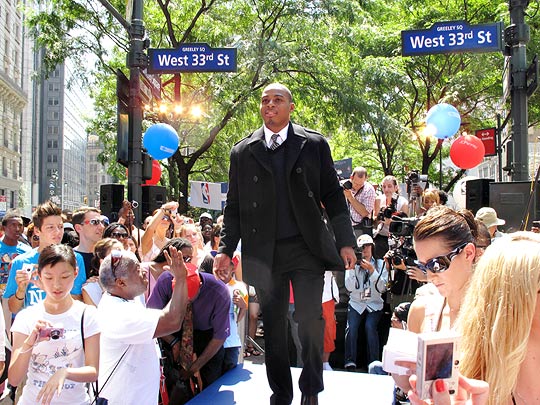 Randy Foye was there, too. His outfit had layers: a suit and tie underneath a wool peacoat. Somehow he always managed to find the coolest spot there was. If a pole or tree was casting the tiniest bit of shadow, he was under it.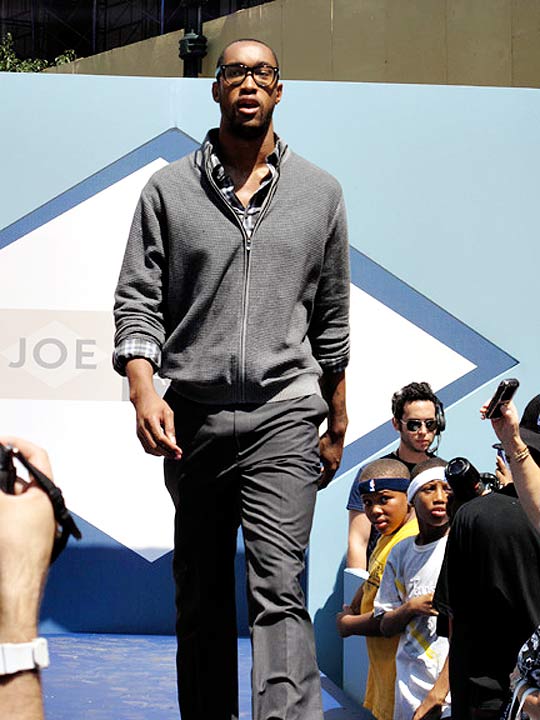 I finally made it up on the catwalk myself. Before I got up there, I asked one of the professional models (there were 10 in addition to the basketball players) how I should go about it. He looked at me like I was stupid. "Just walk, man. Just keep your head up and walk. And don't fall." I'm not sure if you can tell in this picture, but I'm concentrating extremely hard.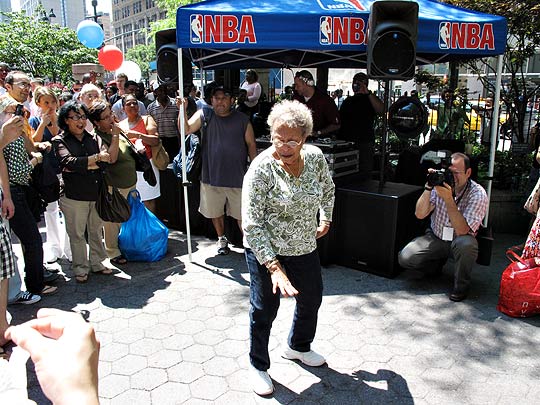 This woman was the life of the party. Notice how everyone clears out of her way and gives her room to operate. It was an all-around good event -- people were having a good time, the DJ was spinning great music. Another example of how the NBA does a great job protecting and promoting its brand in the community. And we also learned this: a male model's life is a precious, precious commodity.