Last night was a big one for the New Jersey Nets, they took down a playoff team and not one but two of their players vying for Flop of the Night honors.
The winner is Jordan Williams, attempting to draw a charge without absorbing any contact. He does a great job of getting his feet in position, but instead of actually defending the Pacers' Tyler Hansbrough, he elects to have a seat under the basket. Hansbrough looks up, realizes that his previously perfectly positioned defender is now lying down, and dunks. (It turned out to be a horrid night for Williams, who left with concussion-like symptoms.)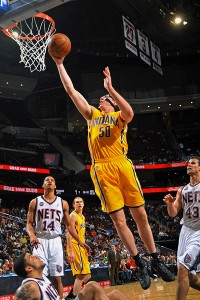 Jesse Garrabrant/NBAE/Getty
Nice defense.
DeShawn Stevenson earns honorable mention for high theater, and getting the call. The theatrical quality of this flop is truly breathtaking. It's unclear whether Danny Granger actually makes contact at all. Nonetheless Stevenson writhes in agony holding his cheek, even though the replay shows that Granger's elbow grazes either air, or the chin. It's reminiscent of soccer players being carted off the field only to be sprinting around the field a few minutes later, after securing the call.
Thanks to Jared Wade (@8pts9secs) for alerting us to that last one.
When you see an egregious flop that deserves proper recognition, send us a link to the video so we can consider it for Flop of the Night. Here's how to make your submission: