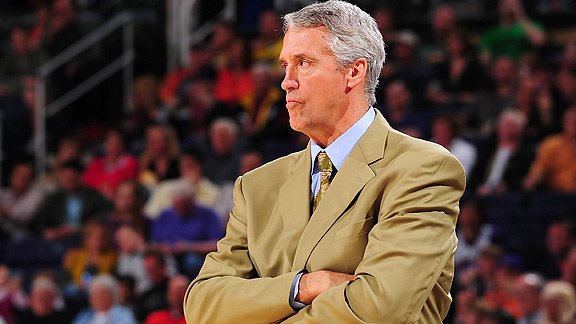 P.A. Molumby/NBAE/Getty Images
Former Clippers head coach Kim Hughes: A different breed
To nobody's surprise, the Los Angeles Clippers relieved interim head coach Kim Hughes of his duties this afternoon. The Clippers were 21-28 when Hughes took over on February 4, and went 8-25 the rest of the way. That downward spiral can be attributed to any number of factors. Marcus Camby's departure decimated a defense that, at the time of Mike Dunleavy's firing, was a hair above the league average in efficiency. During his first hours on the job, Hughes vowed to toss out the bulk of the team's offensive playbook and run, despite that the composition of the roster wasn't equipped or sufficiently conditioned to succeed in a transition game. And, as is often the case with the Clippers, there was a spat of injuries that deprived Hughes of installing a rotation with any regularity.
The results -- both before and after the Camby deal -- were disastrous. The Clippers lost their first five games under Hughes by double-digits. In Hughes' 33 games, the Clippers held their opponents to fewer than 100 points per 100 possessions only three times. With or without Camby, that's a pattern of failure that makes the Toronto Raptors look like a Larry Brown squad.
Interim coaches are rarely successful, and Hughes' fortunes quickly conformed to history. How would Hughes fare as a head coach if given a legitimate opportunity to run a training camp and put his hand print on a team? It's hard to say. But here's one thing I can say with some degree of certainty:
I'd love to cover that team.
In the NBA, very little of substance is spoken on the record. Even when you're fishing for nothing more than a little education about the game, answers are often doled out in neatly wrapped platitudes. That's not the case with Hughes, whose flat midwestern accent conveyed things you rarely hear from NBA coaches -- like self-doubt, nuance and re-evaluation.
After the Clippers' horrendous 98-81 loss to San Antonio in Hughes' first game, I asked him whether the team had enough playmakers and ball handlers to truly execute the running game he pledged to orchestrate as coach.
"Perhaps not," Hughes said. "That was somewhat exposed tonight."
Here was a coach, who had hours earlier vocally expressed an imperative to run, confessing that his initial appraisal of his team might've been off.
Throughout his 10-week tenure as head coach, Hughes conveyed a combination of basketball truth-telling and gallows humor. Ask him what went wrong with a defensive game plan and he offered a litany of specifics: "It was a chronic situation of our bigs not showing up top on the pick and roll," or "We let George Hill gets loose on the weak side too many times." When you asked him prior to a game against Portland what it's like watching film of Camby as a Trail Blazer, Hughes delivered a one-word reply in deadpan fashion: "Sickening."
Prior to taking over as head coach, Hughes worked as the Clippers' big man whisperer. Among his primary tasks was the development of Chris Kaman and DeAndre Jordan, the two players he evaluated most critically in public. Prior to his first game, I asked Hughes if he'd spoken to Kaman about how the new running attack might impact the center's preference for a structured half-court game.
Hughes responded, "Let me preface this by saying that Chris is retarded, okay? He's really not, but he is emotionally handicapped."
Last night, Hughes bluntly stated that Jordan's work ethic wasn't diligent enough and that the Clippers are unlikely to be successful long-term with Kaman as a first option -- even as Hughes disclaimed that he loves Kaman.
In the closing moments of his final press conference, Hughes took emotional inventory of his stint as head coach. "I didn't know if I could do it," Hughes said. "I'm speaking from my heart. I really didn't know. I'd heard the horror stories about moving one seat over. George Karl told me at the All-Star Game that when you move those 18 inches over, it truly changes your life. He's right."