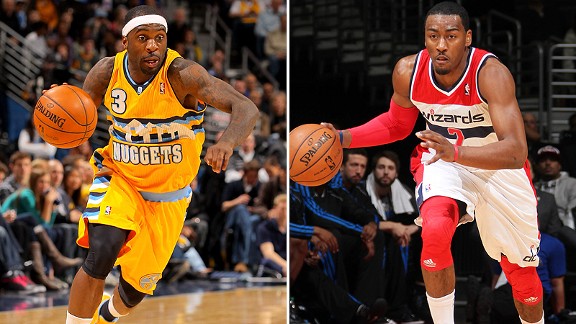 Getty Images
Skills, scmills. Who's the fastest guy with the ball?Mark Haubner is the founder of The Painted Area TrueHoop Network Blog. Here's his HoopIdea to make All-Star weekend more exciting.
Are you excited for the NBA Skills Challenge coming up on Saturday night?
Of course you're not.
Watching point guards dribble around an obstacle course at half-speed, occasionally stopping to pinpoint a rudimentary chest or bounce pass, is a pointless exercise worthy of fast-forward treatment on your DVR.
Ten editions of the Skills Challenge have proved that the event not only provides minimal entertainment value but also is irrelevant to the conversation of sports fans. Though intended to showcase the fruits of passionate, dedicated training, if anything the Skills Challenge conveys a sense of apathy, with players going through the motions in an event in which they are required to participate.
It's time for a change.
It's time for the Fastest Man With The Ball competition to replace the Skills Challenge on All-Star Saturday.
(Note: the idea was first floated in this corner of the internet by John Krolik of Cavs: The Blog as part of a 2009 TrueHoop Network roundtable on improving All-Star Weekend, and deserves a re-airing in the HoopIdea era.)
"Who is the fastest man with the ball?" is a question that you'll periodically hear on NBA broadcasts. It's a topic that's fun for fans to debate, and it's a crown that players might actually aspire to compete for and hold.
The specifics of the rules can be up for debate. Let's say players start on the baseline and go down and back the full court, needing to make a layup each time, before finishing with a sprint back to half court, for a total of about 70 meters with the ball. Perhaps two baskets could be set up at each end of the court for some head-to-head competition. There might need to be something like a minimum number of dribbles to prevent players from simply throwing the ball ahead and sprinting after it.
Feel free to tweak away at these ideas all you like. I'm sure we can come up with something reasonable. The key is agreeing on the premise of finding a way to measure top speed with the ball, something that would resonate with fans from casual to hard-core much more than navigating the Skills Challenge labyrinth.
Who would win the 2013 Fastest Man With The Ball competition? My guess is that the odds-on favorites would be John Wall and Ty Lawson.
Who else would be in my ideal eight-man field? Well, Derrick Rose and Rajon Rondo would be no-brainers if they weren't injured. Without them, I'll put Tony Parker, Monta Ellis, Russell Westbrook and Darren Collison on my list as definites, and I have Eric Bledsoe just edging out Nate Robinson in the freak-of-nature category.
And yeah, I'm saving one last spot for LeBron James, just because I'd love to see what would happen.
Here's the best part: While the Skills Challenge doesn't really tell us who the most skilled player in the NBA is, the Fastest Man With The Ball would result in a meaningful title that could be debated and discussed all season.
I know I'd be eager to watch and see the results, and that's a lot more than I can say about the Skills Challenge. It's time to try something different.