Today is June 3.
Just a month ago, on May 1, I was in Philadelphia watching the Detroit Pistons eliminate the Philadelphia 76ers from the first-round.
After the game, Flip Saunders greeted the media with notable poise. There had been some bumps in the road. Not long before, Chris Webber had been on TV talking about chaos under Saunders on the Pistons. The Pistons had stumbled in some early games against the young Sixers. Anyone who had ever watched Saunders coach Rasheed Wallace had also seen Wallace ignore Saunders time and gain.
Nobody seemed to know what to make of Detroit.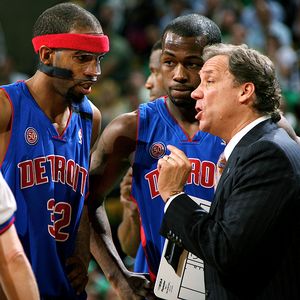 Maurice Cheeks -- the coach with the team on the upswing -- had just been on the podium, understandingly seeming a little dejected, and unsure what to make of the loss.
Then here came Flip Saunders, entirely unperturbed by the high of the win, or the lows of the weeks before. Just a guy who seemed very comfortable to be there, in the bright lights, talking about the upcoming second round.
You couldn't help but think that Cheeks would give just about anything to be in Saunders' shoes -- moving forward in the Finals, coaching a title contender.
Saunders was as calm as a guy drinking something fresh-squeezed on some beach somewhere.
And now that Saunders has been fired, that could be exactly where he's headed, and there's not a chance in the world Cheeks would trade places with him.
Every coach goes through hard times.
Squabbles with superstars. Losing streaks. Clashes with owners, GMs, or team presidents.
And sometimes those little problems can become big problems and you can lose your job.
Those things even happen to Mr. Dynasty, Phil Jackson.
It is, in some ways, entirely unfair to throw a rookie coach out there, no matter how much he might know the game of basketball.
As a coach, and as an organization, the best way to immunize yourself against such things is to have clout.
The clout that matters comes from the different people that can get you fired. Clout can be a pre-existing relationship with the team's superstar. It can be a pre-existing relationship with the owner. It can be a pre-exisiting relationship with the front office. Or, perhaps most handily, it can be a pre-existing relationship with the fans -- also known as fame.
Get yourself a famous coach.
That's the directive to owners and GMs, and boy have they been following marching orders. (Please, someone do a statistical breakdown of this. I'm sure I'm wildly overstating things.) It seems like, in the last decade, the 30 NBA teams have just played musical chairs with about 45 total head coaches. At any given moment, there are 30 working, five or ten in college or assisting somewhere, and five or ten on the sidelines, ready to pounce.
Then a job opens, and whichever former head coach is at the top of the list from this tiny club of American males gets the job.
Do big name head coaches ever really retire? (In recent years we say Hubie Brown return. This summer, even Larry Brown and Doug Collins are back in the mix.)
Or, more to the point of this post, do new coaches ever really enter the bloodstream?
When is the last time a team hired someone you had never heard of?
Earlier this year some NBA people were telling me about what a great head coaching candidate Mike Dunlap would be. (He's a former Denver assistant who just took a job at the University of Arizona.) Picture your typical Bulls fan, though, on the day that's announced. Mike Dunlap? Mike Dunlap? The guy is halfway fired before he even starts.
Remember, every coach goes through hard times.
Which brings us back to Flip Saunders.
That day, when Saunders was busy exuding competence on the podium, his assistants Michael Curry and Terry Porter were back in the locker room packing up their pre-game clothes -- a little sweaty from working out with the players on the court -- and preparing to travel home to Detroit.
Now, however, both are leading candidates for premium NBA head-coaching jobs. Curry is said to have the job in Detroit. And Porter is very much in the mix in Phoenix.
Although Porter once had a stint coaching the Milwaukee Bucks, both still count as fairly recent entrants into the fraternity.
More power to both of them. They are close to expanding the club a little.
It could get a lot bigger. If you're looking for pure coaching ability, there's no way you'll convince me no women or internationals qualify among the world's best thirty.
But for now, if you're wondering where new NBA head coaches come from, I guess the answer is: The Detroit locker room.
(Photo by Jesse D. Garrabrant/NBAE via Getty Images)