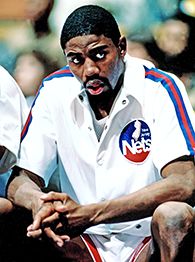 Once one of the best basketball players in the world -- he once led the NBA in both steals and assists -- Micheal Ray Richardson lost control of his demons and was eventually banned from the NBA for his addictions just eight years after he was drafted two spots ahead of Larry Bird.
It was a wakeup call, of sorts, and after getting sober and playing out his basketball career in Europe, Richardson is now regarded as basketball's poster child of overcoming addiction. After returning to the US, and holding various jobs in basketball, Micheal Ray Richardson is now the head coach of the CBA's Oklahoma City Cavalry.
Since the news of Eddie Griffin's death, I have been thinking to myself: Who knows what it was like to be Eddie Griffin? He faced bizarre and unique challenges: his addiction was served with money, public adulation, and basketball.
Then it occurred to me: Micheal Ray Richardson knows.
I just reached him by telephone.
When I heard about Eddie Griffin, I couldn't help but think that you must know as well as anyone what it feels like to be an NBA player, out of control with addiction, and in need of help.
I don't know exactly what he faced or what kinds of things he was going through. But I do know that if you put yourself in that predicament, a lot of times bad things are going to happen to you. We all make choices. Whatever choice you make, you have to deal with it. I'm a firm believer that Jesus had something in store for me, and that's why I'm still here. But the stuff I was doing -- I could have been in his situation.
Is there something about the culture of basketball that should be better, to help prevent these kinds of stories?
We're all human beings. We all make mistakes. But things happen for a reason. And if you make the choices to put yourself in that situation, nine times out of ten something bad will happen, especially if you're under the influence. You got to be very careful about what's going and your surroundings if you're going to be under the influence.
I have seen you quoted crediting David Stern with saving your life. People talk about addiction as some defect in the brain -- or having a biologicial explanation. Is it a matter of personal responsibility? Is it biological? Is there something other people, like, in your case, David Stern, can do to help?
I call it a sickness. Anything you do to an extreme, whether it's drugs, or that ref who was gambling. That ref was sick! Guys who have problems with alcohol, people at the Betty Ford Center. They're sick! It's like they have cancer. They're sick.
But it's easier to overcome addiction than it is to overcome cancer. It all depends on how you do.
David Stern didn't really kick me out. If I didn't do what I did, I'd have kept playing in the NBA. I was only out of the league because of myself. But sometimes, something drastic happens, like what David Stern did, and it wakes you up. In my case, that was a wakeup that helped save my life. Thirty years later I'm still here. Len Bias, and a lot of other people, didn't get a chance. God put me here for a reason.
Are you going to talk to your Oklahoma City players about Eddie Griffin?
Of course. You have to be careful with alcohol. You have got to be aware of your surroundings at all times. Whether you're a pro athlete, the president, a normal human being, a lawyer, a doctor, or whatever. You have got to be careful.
Is there anything we can learn from this?
In life, there are good days and bad days. All that matters is how you deal with the situation. No one in this world has a perfect life. You have to deal with that. You can't run and hide. I don't know what Eddie Griffin was facing. Maybe he had something else going on that he was trying to run and hide from. Maybe he had an anger management problem. Maybe he was going through different things. Maybe he just didn't know how to handle that, so he put himself in those situations. And once you get in those situations, nine of ten times something bad is going to happen. Unfortunately for him, he has no chance to react and learn.
When you talk to young people who are addicted, what do you tell them?
To overcome addiction, the first step is to be willing to say that you're the problem. You can't blame other people. You have to take full responsibility for everything that you do. Then you have to be willing to accept help. Once you are willing to accept help, you are on the way to recovering.
That Eddie Griffin, though ... it's a sad story.
(Photo: NBA Photo Library/NBAE via Getty Images)