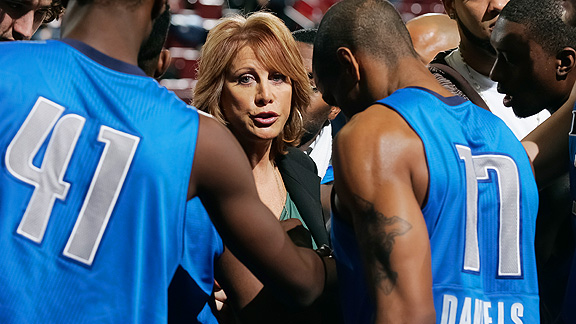 Otto Kitsinger/NBAE/Getty Images
After one season on the bench, Nancy Lieberman will move into the Texas Legends' front office.
As Marc Stein reported on Sunday, Texas Legends head coach Nancy Lieberman will be moving from the bench to the front office.
Lieberman was the first women's coach of a men's professional basketball team associated with the NBA when she signed on to coach the Legends, the Mavericks' D-League affiliate, last summer. Lieberman's hire was historic, but in many respects not all that radical. Lieberman is a basketball lifer, a Hall of Famer who had coached professionally in the WNBA.
At the same time, there were very few, if any, male professional basketball players who had played under women at any level. When I asked about that last summer, Lieberman responded, "As far as I know, guys have been told what to do by women their whole lives."
While Lieberman was telling her players what to do, the Legends went 24-26 in their inaugural season and qualified for the playoffs.
We caught up with Lieberman on Monday and asked her to reflect upon her season.
Big picture: How do you think you fared this season?
It was pretty amazing. Sometimes when you're in the thick of it, you don't really take the chance to look back and go, "Wow. We had a hodgepodge of guys. We all came from different places. We were a first-time team -- and look what we did." Look at how positive we were for the D-League as a whole. We made the little things matter. We made the details matter. My goal was to give these guys a reason to come to practice every day with their best -- not just show up, but come because you had something you had to give us.
When we spoke a year ago, one of the things you said was that the biggest source of expectations would be you, that the pressure on you would be more self-inflicted than from people watching on the outside looking in. Did that hold true?
I don't know if it was pressure as much as standards or opportunity. But I have always felt as if I had to operate on a different level because of the perception, that I couldn't take anything for granted. So the answer is, yes. I knew that I had to watch more film than most coaches. I knew that, even if I was tired and it was three in the morning, I had to be back on Synergy if one of my players was struggling, that I could give him -- as I like to say -- the answers to the quiz. If Antonio Daniels was having problems with his weakside defense, or if Justin Dentmon was turning the ball over, it was my responsibility to come to them the next day with solutions.
It's not like you have a chance to be back in the huddle every 30 seconds and call a new play. We don't have a chance to stop, think and redo. Everything is on the fly. You're trying to disseminate information instantaneously. So your connection with your point guard is at a premium -- because he's an extension of you, from the bench to the floor. You have to get the pieces in the right places. Or then you call a timeout and things aren't going well and you've got 20 seconds to tell people what you want to tell them in the emotion and heat of the game. I have to be ready for those moments. All that work that I did and all those people I reached out to for a year paid off.
Was there one specific piece of advice that was most useful?
Joe Girardi said to make sure they want to come back every day to see you at practice.
To that point, Pat Riley says that the most important factor for a coach -- above X's & O's or tactical preparation -- is "contact" between player and coach. It doesn't even necessarily have to be basketball-related. But that's his term for the emotional or interpersonal state between coach and player.
He's right. One thing I did was make sure I knew a little something about every player on our team. We were in Idaho for Thanksgiving playing the Stampede -- it was our second and third games of the season after losing opening night. The last thing I want to do is come home 0-3 and have to answer questions like, "Do you know what you're doing?"
So we're sitting around Thanksgiving dinner with 10 guys and my coach and every player had to tell us something non-basketball-related that we didn't know about them. So I found out that some of my players had children. Some of them had siblings who were in prison. What kind of route in life they took to get here. It was amazing. It was really quiet at the table when someone was talking. It brought us together.
There was one day during the course of the season when Antonio Daniels called me and said, "Hey, you know, my mom just got diagnosed with cancer." We cried together. When Sean Williams was sick in the middle of the night, he called me. This is a funny story because we have apartments our players share in Frisco. Sean calls me and says he's going to go to the hospital. I told him I'd meet him there, so I asked him, "Which hospital?" He goes, "Coach, I'm in Arlington at my mom's house." So I said, "Where's your mom?" Sean said, "She's in the next room sleeping." I'm like, "Dude, you woke me up when your mom is in the next room?!"
But that tells you right there: I was their coach, their mentor, but also a trusted figure in their lives. When Justin Dentmon wasn't getting the playing time he wanted, we were at odds with each other. One day we sat down and talked, and he's like my son now. It took getting involved in their lives. And now four of my players are out at my basketball camps this summer participating.
As you talk, it dawns on me there's nothing at all gender-specific about these issues. Once you took the job, it was purely coach-player kind of stuff: Guys unhappy with playing time. Watching film at all hours to help a guy with his defense. Dealing with the messy real-life issues players deal with -- health, family, whatever. Coaching is coaching.
It's coach-player stuff, but it's life if you want to take it to the most simplistic level. It's loving these guys like they're your children, but there's going to be a lot of tough love. Antonio Daniels -- love this guy. One of us is going to be at the other's funeral. We were so close, but we butted heads because he's this 12-year NBA veteran running this team, but I needed him to do certain things I felt were best for the team. He's running it the way he knows best with his past experience. Finally, there comes a point in time when you come together. One day I turn around and said to him, "There are three weeks left in the season. You want to run this basketball team? You have the keys. But I drive a Bentley and I'll expect nothing but the best." And he just looked at me and he goes, "Finally." And in his last four games with us, he had 40 assists and zero turnovers.
Did you encounter moments when you felt like guys were testing you where they might not test a male head coach?
I would've said that years ago, but not today. Because if my guys aren't allowed to question and if I'm going to be super-sensitive and go, "Well, he asked me that question because I'm a girl," you fall into a trap and I can't allow that to happen. If a guy challenges me about a defensive rotation, maybe he's not challenging me. Maybe he just wants to get it right. Maybe he just wants to have a better understanding of what we're trying to do. These are really bright guys. I want to hear what they have to say. Maybe they're seeing something we're not seeing from the bench. That's a strength and a virtue. That's communication. The worst thing I could do is every time someone questioned me is say, "There they go. They're challenging me." And that's not me, anyway.
Play out the scenario with me: How does the first female NBA head coach arrive at the job? Is it a woman who builds her career coaching men -- maybe at the high school level, then college, then D-League? Does she come up through the college ranks winning multiple championships? Is it someone who just racks up title after title in the WNBA? In your eyes, how does it ultimately happen?
I don't think a woman is going to come out of college, or come out of the WNBA and be a head coach in the NBA. I don't think that's very realistic on any level. I think it'll be someone who is investing their time, energy and effort. They'll get a break because they've created some relationships. They'll come through the D-League or will help on an NBA team. Sometimes the greatest thing is that internship you invest in yourself. If you live in a city with an NBA team, maybe you pick up the phone and you call the front office and you say, "Look, I'd really like to gain some experience. Could I volunteer?" Once you get your foot in the door, you create these relationships and people have a chance to see not only your knowledge but your work ethic and how you handle yourself.
People were very generous with me and offered me great guidance. And I was always reaching out because I wanted those guys to share what they knew -- and I want to share what I know. I'm open every day to information. Toward the end of the season, I called Kevin Eastman, Doc Rivers' assistant. I said, "Kevin, our defense is in the toilet. Can you do me a favor? Even though I've interviewed him, can you put a call into Tom Thibodeau for me?" I'm in my hotel room in Maine and my phone rings. It's Tom and we must've talked for two hours. We're talking about rotations, overloads and preloads. I was like, "Are you sure I'm not taking too much of your time?" He said, "Nancy, I love doing this." He's thanking me for calling him?! I get home a few days later and he had overnighted me the Chicago Bulls' defensive playbook. Who does stuff like that?
Who are some female prospects in the coaching ranks around the country whom we should keep our eyes on?
I think Jenny Boucek. She's worked really hard on the men's side. I've been a mentor to Jenny. Ronnie Rothstein has been a mentor to Jenny when she was coaching in Miami in the WNBA. They stayed in touch. Coach Riley has been somewhat of a mentor to her. Rick Sund. Jenny is in the WNBA now. When she came to visit me, she was in Mavs practices and my practices. She's really good. I also hired a woman named Tara Gibson as my video coordinator. And you know what video coordinators do these days?