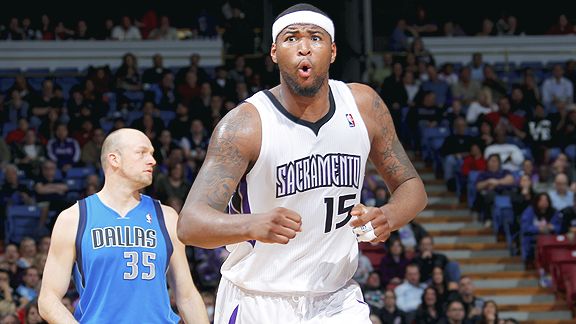 Rocky Widner/NBAE/Getty Images
You would be surprised what gets you ejected these days.
Depending upon whom you ask, the new technical foul policy in the NBA has either been a relative success or an oppression of emotion and competitive spirit. Personally, I'm fairly happy with not only the new policy (as of right now), but the effect it has had on NBA games, as well. I really got tired of players complaining about the most obvious calls against them and appearing to throw tantrums like toddlers on the floor every time a whistle didn't go their way.
My feeling on the tech policy is similar to what we saw with the NBA dress code. It will be somewhat polarizing for the first year and then there will be some middle ground that brings things to a happy compromise. I sometimes forget there even was a dress code controversy, and I'm hoping once the players consistently control the histrionics when reacting to a whistle, we'll see a similar mutual understanding.
Well, DeMarcus Cousins had his first ejection from an NBA game Wednesday night against the Dallas Mavericks and naturally it's being met with a bit of an uproar.
He received a technical foul with 7:16 left in the fourth quarter for arguing a possession call that was eventually overturned and given to the Kings anyway. He received his second technical of the night with 47 seconds left for battling for position with Tyson Chandler on a made free throw.
Check out the technical foul videos on Cowbell Kingdom here.
In the spirit of the new tech policy, I'm completely on board with the first tech Cousins received in the game. You can't really make a spectacle of the calls, and even though it didn't appear he said anything out of line, he still ran from sideline to sideline and kept motioning for a changed call. Referee David Guthrie was on the side of the court Cousins ran to, and likely felt it was over the top with the way he was "protesting" the call.
It's not the end of the world and it's not really disrespecting the game all that much. However, it is the kind of thing the new tech policy is trying to curb and at this point in the season, players (even rookies) should know better.
The second technical foul is where the officials lose me. Cousins and Chandler are battling for position on an attempted free throw. They get tangled up like an awkward 8th grade dance before separating. Chandler's elbow gets a little high into Cousins, but there really was no excessive contact made and no order to restore.
Yet referee Marc Davis comes rushing in from near halfcourt to hit the players with the dreaded and confusing double technical foul.
This wasn't a chippy game. It wasn't a game in which Power Balance Pavilion was about to shower Tyson Chandler with beer cups for trying to lambada with DeMarcus. It was two players getting tangled up and separating without resorting to pushing, elbowing or even name-calling. Chandler doesn't even deserve to get a technical for having his elbow too high, and Cousins certainly doesn't deserve a technical for allowing Tyson's elbow to get too high.
I make a lot of excuses for NBA referees and try to give them the benefit of the doubt because of how impossibly hard the job is. But if you want to talk respect for the game, how do you eject a player on a second technical foul because he was legally fighting for position in the final minute of a close game?
This is where the technical foul issue in the NBA gets the interrogation lights. Cousins didn't get a second technical in this game because of the new policy. He got it because of bad officiating. It wasn't showing respect for the game; it was a lazy double technical foul call rather than Marc Davis making an actual decision on the court.
If DeMarcus has to respect the game by not overreacting to a foul, shouldn't the referee have to respect the game by not making that double technical call when it was completely unnecessary? The new tech policy didn't completely cause this ejection, but it also sort of set it up in a way.
There needs to be some middle ground.