At summer league, athleticism is the most commonly cited variable to distinguish NBA-caliber players from the rest of the talent. DeMar DeRozan's athletic gifts established him as a Top 10 pick in 2009, despite an underwhelming one-and-done season at USC. DeRozan displayed his explosiveness and agility for much of the 2009-10 season at varying levels of refinement, finishing his rookie campaign with a Player Efficiency Rating (PER) of 12.58. He showed strength (finishing near the rim) and weakness (playmaking) in the precise areas where you'd expect an athlete to succeed and fail.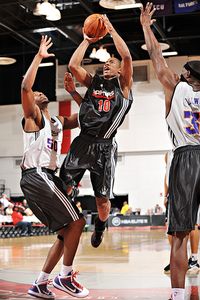 Garrett Ellwood/NBAE/Getty Images
Can DeMar DeRozan fill the void in Toronto?
Chris Bosh's departure leaves the Raptors with a vacuum in their offense, and DeRozan is probably the only player on the roster with the dynamism to fill that void. But to be the name on the marquee in Toronto, DeRozan will have to graduate from an athlete who can ball to a ballplayer who can leverage his athleticism. If he's going to achieve as a shooting guard, he must extend his range to beyond the arc, where he converted only four shots during his entire rookie season. DeRozan will also need to apply all that athleticism and length against the scorers who are torching Toronto on a regular basis.The Raptors finished dead last in defensive efficiency last season. As he enters his sophomore season DeRozan is well-aware of this opportunity, and the improvement in his game it will require on both ends of the floor.
"If I want to be more effective, I really have to slow down and not only use my athleticism all the time," DeRozan said. "I have to learn how to play different kinds of ways and I'm learning."
On Tuesday, we saw glimpses of DeRozan's learning curve and his expanding game. He scored 23 points, shooting 10-for-15 shooting from the floor. Although he unleashed some ferocious dunks, there was substance and nuance to go along with the aerial effects. DeRozan showed off a tighter handle against pressure, something that hampered his one-on-one game at times last season. That added confidence in his ballhandling allowed DeRozan to make better decisions off the dribble, whether it was spinning away from help defenders or finding a seam.
"Athletes last for [only] so long," DeRozan said. "Being young, I want to develop now so that I can go 50-50 with my game -- skills, then use my athleticism when I have to."
DeRozan still exhibited plenty of that raw athleticism, especially in tandem with Sonny Weems, his closest friend on the team. The two wingmen teamed up on consecutive alley-oops in the second quarter. The first jam came in the half court when Weems snuck behind the Houston defense on a dive to the hoop, where DeRozan found him with a lob. On the next possession -- a break in transition -- Weems returned the favor when DeRozan ran the baseline and met Weems' pass at the rim for the slam.
"That's what young guns do," DeRozan said. "When we came out, Sonny said he was going to go back door and I threw it to him. Then I knew when we were on the fast break together, I knew he was going to throw it up."
DeRozan's primary defensive assignment on Tuesday was staying with Chase Budinger (and occasionally Jermaine Taylor) in Houston's active three-man sets, closing out on the second-year sharpshooter and staying with him in transition. For the most part, DeRozan succeeded on all three accounts. He selectively provided help, but usually opted to stay glued to his man.
"I need to improve my defense, especially going at the 2 position, going against players like Kobe [Bryant], Ray Allen, those type of guys every night."
Evidence gathered at summer league has to be viewed with a jaundiced eye. As DeRozan himself suggests, there's simply no substitute for meaningful NBA games. Matt Janning and Chase Budinger aren't exactly comps for Bryant or Allen, but at least DeRozan acknowledges that the trajectory of his growth as a player will be central to the Raptors' fortunes.
To return to respectability, Toronto will need a superstar -- and there's only one candidate on their roster.
Yes, that was J.R. Smith out on the floor starting for the Nuggets. You can't find Smith on the published roster, nor on any of the box scores from the Nuggets' first three games here in Las Vegas. So what's he doing here? "I'm just working out," Smith said. "I'd rather play somewhere like this than a high school gym and get hurt." Smith is rehabbing his left ankle. "Of course it's not the NBA season, but it feels good to see some familiar faces and feels good to come out and play."

James Johnson's teammates spent a lot of time telling Chicago second-year forward where to set up offensively in the half court. When Johnson doesn't have the ball in his hands, he floats purposelessly around the floor. Should he work off the ball to elude his man? Should he go to the ball? Often, Johnson has no idea. On the positive side, Johnson has some impressive ball skills. He has the handle and agility to find seams to the basket -- and the strength to finish. Unfortunately, he doesn't display the desire or wherewithal to make a play when he encounters heavy traffic.

DeMarcus Cousins posted another strong showing. The numbers were solid -- 19 points and 12 rebounds -- but the breadth of Cousins' game was most impressive. Cousins displayed a lot of polish against the Lakers' squad. Whether he was delivering a nice pass against collapsing defenders to a diving Omri Casspi for a slam, or working Derrick Caracter off the dribble from the top of the arc (finishing with a soft hook off the glass), Cousins revealed finesse to accompany that power. He even drained a jumper from 20 feet and launched a smart outlet pass that led to a bucket on the break for Casspi. Above all, he's still showing signs of becoming a pick-and-roll force. On one possession, he set a high screen for point guard Donald Sloan, then made a beeline to the rim, flushing Sloan's missed shot for a putback. Even on Cousins' misses (he finished 8-for-20 from the field), he unveils a range of skill. There's a whole lot to be explored here.

If Dan Dickau can play NBA ball, then it seems to make sense that Matt Bouldin should. The big point guard out of Gonzaga can deliver a sharp pass, pressure the ball, fight through screens and make good decisions with the ball in late shot-clock situations. At 6-foot-5, he has NBA size at the position.

On a high ball screen, the man guarding the screener is charged with the responsibility of letting the man about to be screen know the pick is coming. In the opening possession of the Houston-Toronto game, the Raptors' Joey Dorsey failed to do that and got an earful from the Toronto coaching staff. In a sparsely filled arena on a Tuesday afternoon, that bark reverberated from the rafters. Suffice it to say that, for the rest of the game, you could hear "by yourself!" and "right! right! right!" every time Houston was in a ball-screen set.

Bret LaGree of Hoopinion on Othello Hunter: "Three weeks ago Atlanta Hawks Assistant General Manager Dave Pendergraft called Othello Hunter's season-and-a-half with the team as an experiment they didn't see through. Hunter appeared in just 23 games for 125 minutes with the Hawks. Despite having no immediate need for him, the Hawks assigned Hunter to the D-League for just 3 games during the 2008-09 season. After the Hawks released him in January, he finished the 2010 season in Greece, averaging 10 points and seven rebounds in 23 minutes per game for Ilisiakos. His first stretch of regular playing time since his senior season at Ohio State may have given Hunter the confidence to again demonstrate his strengths on the glass and around the basket. Through four games with the undefeated Denver Nuggets summer league team, Hunter has again produced when given playing time, averaging 13 points and five rebounds in 24 minutes per game while making more than two-thirds of his field goal attempts."

D.J. Foster of ClipperBlog and ESPN Los Angeles on Patty Mills: "Most 6-foot point guards with diminutive frames would be weary of mixing it up, but Mills isn't your typical guard. Despite his stature, Mills is a scorer first and foremost who actually does some of his best work off the ball. One display of his aptitude without the rock came when Mills hurled himself at a Hornets defender almost twice his size, setting such a thick baseline screen that his own man had to scurry off to help. The suddenly wide-open Mills then floated to the perimeter for a clean 3, bringing his total on the evening to 14 points on 6-for-9 shooting. In Mills, the Blazers look to have another threat off the bench who can pack a punch offensively, whether he's the primary ball-handler or not. With players like Brandon Roy and Jerryd Bayless typically dominating the ball, Mills' abilities away from the play should prove valuable going forward.

Jeremy Schmidt of Bucksketball on Hasheem Thabeet: "As he often does, Thabeet showed his shot blocking ability, rejecting three shots, but he still looked unsure of himself on offense. 20 seconds into the game he caught a pass and brought it down to his chest, allowing a guard to sneak in to tie him up. Later in the game he grabbed a rebound and again brought the ball down low before watching it get slapped away by a much smaller player. While signs of progress are there, Thabeet was 6-9 from the free throw line and rotated well enough on defense that his coaches were very vocal in their praise from the bench more than once, Tuesday's game reinforced the idea that Thabeet is still very much a work in progress."

Joe Gerrity of Hornets247 on Quincy Pondexter: "The first-round pick continues to impress on the defensive end. He's active off the ball and has shown the capability to stay in front of his man, something the Hornets desperately needed last year on the perimeter. Under the tutelage of new coach Monty Williams the Hornets are expecting an immediate contribution from Pondexter. Offensively he's a quality finisher and capable of cutting to the hole or hitting a pull up jumper at an NBA level. Before too long he should be in contention with Julian Wright to receive substantial minutes in relief of the aging Peja Stojakovic."