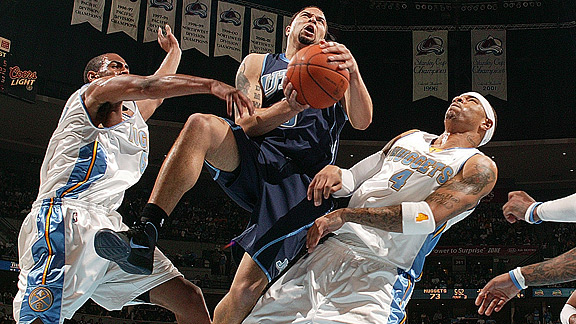 Garrett Ellwood/NBAE/Getty Images
What are the Nuggets going to do about this guy?
SALT LAKE CITY -- When Jazz center Mehmet Okur collapsed to the floor on Saturday night in Game 1 of Utah's series with Denver, the prevailing sentiment -- even among those with the highest reverence for what the Jazz do -- was that Utah was cooked. Already without Andrei Kirilenko in a series that demands an elite perimeter defender, the Jazz would now have to start an untested 23-year-old project at center and hope for the best. When the Jazz squeaked out a win in Game 2 at Denver, the improbable outcome produced a lot of head-scratching. How did the Nuggets lose on their home floor to a short-handed skeleton crew like the Jazz? You can attribute the improbability of the Jazz's victory in Game 2 to a number of factors, but the long and short of it is this:
The Nuggets are a very suspect defensive squad. That's been true all season and for the first two games of this series.
Among playoff teams in both conferences, only Phoenix gave up more points per 100 possessions in the regular season. The Nuggets have some very bad habits -- ball-watching, needless gambling and a tendency to allow Utah's defenders to move off the ball to the rim. Yesterday, the Nuggets promised to get more physical with the Jazz, but bodily presence doesn't seem to be the issue on the defensive end nearly so much as court awareness. Video of the first two games of the series reveals that the Nuggets make a lot of bad choices. They're consistently one step behind a Jazz offense that loves to make defenses pay for iffy decisions and overcommitment. You see a lot of confusion and miscommunication on Denver's part, and there isn't a team in the league that understands how to exploit a harried defense better than Utah.
No answer for Deron Williams
Carmelo Anthony's 42-point performance on Saturday night was the dominant theme between Games 1 and 2. Utah's young wing defenders were pressed to respond: What were they going to do to contain Anthony? Denver won't keep Williams from racking up points and assists any more than Utah will be able to stop Anthony from scoring. But just as the Jazz were able to make Anthony a less efficient producer in Game 2, Denver must figure out how they're going to slow Williams as both scorer and playmaker.
Williams has scored 59 points in the first two games of the series and he's done much of that damage in early offense situations. He's using his speed to take Chauncey Billups and Arron Afflalo off the dribble and his strength to beat Lawson off the bounce. There's not a lot the Nuggets' guards can do to keep Williams from bullying his way to the hole, but it's incumbent on Denver's back line to get down the floor and in position to close that seam. Right now, the Nuggets' inability to do that is costing their backcourt defenders a bunch of fouls, and allowing Williams to make a living at the stripe, where he's notched 25 of his 59 points.
In addition to breaking down Denver's defense off the dribble, Williams is succeeding as a jump shooter. He's getting a surprising number of clean looks from the floor because Denver isn't reading screens by Utah's big men. Afflalo, in particular, has repeatedly yielded open space to Williams by either not anticipating or running beneath screens up top. If that's not enough, the Jazz are regularly running plays with Williams as a primary post option. Yikes! They're particularly successful with this when Lawson is in the game, but Williams has tested Billups down low as well.
Dealing with Williams will continue to be a tricky exercise for the Nuggets. First and foremost, they have to be prepared for him to attack. But they can't afford to be burned by his ability to make plays off a collapsing defense either. Denver did a fairly good job of containing Williams the Scorer in the fourth quarter of Game 2 -- but that opened up all kinds of opportunities for Williams the Facilitator to beat them.
Utah's cutters are having a field day
Carlos Boozer aptly describes one of the central tenets of Utah's offensive philosophy. "If somebody has the ball, don't just stand there and let you defender help out on the guy who has the ball -- cut and make them be occupied." Boozer said. "Option A and B defenders are always going to be there, so you have to go to C, D and E."
C, D and E have been killing Denver during the first two games. Much of that damage originates from the pick-and-roll that Williams executes so fluently. Once that high action with Boozer or Paul Millsap challenges the Nuggets' defense, swaths of open space are opening up for the supporting cast. Denver's other defenders are so desperate to stop a penetrating Williams or a rolling Boozer/Millsap, that they forget about, say, C.J. Miles. On consecutive Jazz possessions in the final four minutes of Game 2, Anthony leaves C.J. Miles on the wing to shade on Williams off a pick-and-roll -- and twice Miles dives to the rim completely unmanned for an easy seal and slam off a pass from Williams.
"It was just pick-and-rolls and C.J. made good reads," Williams said. "It was a Ronnie Brewer read ... He used to run that baseline. It was just a good adjustment by C.J. I try to tell those guys that a lot of the tension is on me, so when you see the back of a guy's head, just cut to the basket. I'll find you."
Boozer's "C, D and E" declaration might be a little too generous, because on many occasions Denver has done a lousy job of covering Option A. Take the possession at the 2:40 mark of the fourth quarter on Monday night with the Jazz trailing by three. Williams brings the ball downcourt and executes the oldest play in the book, a simple UCLA cut that completely baffles Denver. He dishes the ball off to Kyle Korver on the left wing, then dives to the basket, rubbing Chauncey Billups off Paul Millsap at the left elbow. With ease, Williams dives beneath Kenyon Martin, where Korver delivers him an easy lob pass for a layup.
Until Denver's defenders consider that Utah can read defenses better than any unit in the NBA, they're going to continue to get burned by the Jazz's counters.
Nugget defenders are doing a poor job off the ball
Some credit is due to Williams' capacity to command the full attention of all five defenders when the ball is in his hands, but good NBA defenses know how to multitask. Denver's doesn't.
In Game 2, there weren't bigger beneficiaries of these lapses than Korver and Miles. Both were able to find open looks on Utah's basic flex action that frees up the Jazz wingmen for jumpers. More times than not, Denver simply falls asleep off the ball. Korver went 5-for-7 from the field on Monday night. Though his big 3-pointer to vault the Jazz into the lead is the most YouTubable moment of the series, we shouldn't forget about his sequence of three huge jumpers in the final 1:15 of the third quarter that helps turn back a strong run by Denver.
"On the down screens, they were chasing me in Game 1," Korver said. "In the second game, they were cutting over the top, so I was just flaring out to the corner. It's just a matter of reading how they're going to guard me."
With the aid of strong screens from Utah's big men, Korver is able to pop out to open space on the perimeter. Korver's release is so quick that even a slight delay by a defender getting around those picks is fatal. If you want to understand how Jerry Sloan can get away with putting a lineup on the floor of Ronnie Price, Kyle Korver, Othyus Jeffers, Paul Millsap and Kosta Koufos, it's because each of these guys knows his function in such a scheme. In the case of the last of Korver's three jumpers, Koufos plays the role of traffic cone on the left block. First Jeffers curls and clears, then Korver runs Afflalo directly into Koufos before Price delivers the ball on target to Korver for the shot.
Everything in its right place.
Denver is allowing these sorts of actions to go off without a hitch on possession after possession, even though the Jazz have few players outside Williams who can beat them in isolation. Crafty defensive squads force Utah to play one-on-one basketball, but so far the Nuggets haven't.
From afar, the Nuggets appear to be favorites over the Jazz going forward, and nothing about Denver's Game 2 meltdown changes that. Yet the closer you look at the early results of the series, the more apparent it is that until the Nuggets makes a conscious effort to defend, the Jazz are very much alive, irrespective of how many healthy bodies are on their roster. Utah's system was designed to maximize efficiency against an easily confused defense. Denver hasn't demonstrated that it has the wherewithal to match Utah's guile.
It's possible the Nuggets can ride their offense to a series victory without putting in the work on the defensive end. But do they really want to take that chance?