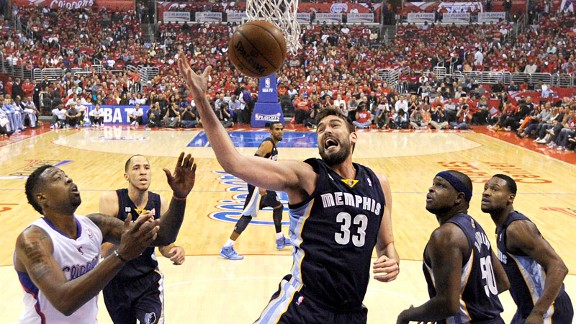 Harry How/NBAE/Getty Images
The Grizzlies can't -- and probably won't -- get pummeled on the glass as they did in Game 1.
The Glass
Finding signs of encouragement after a 21-point loss can be like leading a search party in the dark, but if the Grizzlies are looking for some reassurance, it should come in the near certainty that they won't be outrebounded again by a 2-to-1 margin. If that seemed unprecedented, that's because it was. Memphis didn't come anywhere close to a margin like that in any game during the regular season.
There's a general belief that rebounding doesn't slump in the NBA. A team like the Grizzlies, which dominated the boards in the regular season (second in overall rebounding rate), doesn't forget how to ply its trade. Short of injury or a deliberate strategy like a zone defense or fronting the post -- tactics that can make it harder to crash the glass -- a debacle such as Saturday night's is an outlier.
The Grizzlies better hope so. They're not a team endowed with much perimeter firepower or natural athleticism. They win basketball games by controlling possessions, something they simply can't accomplish if the Clippers are collecting 42 percent of their misses.
The Point God
Chris Paul exerts an element of control over a basketball game that's uncanny, and this hasn't been news in ages. What's more interesting to observe is how he manages his role within the emotional and strategic contours of that game, not unlike LeBron James, in a sense. Is Paul creating for others, or hunting shots for himself? Is he conserving energy off the ball, or is he in Probe Mode?
On Saturday night, the answer was all of the above, and that's really where Paul needs to be for the Clippers to achieve their full potential as an offensive club. We saw some new wrinkles to the Clippers' half-court game, with Paul not exclusively an initiator but also a scorer. He came off screens for live-ball catches in a couple of inventive sets, the kind of stuff we haven't always seen from the Clippers. But Paul also claimed several possessions for himself to test the mobility of the Memphis big men.
For Memphis, the pick-and-roll coverage has to improve, and the Grizzlies know that. They're an exceptionally well-prepared group that's completely devoted to the execution of a very intelligent defensive system. Grizzlies coach Lionel Hollins and several players laid it out Sunday at practice.
"The guards have to do a better job of pushing up on the ball handlers," Mike Conley said. "They were flipping the screens, so our big would show one way, but then their big would flip the screen and Chris would see it. I'd run into the screen pretty good and he'd get a full head of steam on our big man, and you can't guard him when he's got a full head of steam with the confidence he has in the paint."
A defense might not be able to take away Paul's confidence, but it can take away some real estate.
The Gamble
OK, so who's going to defend Paul? A tough question because there's no entirely satisfying answer. In Game 1, Hollins opted for Conley. This wasn't an unreasonable conclusion.
Conley did an acceptable job of checking Paul during last year's playoff series. Paul certainly created some quality shots, but he worked for just about everything and spent a fair amount of time in spots on the floor where he had no interest being.
But on Saturday, it wasn't just that Paul got where he wanted to go, but that he got there in such little traffic. As Blake Griffin said, there was something extremely un-Grizzly about the Clippers' "getting what they wanted," and it can largely be attributed to the little resistance encountered by Paul.
The obvious alternative would be to stick Tony Allen on Paul, but that presents other risks, such as Chauncey Billups dragging Conley into the post. We saw Billups draw Conley on a switch in Game 1 and then promptly back Conley down before draining an easy midrange shot over him.
There are no good choices for guarding Paul, but that might be a risk the Grizzlies have to take. If nothing else, it's putting your best defender where he's most useful.
The Center
The league has only a handful of players through whom you can run your offense at the high post. Marc Gasol is one of them. On the possessions when Memphis' offense is at its most fluid and attractive, chances are Gasol is stationed at the elbow.
The Grizzlies need Gasol to spend time at that spot and feed his teammates, but they also need him to generate some offense for himself, which is why Gasol's ratio of low-post to high-post touches has been increasing recently. When Gasol is aggressive down on the block, he's effective, and it's not as if working down low strips him of his ability to be a playmaker. Instead of playing high-low with Zach Randolph, the Grizzlies can play block to block -- horizontal passes rather than vertical ones.
Having Gasol set up in the low post has its drawbacks. For one, it cramps Randolph a bit. The right block is where Randolph makes his living and serves his team best, and he needs a ribbon of empty space around him. But the Grizzlies do a nice job of staggering the minutes of their big men, which should provide Gasol with plenty of feeds closer to the basket.
The Spark
When the Clippers were ripping off 17 straight wins in December, the margins of victory could be credited to the performance of the second unit, which was decimating the league. Between Eric Bledsoe's bedlam, Jamal Crawford's marksmanship, Matt Barnes' wiliness, Lamar Odom's versatility and Ronny Turiaf's … turiafity, the Clippers featured the most exciting and most productive bench in basketball. When excitement and productivity meet, you're generally in a good place.
That's the world the Clippers returned to in Game 1. "It felt like December" was something we heard a lot Saturday night and into Sunday, and nothing triggered that sense of deja vu more than the play of the bench.
The Grizzlies do chaos very well themselves, even if their complementary players aren't as talented. They also encountered this last April, so there's no element of surprise. What they have to do now is neutralize to some degree the energy generated by the Clippers' reinforcements.