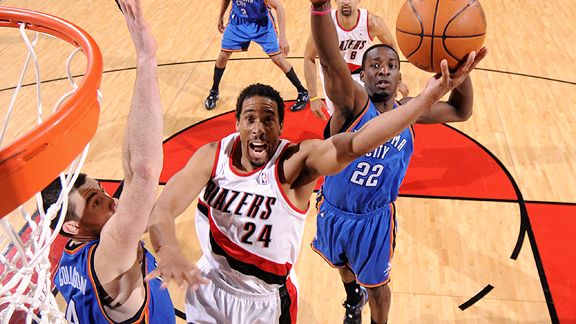 Sam Forencich/NBAE/Getty Images
A mid-game Tweet: "A book I'd buy: 'Secrets of getting to the rim' by aging, slowish, no-hops Andre Miller.
ESPN NBA editor Royce Webb e-mailed that Andre Miller's performance in Monday night's Blazer win over Oklahoma City was "as impressive a game as I've seen all year." Miller has become a big part of the Trail Blazers -- especially (and this may soon be increasingly important) when Brandon Roy is out and the ball is Miller's to use as he see fits. Webb agreed to explain a bit more:
Ball don't lie, box score don't lie, plus/minus don't lie, final score don't lie. They all say that 34-year-old Andre Miller dominated up-and-comer Russell Westbrook last night: the old guy from the Y taking the decathlete to school, et cetera.
But what I noticed more than anything was Andre played to win, every second he was on the court. He'd play well, and then his replacement, Jerryd Bayless, would screw things up for a few minutes, and then Miller would come back in and resume reshaping the game to his will. That sort of supreme concentration is a difficult skill to learn, but last night the OKC kids saw what it looked like:
You probe incessantly and you find a way to get to the basket (and finish, for 9-of-16 FGs). If you get in a tough spot, you force contact on Kevin Durant and foul Serge Ibaka out of the game to lead a fourth-quarter comeback. You find teammates (seven assists). If you need to get a stop, you take the ball away (four steals, four defensive rebounds).
Lots of Portland folks were concerned that Miller's introverted style would muck up the Blazers' precious chemistry, but it's becoming clear more than ever his ball-above-all personality has been a great tonic for a team of likeable young players. They could've gotten down and written the season off, but with cool cat Dre showing up every day and (along with Nate McMillan) giving this team a grittier way to play, they've quietly become the league's most impressive nine-lives routine.