The Raptors and Spurs face the big questions. Ryan Bowen and Ray Felton do the little things. The TrueHoop Network sizes things up around the league: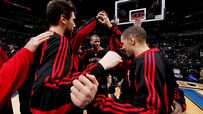 Arsenalist of Raptors Republic:
So let's recap this team right now. Calderon's back from injury and playing well, albeit it's been against two poor teams. Anthony Parker's taken over the backup PG position, thus sounding the end of Will Solomon. In the process he's also upped his trade value considerably. Jermaine O'Neal is coming off the bench and the team appears to be better for it; he's not doing much to make the decision obvious for Riley but at least he's mobile and playing with what one might even call, hunger. Chris Bosh is regaining his touch from November but I'll reserve judgment until I see him play against NO, Cleveland, Lakers and Magic. You know, the big games. If this current lineup had been deployed from opening day would it have resulted in a better record? Again, I think it's too early to tell...but what we can safely decipher from January is that Bargnani should never, ever be asked to play the starting or reserve small forward position.
...It's a damn confusing season and we're left to decide between two things: 1) Try to pick up wins and salvage this season by making the playoffs or 2) Sell Parker while he's high, get rid of JO so we can play the free agent market in 2009, find a buyer for Kapono. I suppose we could go with #1 until the third week of February when the trade deadline finally arrives and we have a clear-cut idea whether this club is capable of achieving anything significant. Now I know that we've shown no character, no mettle or no anything so far but if we've suffered so much for so long, what's another three weeks? I think we have nothing to lose by waiting.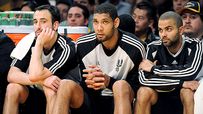 Timothy Varner of 48 Minutes of Hell: "There is a bigger question here, and one which the Spurs must ask themselves as we approach the trade deadline. Namely, is it worth mortgaging their future to seriously compete for championships now? As things currently stand, the Spurs are players in the 2010 free agent market. They've smartly engineered their cap with an eye toward the much ballyhooed market of 2010–although this comes with an important qualifier. If Manu Ginobili is extended this summer, much of their 2010 cap space will dissipate. Nevertheless, the Spurs will have money to spend in 2010. The question before them is this: do they stay the course and preserve cap for 2010 or are they willing to trade for a player that will eat into their cap flexibility?"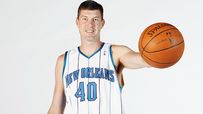 Hornets247: "What else can you say about the aforementioned Ryan Bowen? I've said this before, but the guy is 48 minutes of basketball condensed into 7 minutes of actual playing time. Let me break it down for you all. First, he gets a HUGE offensive rebound at the end of the 3rd, leading to a Posey 3. In the 4th, Bowen gets the ball on the low block, two dribbles and a kickout to Peja on the wing... bucket. Next Sixers possession, Bowen plays awesome help defense causing a hasty pass and an off-balance shot. He then boxes-out his man, gets the rebound, tips it to CP, and Chris is off to the races.... Peja from the wing again, GOOD! Two possessions later, this time Bowen gets a long pass, does a shot-fake, drives the baseline and finds Peja on the wing... bucket. Add in another assist and two nice, hard fouls on Reggie Evans, and that is how you maximize your minutes. When he came out of the game, you could see he was completely spent. I loved every second of his tireless effort on the court. Note to Coach Scott, I want more of that."
THE FINAL WORD
The Painted Area: Can you win an NBA title with a negative rebounding margin?
Hoopinion: Is Josh Smith a more beastly shot blocker with a couple days rest?
Queen City Hoops: Did the big 'Cats/Suns trade help Raymond Felton's defense?