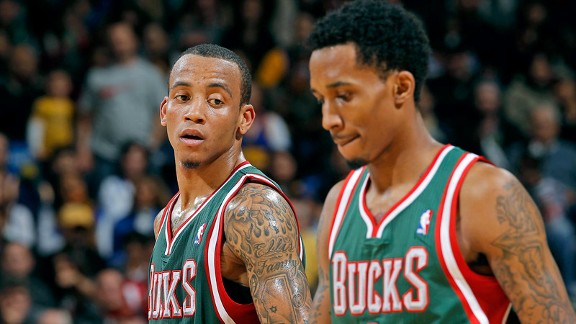 Rocky Widner/NBAE/Getty Images
Monta Ellis and Brandon Jennings are catalysts for the mildly surprising and watchable 13-10 Bucks.
The most vital tasks for any NBA franchise can be boiled down to recruitment and/or retention.
We can talk about the culture of an organization, its commitment to player development, and a ton of other ancillary qualities -- all of which have real value to a franchise. But ultimately, success comes down to a team's ability to recruit the best talent, either through the draft or free agency, and retain those players' services when they reach free agency. With precious few exceptions, teams need stars (preferably superstars) to contend, and if you're not putting at least one on the floor, the ceiling for success is limited.
Fans in big coastal markets can't really grasp how tough the Milwaukee Bucks have it in this regard. Milwaukee is a small, cold-weather market in an era when NBA players are more mindful than ever about what kind of city they want to live in and use as a platform to build a personal brand. For reasons fair -- and probably also a little unfair -- that recruitment and retention piece is a tough nut for the Bucks.
They can accumulate swaths of cap space, but have little hope that a top-15 player would accept a max contract to play in Milwaukee. Their most marketable player, the brand-conscious Brandon Jennings, probably will see the Bucks match an offer sheet next offseason. Jennings is more diplomatic than Eric Gordon, but you can imagine the feeling about staying in a Bucks' uniform for four more seasons won't exactly be giddy.
Adverse conditions aside, on most nights the 13-10 Bucks are a compelling on-court product. Jennings and Monta Ellis compose the Bucks' speedy, dynamic backcourt. Both continue to post negative on-court/off-court numbers that show the team is more productive when they're not on the floor (side note: Are we sleeping on Beno Udrih, who has been a savant the past two seasons, according to this metric?).
But offensively, both are a blast to watch and rank as the best starting ankle-breaking duo in the league (Chris Paul and Jamal Crawford take the overall honors when they share the floor in Los Angeles). Jennings and Ellis also have been driving forces behind pushing the ball for the Bucks, who rank sixth in the league in pace factor. That tempo hasn't translated into results for the NBA's 24th-ranked offense, but if you have to endure some inefficiency, watching Jennings and Ellis beats the plodding Sixers or Pistons as sheer entertainment.
The Bucks still make their living defensively, where they rank 11th in efficiency going into Wednesday night's game at Memphis. Recognizing that the league pays a premium for offensive players and that many of them prefer glitzier destinations, general manager John Hammond has accumulated top-flight defenders and young guys with the potential to mature in that direction.
There are NBA defenses we appreciate for their proficiency, and then there are others who are downright fun to watch (think this season's Clippers) because defenders swat shots, stuff guys at the rim, pick pockets that lead to fast breaks and generally wreak havoc. There's always the potential for something exciting whose appeal is far greater to viewers than a well-executed defensive stop.
The Bucks are right there. They force turnovers at a higher rate than all but the Clippers, Hawks and Grizzlies. Hoopdata has a cool stat called "defensive play rates" -- a ratio of how many opponents' possessions end in a block, steal or charge. The Bucks and Clippers own that stat, and it's not a surprise.
Jennings is an inveterate gambler and thief. In Milwaukee's recent big road win at Brooklyn, he recorded five steals in the half court. Jennings is a master at watching a ball handler's eyes, eagerly waiting for the moment his man will avert his eyes away from Jennings to scan the court. When that happens, Jennings pounces. He jumps passing lanes and anticipates handoffs, when he squeezes between the QB and the running back to snatch the ball away. Jennings pokes, prods and jumps on outlet passes.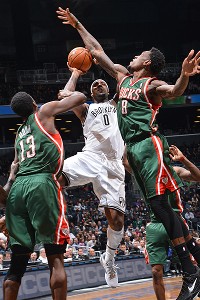 esse D. Garrabrant/NBAE/Getty Images
Ekpe Udoh and Larry Sanders: Tree people
Over time, are these house bets? The numbers suggest they might be, but Jennings brings an unpredictability to the game that's alluring.
In contrast to the iffy numbers hanging over the Bucks' two scoring guards, the wings (Luc Mbah a Moute and Marquis Daniels) carry the workaday responsibilities of stunting perimeter scorers and diverting guys to places on the floor they don't want to go.
Meanwhile the young bigs, Larry Sanders and Ekpe Udoh, are maturing defensively at a staggering rate. In only their third seasons, they have developed into savvy, menacing pick-and-roll defenders.
Scott Skiles has his centers drop into the paint when ball handlers burst off a high pick, but unlike a lot of big guys who backpedal with the nervous look of a matador, Sanders and Udoh play angles and slide with ease between driver and basket -- especially Udoh. As a result, guards rarely get direct routes to the hoop and clean looks at the rim. Often those attempts get sent back at the shooters, as both Sanders and Udoh rank in the top 20 in block rate.
The Bucks have a few other nice assets up front. They feature rookie John Henson as yet another potential defensive ace, while Samuel Dalembert -- though he's seen vastly reduced playing time -- is still a useful guy to have around.
Ersan Ilyasova has had a bumpy start to the season, but was widely praised as a solid offseason re-signing that gives the Bucks another look at the power forward spot, where Mbah a Moute also plays. Ilyasova has shown signs of life recently, and projects to improve over the winter.
Then there's 6-foot-8 Tobias Harris (recovering from a laceration on his arm), who looks like a keeper.
We can't fairly classify Milwaukee as Jazzian, at least not yet, but it's a deep frontcourt that will keep the Bucks in the East's middle class and a possible low seed this spring.
Therein lies the rub for Milwaukee. The team suffers from lackluster attendance, and Bradley Center hardly offers fans the most cutting-edge production value. To compensate, ownership has made respectability a priority. For a team that desperately needs to find talent through the draft, that presents a serious conundrum. It's not impossible to find future offensive stars in the middle of the first round, but it's considerably more difficult.
Some remotely positive scenarios exist. The Bucks could find a star in the middle of the first round, or absorb some big-name players from teams looking for a trading partner to take on money and who are willing to throw a draft pick Milwaukee's way for the trouble. They can hope Jennings develops into a top pick-and-roll practitioner who can cultivate a rapport with a couple of those bigs and improve his ability to finish at the rim. And to establish a top 5 defense they can pair with a better-than-average offense -- a combination that's been known to get a few teams into the latter days of the postseason.
So the front office is in a bit of a bind, a similar type of dynamic that existed in Houston for a few years. They live in the NBA's purgatory, a world where a promise to be a competitive squad under a capable coach works against a team because the NBA's inefficient system punishes overachievement for middling teams. Every time the Bucks unearth a useful but non-elite ballplayer, they pick up a win or two and consign themselves to the treadmill.