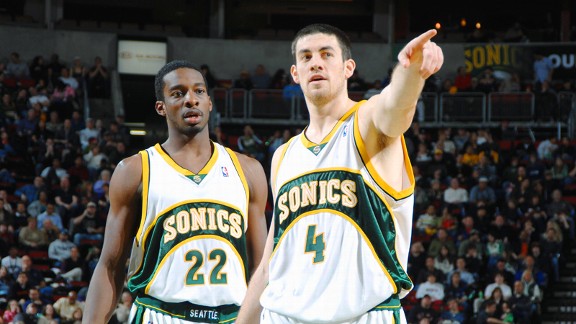 Terrence Vaccaro/Getty Images
Nick Collison, right, is one of two Thunder players who can tell you what it's like to be a Sonic.
LOS ANGELES -- Nick Collison built a career in Seattle.
He built a life in Seattle.
But when Collison looks around his locker room these days, there's little left of where he, and the franchise he's only ever known, came from.
"There's three guys -- me, the equipment manager and strength coach -- from before [GM Sam Presti] got there," Collison said. "And then Kevin [Durant] had the one year. So yeah. We've changed a lot. We're in a new city, new ownership, new front office. So it does feel like a totally different organization."
While the photos of a lean and fresh-faced Durant wearing a white Seattle cap on draft day 2007 will forever tie him to the Pacific Northwest, and though Durant has since expressed his appreciation to the "first city that I lived on my own," only Collison can tell you what a KeyArena playoff crowd sounds like, or what it's like to see Flip Murray come out of nowhere and drop 20.
Or the sting the city has felt since owner Clay Bennett moved the franchise to Oklahoma City, where its identity and image were reconstructed largely through Presti's brains and Durant's athletic brilliance.
Collision is the longest-tenured player currently with the franchise, with four seasons in Seattle and another five in OKC tacked to his player page. He's also one of the longest-tenured players with one franchise in the league, right up there with the Kobes and Dirks and Duncans; he's currently signed for two more, having signed a four-year extension that kicked in two seasons ago.
Seattle is also now home; the Iowa Falls, Iowa, native and his family still live there in the summers. In the documentary "Sonicsgate," which details the Sonics' transition to the Thunder, and all the backlash and backdoor dealings that greased the process, Collison appears in a Seattle Mariners cap.
So like everyone else in King County, Collison is keeping an eye on reported negotiations between the Maloof family, owners of the Sacramento Kings, and a Seattle-based group that intends to purchase the team for a hefty sum and move the franchise up north.
"I watch it," Collison said Friday night before the machine that is now the Thunder steamrolled the Los Angeles Lakers at Staples Center. He's certainly not alone. Several Seattle-based NBA players, including Nate Robinson and Spencer Hawes, have recently expressed excitement -- some more tempered than others -- over the potential move.
But Collison knows it's a complicated situation.
For the mega-rich guys hashing out any deal. For Kings fans, who Collison sympathizes with. For Seattle fans, who he also sympathizes with. And himself.
If a team is shipped to Seattle, and the city is looking to pick up where it left off, as the SuperSonics, will the team's history, which is owned by Bennett, be returned? And what will happen to the Kings' records if Seattle gets its back?
"It's not a perfect situation," Collison said. "Lucky for me I don't have to worry about where I rank on the all-time lists in any statistical categories. Any way they do it is gonna be strange. But there's nothing you can really do about it. It's just the way it is, I guess."
In the meantime, he's waiting, and watching, with the rest of us.
The Thunder, meanwhile, are now 28-8, tied for the top spot in the Western Conference, and eying a second straight trip to the NBA Finals.
"It's just a unique situation," Collison said. "It doesn't happen very often that you pack up the whole organization and move."