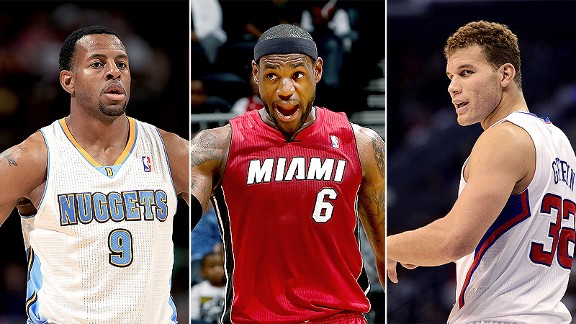 Getty Images
Moving the needle in 2012-13: Andre Iguodala, LeBron James and Blake Griffin.
1. Will the Nuggets finally reward their army of boosters?
Beckley Mason: Oh man, I don't wager money on the NBA, but let's just say I emptied my vanity coffers investing preseason plaudits on this team. I'm worried that I'm so excited about how fun this team will be, I have overestimated how much it will actually win. The Nuggets represent the open style of team play I wish was more common in the league, getting the best possible shots -- layups and 3-pointers -- all game.
But I have also been encouraged by the preseason.
The early offense is clicking. Andre Iguodala, Ty Lawson and Kenneth Faried have been as advertised in the open court, and Kosta Koufos and Corey Brewer look ready to make unexpected contributions. For guys like John Hollinger and Kevin Pelton, both of whom have Denver finishing second in the Western Conference, there's clearly something here. As usual, the Nuggets project as a juggernaut top-three offense, but this season they'll have the personnel to play defense in the half court.
Kevin Arnovitz: Aside from the stylistic appeal, where does this collective love for Denver come from? Is it a sincere belief the Nuggets have the necessary tools to mount a guerrilla war in the West and take down the likes of the Thunder or the Lakers or just a desire to see a verdict rendered once and for all that Carmelo Anthony is a bad guy?
I also wonder if the post-Melo Nuggets haven't become a symbol for those who were repelled by the Anthony saga two years ago. In the era of the superteam, romantics want the Nuggets to prove that a team of non-superstars can compete for an NBA title through sheer effort, athleticism and creativity. A lot of basketball junkies want to live in a world where the 2004 Pistons aren't a historical outlier and Anthony is the fool. The Nuggets represent their best hope.
Mason: Unlike those Pistons, the Nuggets are a rare case of a superstar-less team that wins without a superstar. Two different models. The question is …
2. What do you do in the NBA if you can't recruit a superstar?
Arnovitz: The Moneyball principle was never about putting data ahead of scouting. It was about identifying an undervalued commodity in a sport and finding bargains in players who bring that commodity to a roster.
Individual defense -- loosely defined -- is probably that undervalued commodity at the moment, largely because we have a hard time defining it statistically. Players have traditionally been paid based on their offensive stats. You can jump up and down about this guy being a top-five defender (think Tony Allen) and that defense is 50 percent of the game, but we rarely see defensive specialists score the kind of contracts one-way offensive players like Monta Ellis do.
That's what made Houston's three-year, $25.2 million deal for Omer Asik so interesting. That's a significant investment in a guy who most people around the league would regard as a one-way defensive player. Some thought it was an outlandish offer, but would anyone raise an eyebrow if a top-20 offensive player landed the same contract?
Mason: Let's just say Asik has a better chance of being worth $8 million a year than Charlie Villanueva.
Arnovitz: Sure, and if you're a team that can't get meetings with the LeBrons of the world and can't realistically find your way onto the wish list of the truly elite offensive free agents, your best course of action might be to stock your roster with the best value defenders in the league, aspire to be a top-three defense and play it out from there.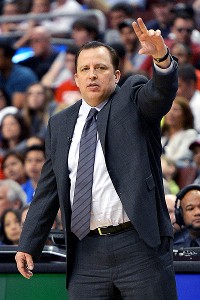 Drew Hallowell/NBAE/Getty Images
Tom Thibodeau: Defense first.
Mason: I agree, particularly because it takes a certain ingenuity to be a truly great offensive player. That's just not the case on the defensive end, where position, intelligence and effort are the hallmarks of excellence.
I'd argue it's easier to teach a player to be a great defender than it is to teach a player to be a dominant offensive force, which means coaching is key. Is there anything a young athletic team -- and aren't all young teams athletic? -- can benefit from more than a great defensive mind?
Tom Thibodeau's success in Chicago is an example of the impact a great defensive system can have, but what about Scott Skiles' work with the 2009-10 Bucks? That team worked incredibly hard and, anchored by guys like Luc Richard Mbah a Moute and Andrew Bogut, had the league's second-best defense. Even with a rookie point guard and Bogut out with an injury for the playoffs, Milwaukee came within a game of reaching the second round -- all on a serious budget (if you don't count an injured Michael Redd's $17 million contract).
Arnovitz: Here's a question for the defensive savants ...
3. How can anyone match up with LeBron James and three or four shooters?
Mason: Thibodeau has been a master of aggravating big scorers in big series, but this might be the NBA's unsolvable riddle between the lines. James' new comfort as a scorer with his back to the basket has made him even better at commanding space near the paint. His most underrated skill is his ability to, with the flick of a wrist, throw a basketball 40 feet on a frozen rope to an open shooter. He throws passes so hard, and with such little warning to the defense, that he forces defenses to stay closer to shooters than any other player while simultaneously overwhelming any individual defender in front of him. Barring a player who can tangle with James in pick-and-rolls and one-on-ones on the block, I'm not sure there is a reliable way to defend the Heat with actual defense.
You have to defend them with your offense. Keep the turnovers low, take good shots and either pound the offensive glass or send at least four men back on every shot. James really kills in transition when defensive help is hard to organize, and he loves to receive a drag screen in the middle of the court and blast past the defense to the rim.
In terms of actual defense, no one bothers James as much as Chicago. Having two bigs -- Taj Gibson and Joakim Noah -- who can handle James in a switch at the end of the shot clock is vital to that success.
Arnovitz: Erik Spoelstra is cracking that code. Getting LeBron to buy into this role was probably the biggest coaching achievement in the NBA last season.
So much of the innovation in coaching today is assignment-based rather than the sculpting of a coherent system for your team. It's about getting LeBron to buy in as a multitasking power forward, figuring out how to horse-whisper Carmelo into a similar role with the Knicks or crafting an offense for a team that has virtually no reliable outside shooting.
The great system coaches are an endangered species. Phil Jackson is back on his ranch, like Lyndon Johnson after vacating the White House. Although Ty Corbin has preserved much of what flourished over the past quarter-decade in Utah, Jerry Sloan is gone too. Mike D'Antoni is in exodus. Stan Van Gundy tailored a provisional system around Dwight Howard. Even a guy like Eddie Jordan was not successful but certainly ambitious.
Rick Adelman might be the lone graybeard, systems coach left. The rest of the league has moved to a predictable half-court game. The high pick-and-roll is the new iso, and why not? It stretches the defense across the floor for quick point guards who can devour most coverages and dance into the paint.
4. Is most of the cool innovation happening on defense, while NBA offenses are simplifying?
Mason: Thibodeau, Spoelstra and Dwane Casey are young coaches developing creative, principle-based systems for their defenses, which supports that.
The offensive piece we can trace back 20 years, when the NBA began to change the rules in ways that opened up the court and encouraged perimeter-based play. Coaches have come along with systems that can better account for the dangers presented by a quick point guard and three shooters, but we may be stuck with the spread pick-and-roll's ubiquity until the next round of rule changes.
Still, I sense there is a crop of coaches toiling with terrible teams that will one day number among the NBA's most visionary. Monty Williams has a record as a strong defensive coach and might have the most creative pick-and-roll schemes in the league. Rick Carlisle is one of the most flexible minds in the game. No one coaches to personnel as well, and his strange roster in Dallas augurs well for those who like to see a hoops genius pushed to his creative limits. I'm also intrigued by Terry Stotts, a Carlisle disciple. Who knows what he has in Portland? If his development chops are legit, that's another interesting team that will fall well short of contending.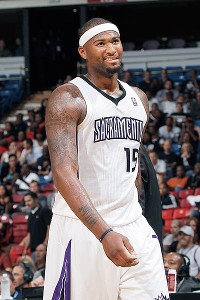 Rocky Widner/NBAE/Getty Images
DeMarcus Cousins: Beast or burden?Arnovitz: Development is another one of the great unknowns in basketball, and here's a head-scratcher of a case study:
5. If DeMarcus Cousins doesn't evolve into a beast, whose fault is that?
Mason: I've seen Cousins play in person only once, and it wasn't even in an NBA game. It was at the Goodman League versus Drew League exhibition in Baltimore during the 2011 lockout, a game that pitted NBA players from the Washington, D.C. and Los Angeles areas against each other.
The game was a microcosm of Cousins' NBA career. He made jumpers and sharp passes, he bullied JaVale McGee and dunked all over him, and there was a moment when he picked James Harden's pocket and gathered up the loose ball on the run, keeping his dribble at knee height. His skill and dexterity, at that incredible size, was jarring.
He also failed to finish the game. He argued with his exhibition coach (whoever that was) about playing time and touches, was constantly annoyed with the ref and let the event's emcee, who dubbed Cousins "Bad Attitude," get under his skin.
Cousins makes you shake your head for reasons both good and bad, and we have to attribute some of that weirdness to Cousins himself. But doesn't it feel like the Sacramento franchise hasn't been doing him any favors?
Arnovitz: This is one of my favorite counterfactuals: What if Cousins were drafted by the San Antonio Spurs? You can try it with any young player who has come through the league. Are we absolutely certain Adam Morrison or Michael Olowokandi couldn't have put together decent NBA careers had they landed with more resourceful or nurturing organizations? An apprentice can thrive if the workshop is conducive to good training and his mentor rocks (see Lawson, Ty).
Fundamentally, these teams are workplaces, and more professional offices tend to get the best of their team. Individual strengths are fostered; shortcomings are neutralized.
If you're lucky, you get to work at a place like this. Cousins hasn't been lucky. So he can either succumb to the worst instincts of his environment or take it a personal imperative to defy them.
Mason: Player development is such a tricky issue because so much happens behind the scenes. But maybe the Internet's leading Clipperologist can help answer this one ...
6. What does Blake Griffin have in store for the world, and what does the world have in store for Blake?
Arnovitz: I've been trying to figure out what to take away from Griffin's drop this year in #NBARank. Last season, Griffin beat his rookie shooting and efficiency numbers, yet there was constant sniping about his shortcomings. Much of that criticism was legitimate but disproportionate, driven in some part by a certain strain of antipathy.
Yes, his defense needs to be faster and smarter, but it's not as if Kevin Love and Zach Randolph are winning games as defenders. When Dirk Nowitzki and Lamar Odom came into the league, they had few instincts defensively. But the Mavs have been significantly better defensively with Dirk on the floor the past few seasons, and Odom established himself as a strong, versatile -- even aggressive -- defender before he started taking on weight like a loading dock.
I sense most of the Blake-lashers know that, which means the charges are a little excessive.
Still, a lot of rational people's hoop sensibilities are offended by Griffin's on-court persona. Many of them love playing the game, but Griffin wouldn't be a guy they'd enjoy sharing the court with. At least that's my interpretation.
Beck, it's fair to say you're one of those people, isn't it? You asked Blake last season to cool it with the "WWE heel routine." Over the summer, did you harvest any affection for Blake? If not, what's wrong with playing the heel for a few hours a week?
Mason: One of the primary criticisms of Griffin's play is that he is just a dunking machine. But if you were to design a power forward, you could do much worse than a machine that did a lot of dunking. Griffin led the NBA in dunks last season by a wide margin, which means he did a better job of getting the highest percentage shot in the league than anyone else. That's a really good thing no matter how you slice it.
As you wrote, I still have a hard time squaring the guy who is pitch perfect as a book club sensei and the one who gets a preseason technical foul for going after an ostensibly innocent Paul Millsap. Blake stays mean-mugging at opponents and refs, but except for in the instances where it keeps him from getting back on defense, I can live with it -- and even smile at it.
I'm actually bullish on Blake going into this season. He has looked just as freaky explosive and deft around the rim as ever in the preseason, and his passing is world class at the power forward position.
Look, Griffin is going to learn to shoot and play better defense, but it will be a careerlong project. Because Griffin's flaws are so glaring -- he doesn't just miss free throws, he air-balls them -- they can seem to counterbalance all the good stuff he does. But that's ludicrous. He is only 23, and every part of his game is on the upswing. His lower ranking this season was probably a reaction to being overrated after his first season and not an accurate representation of where his game is headed.