Ron Artest supplants Trevor Ariza as the three-man in the Lakers' triangle. Celtics fans bid a wistful farewell to fan fave Leon Powe. And is Paul Millsap the right guy for OKC's front line?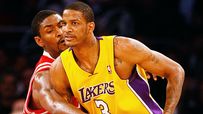 Rob Mahoney of Hardwood Paroxysm: "[Ron] Artest only makes sense offensively in situations where his skills can be utilized without damaging the team concept. Los Angeles, home of the triangle offense, is not that place. Artest's tendency to stop the ball, throw possessions into the wind, and take what can only be described as 'Ron Artest Shots' can't fly well with Phil [Jackson], with Kobe [Bryant], with Pau [Gasol], with Tex Winter, or with just about anyone who has come to know and love (or at least respect) the most dominant offensive unit in the game. The Lakers ... were able to dissect a fantastic defensive team in the Finals because the talent was there and the system was there. Artest brings plenty of one, but substitutes the other for generally poor basketball IQ and the possibility of going bonkers at any particular time. Sweet. On top of that, the Lakers seem to be severing their ties with Trevor Ariza. Signing Artest is doing more than showing Ariza the door. It's pushing him out, throwing his stuff out on the lawn, and handing Ron a molotov cocktail ... The true delight comes in the fact that Ariza could function within the system at a level we can never expect Artest to. Trevor made a habit out of deferring on offense, and perfecting a few offensive skills in his ability to hit the three from select spots and his tremendous finishes ... This team clearly competes at a different level with Ariza on the floor, and that's a credit to just how hard he's worked on his game."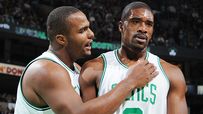 Zach Lowe of Celtics Hub: "I really hope Leon Powe knows how much Celtics fans like him and will miss him. We all know why that is -- the well-documented childhood difficulties, the never-ending series of knee injuries that seemed to happen right when he was turning a corner, and the way Leon responded to all of it by working even harder. He's a bit of a cliché fan favorite, actually -- the scrappy role player who overcomes personal and professional obstacles to contribute to a championship team. But let's talk about basketball. There was something that drew me to Leon Powe from the moment I saw him play: He's a bit awkward ... Leon is not pretty to watch. You see -- almost feel -- every bit of effort it takes him to put the ball on the floor, lower his shoulder into a taller defender and flick a one-handed shot toward the rim. He can't leap much without a head of steam, and he's not quick or explosive enough to beat his defenders with spin moves or dribble-drives ... He often pushed off with his left hand to create the minimal space he had. Every time he attacked the rim, I cringed, expecting an offensive foul. The shots, once released, look a bit like blind tosses toward something approximating the correct area of the rim or the backboard. And they always seem to bounce around the rim and off the backboard before going down. And they went down 52 percent of the time, and 57 percent of the time in the '08 championship season ... He is a graceless, below-the-rim player for the most part, and I love him for it."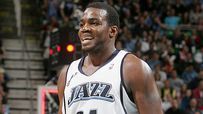 Royce Young of Daily Thunder: "I think the organization sees Uncle Jeff [Green] as its power forward. But if they sign [Paul] Millsap, I guess we'll know they think differently. Unless of course Millsap is being signed just to take Nick Collison's spot, which would be great if the Thunder could sign Millsap for the same money they're paying [Nick] Collison. But that probably has about as much chance of happening as me getting a 10-day contract. Millsap is a nice player. He was excellent in Carlos Boozer's absence last year and that great play earned him what's sure to be a nice contract. But the Thunder's fairly stacked at power forward. Of course there are Green and Collison, but what about D.J. White who played just seven games last year? White looked pretty darn good in those games and with some added weight and a little refining, what's to say he's not going to be an excellent backup big man? Or even Serge Ibaka? He's coming over and playing in the summer league. Maybe he blows management away and makes the roster as an extra big. Now you're jammed full of power forwards, but one of them you just signed for five years and $40 million. To me, signing Millsap isn't a very [Sam] Presti-like move. It seems like a rushed, let's-get-better-right-now move instead of the planned, calculated progression Presti has had since he took over. Signing Millsap would make you either take some clothes to Goodwill or make you completely rearrange everything."
THE FINAL WORD
Bucksketball: An open letter to Detroit fans, re: Charlie V.
The Two Man Game: Welcome to the Big D, Marcin Gortat.
Orlando Magic Daily: A concrete-heavy photo tour of the Magic's new home for 2010-11.
(Photos by Jeff Gross, Steve Babineau, Melissa Majchrzak/NBAE via Getty Images)