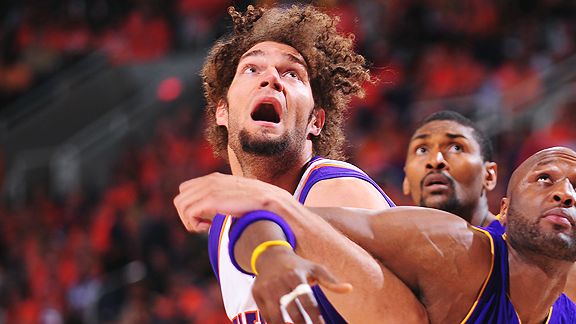 P.A. Molumby/NBAE/Getty Images
The hair of Robin Lopez has earned its own nickname.
By and large the Lakers have outplayed the Suns in the Western Conference finals. But with a few minutes left before halftime, Alvin Gentry put his starters back in the game, and the Suns ripped off a game-changing 15-2 run. For about five minutes, it looked like the Suns were playing six-on-five.
And then it struck me: They were. In addition to the five players in uniform, there was a sixth Phoenix character on the court, unaccounted for: Phoenix center Robin Lopez's hair.
It may not make jumpers or anchor the zone, but make no mistake, it's magnificent. That thing has huge court presence, and it has been ignored too long.
The best way to put a stop to the belittling of one of the series' central figures is to give it a name.
So I muted the TV and spent 13 seconds doing some brainstorming. Here's what I came up with:
The After Party (try it in a sentence!: "Lamar Odom tried to box out Robin Lopez and The After Party")

Woolly Mammoth

Over and Back

Springs and Things

Robin's Hood

Grab Bag

Baby Dino (it's a long story, but somebody must have hair called that, and it didn't stick with Corliss Williamson)

Christmas Cactus (doesn't exactly roll off the tongue, but accurate)

This Ain't Kansas

7-Foot Thistle

Voltage

Bustle in Your Hedgerow (if you don't know what that is you're young or old)
I put those idea on Twitter, and after a few minutes of marination, three people came back with something much better: "the Fropez."
And then it was kind of obvious.
The Fropez was declared the winner within the hour and within a few hours had been mentioned (with credit to TrueHoop readers on Twitter) high up in a Chris Ballard column on Sports Illustrated.
Congratulations @oo, @jellopuddinpup, @jamie_merchant and Twitter in general on another job well done.
Hope your hair is happy with its new name, Mr. Lopez. If not, well ... I hope it doesn't get any angrier.