The Lakers need Lamar Odom as much as Lamar Odom needs the Lakers. Jarrett Jack heads to Toronto, while Eddy Curry remains unmovable. And the big powers in the East make some tweaks to their benches.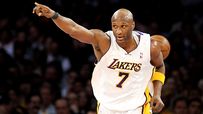 Kurt Helin of Forum Blue & Gold: "Don't delude yourself into thinking the Lakers are better off without [Lamar] Odom -- the best proof is that last season he led the Lakers in +/-, the Lakers outscored opponents by 16.4 points per 48 minutes when he was on the floor. Second was Kobe [Bryant] at 12.1. The simple truth is that good things happened for the Lakers when he was on the floor. He came up big in the playoffs. His versatility cannot easily be replaced. There are some intriguing pieces on the Heat roster ([Mario] Chalmers, for one) but any move the Lakers make here is not going to make a title more likely. Can the Lakers win a title without Odom? Yes, but the margin of error is now non-existent. [Andrew] Bynum has to be healthy and playing at his peak. Artest has to fit in swimmingly. Bench guys like Sasha [Vujacic] and Jordan [Farmar] cannot struggle for long stretches. Everything has to go right. And that's a lot to ask."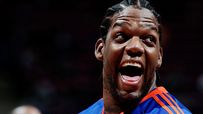 Mike Kurylo of Knickerblogger: "When the Knicks acquired Eddy Curry, he was supposed to be the future of the franchise. Although there were signs that he would never reach that level of play (namely every stat but fg% and pts/36), his size and flashes of scoring lead many to believe in his potential. In 2009 Eddy Curry had his most disappointing season, playing a grand total of 12 minutes and scoring only 5 points. Immediately after the season ended, Curry vowed to get in shape, and immediately began twittering about his work out regimen. In the weeks since, his private trainer 'leaked' that Curry lost 30 pounds, and Eddy appeared before the Knicks brass at the summer league. It appears that Curry is doing what he does best. He appeals to the optimist in Knick fans, while producing almost nothing."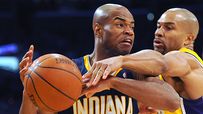 Jared Wade of Eight Points, Nine Seconds: "In the end, however, Jarrett [Jack] isn't worth $5 million a year - at least not to a Pacer team that still has [Jamaal] Tinsley's devastating deal on the books, will be paying Mike Dunleavy to rehab his knee for at least another six months, and is significantly overpaying for the production of both Troy Murphy and TJ Ford. I really liked the fearlessness and aggressive penetration Jack showed so consistently last season, but Bird was right to let him walk for that price. It would have been great to keep Jarrett around at something like three years/$12 million, but he played his way into a better offer from Toronto and no Pacer fan should fault him for that."
THE FINAL WORD
Cavs the Blog: How Danny Ferry is like Billy Beane.
Celtics Hub: Exit Tony Allen, enter Marquis Daniels.
Orlando Magic Daily: C.J. Watson vs. Anthony Johnson.
(Photos by Noah Graham, Jeff Zelevansky, Harry How/NBAE via Getty Images)