LeBron James and Gregg Popovich need a little more help from their role players. Phil Jackson knows exactly what he needs from his. The TrueHoop Network understands its role, and explains: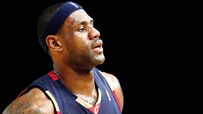 John Krolik of Cavs the Blog: "I'd love to give you some genius, sportswriter-y contrarian overlooked bit of brilliance as to how this box score reflects something other than a great player playing absolutely phenomenal basketball while his supporting cast robbed him up a win by playing 48 minutes with their thumbs squarely in inconvenient locations. But that's just not how it went down. LeBron was the brilliant eye of a storm of suck.
Not only was LeBron hitting his jumpers tonight, his stroke actually looked markedly better than it has -- he was elevating with balance instead of flying or shooting a set shot, he was holding his release with both hands, and he wasn't flying forward at all. All these things happened spontaneously in game 50 of the season. It's an odd player we've found our hopes thrown behind."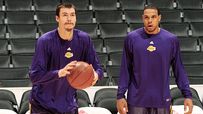 Kurt Helin of Forum Blue & Gold: "If there is one guy Adam Morrison should be excited about playing for, it is Phil Jackson. ...He is the kind of guy Jackson and his system can really help find a niche. Through it all, everyone still thinks Morrison could be a good NBA shooter. What he needs is confidence, the confidence that comes with success in the game. Jackson (and this is what Radmanovic never grasped) asks role players to fit in very tightly-defined roles for the team - but within that role is where you can succeed. The Lakers don't want Sasha Vujacic as a playmaking PG - that's not what he does well. But as an energy defender and guy who can spot up the three, he is good. So stick to those things you're good at. That is how the Lakers got decent production out of Smush Parker and Kwame Brown - tightly defined roles. Jackson will eventually ask Morrison to do just what he is good at, but that may be something useful."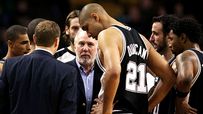 Timothy Varner of 48 Minutes of Hell: "The Spurs are allowing nearly 3 more points per 100 possessions than their next worst season–by said measure–of the Popovich era...Coach Pop likes to rail against his team's defense, painting them as lackluster in comparison to past squads. I have a hard time disagreeing with him. This is not to say they are awful. Far from it. They're a good defensive team with a few noticeable chinks in the armor. But they're the sort of chinks that need to improve as part of the Spurs usual mid-season transformation."
THE FINAL WORD
Knickerblogger: A Zapruder-like frame-by-frame look of the Knicks' defensive breakdown in Portland. The follow-up webisode is here.
By the Horns: There wasn't a dry eye in the house, as the Bulls honored Johnny "Red" Kerr.
Valley of the Suns: A more empirical look at Amare Stoudemire's defense and work on the glass.
(Photos by Nick Laham, Andrew D. Bernstein, Elsa/NBAE via Getty Images)